Tag:
henson
(Again, these are just sort of barfed out. No spelling to grammar checks at all.)
April 6, 2013
Our housing in Hamilton, Montana was pretty amazing. A set of three cabins up in the hills above Hamilton. Rustic log cabins but really, really fancy. Each room had a private bath and the upstairs room that Peggy took was like a mini apartment with a sitting room and a kitchen.

I woke up around one and worked out then had some breakfast. They had provided us with a fully stocked kitchen and some great fruit which I devoured. Because we'd arrived so early in the morning, shortly after waking up it was time for us to caravan to the theatre.
Hamilton, Montana is a small town. The 2010 census puts the population at around 4,300. Our performance venue? The Hamilton High School Auditorium. It was a great, modern facility though. No green room or dressing rooms but the band room and choral room provided both. Our bathrooms were in the gym locker room. Sounds weird but it was really great. The people who hosted us really took care of us right.
The show was a bunch of fun. We were a little nervous as on the ride to the venue our host told us how they've had shows were people walk out because the president's name had been mentioned. Another act had a large number of walk outs because they'd done a song about greed. Hamilton is conservative. But the crowd was really into the show and we had a great time. Even got a partial standing ovation.
Remember yesterday when I wrote that the Alien Barbershop makes my brain melt sometime. Tonight it did times 1,000,000.
If Patrick has a few good suggestions he'll usually have the audience vote on which one we should do. When he asked for a topic he got three: Gay Marriage, Ballet and Moonshine. Instead of having the audience vote he said, "Great! We'll do all three!" Meaning he had now just obligated me to do all three topics in one song. All three topics in one, four line song. Plus I had to do the bunnies in the bit before.
Here's what I came up with…
We'll do fifth position
On our honeymoon,
Me and Fred
Drunk on shine of moon.
It was a hit. I felt a little cheap with that rhyme but it was the best I could come up with in that short amount of time.
Other great structures were a Film Noir set in Darby, Montana (Hamilton's rival city). So lucky our host had told us about Darby on the ride to the venue. Also did a fun Lucha Libre scene where my name was El Burrito and Ted's name was Mild Salsa.
After the show we retired back to our cabins, grateful to not have to travel immediately after the show was wrapped. We hung out in Patrick's cabin which was the fanciest of all of them. Tyler built a fire and we all socialized for a bit.
After not too long I headed back to my cabin to write a bit and then get to bed, I was wiped out. I was very grateful for the cabin being out in the middle of nowhere. It made it pitch black in my room and I was out. Was just a little bummed the sky was overcast as I'm sure the viewing of the nighttime sky is pretty amazing where we were.
The morning of April 5, started early, early early. Just a few short hours after we had gone to bed. In order to make it to Idaho Falls in time for our AMAZING crew to set up, we have to be on the road by 6:30am, which meant, for me, being up before 6am.
We were on the road by 6:30am and had a much, safer trip to Idaho Falls. Because we hadn't gotten very far the night before, we still had a close to three hour drive.
We arrived to the hotel by 9am and it, the Candlewood Suites, was just awesome. Kitchen in every room, an 'honor system' store in the lobby. Free laundry. A DVD player in each room and the latest DVD releases at the front desk you could check out for free. We were all pretty bummed we didn't get to stay the night at this place. It was pretty great.
Most of us just crashed when we got there. In the afternoon we headed over to the theatre and took in the downtown area of Idaho Falls where the theatre was. Lots of fun stores there: a gaming store (Dungeons & Dragons), a metaphysical store (sage, singing bowls) and a yarn store to name a few. Had a great meal at the Snake Bite Cafe (amazing Idaho potato Waffle Fries).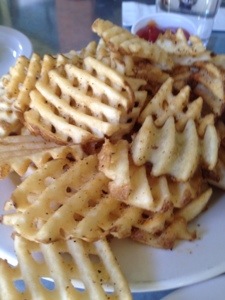 The show in Idaho Falls was great. The crowd was into it and the suggestions were fun. We had a few tech issues, but rolled with it.
To give you a little info on Alien Barbershop, it's a mini structure within a structure called Puppet Variety Show. The variety show has three acts. First is a trio of bunnies. Second is two random puppets performing and act. The finale is the Alien Barbershop.
Now the fun comes in that some of the people in the Bunnies, loop around and are in the Alien Barbershop. I am one of those, so I have to improvise in the Bunnies scene, then sing the lead part in the Alien Barbershop. It makes my brain melt, but it's really a ton of fun.
The Alien Barbershop suggestion in Idaho Falls was North Korea.
Here was my rhyme:
You make statements
That have no class.
You'd better watch out
Or we'll nuke your ass.
The crowd loved it. I had originally wanted to have the last word be impotent referring to North Koreas threats, but couldn't think of a rhyme, so I went with 'nuke your ass.'
Other fun spots included a 'Sounds Like A Song' in which I sang a big band ode to Cocktail Wieners and a "Sex Ed" scene with Ted Michaels in which he was insanely hilarious.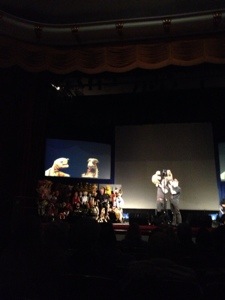 The show was a blast and we got a standing ovation. The people were incredibly nice. We did a donor meet and greet after with puppets and it was a lot of fun.
Then…the nightmare began.
After the truck was loaded and a brief food pitstop, we were on our way to Hamilton, Montana. According to our tour book, Hamilton was 4 hours away. Oh, if only.
I'm not quite sure what happened, but it became the buss trip that never ended. Every couple of hours I would look at my GPS on my phone it it would always, somehow, say there were over two hours left.
I couldn't sleep at all in the seat on the bus (think airport shuttle type bus) and as the evening wore on it just became longer and longer. I tried to zone out listening to HARVEY on ListenToAMovie.com but it didn't work too well.
The joke became that we'd actually died on the 'cataract' bus ride the night before and we were now stuck in purgatory on a bus ride that would never, ever end. That's how bad it was.
Once we FINALLY, MERCIFULLY, got into Hamilton, Montana, the game of finding out where we had to go exactly began. It involved the bus making several u-turns and three point turns until we were finally able to get to bed.
Total time on the bus…over 7 HOURS! We were finally in our rooms after 7AM! Ugh.
Now, I will say our accommodations in Montana are amazing, and I will talk more about them tomorrow, and it would have been fantastic to get to spend another full night in them. But more about them, with pictures, tomorrow.
(Again, unedited and not spell checked. Just posted.)
APRIL 4, 2013
I woke up the morning of the 4th with a determination to eat better on the rest of the tour so as to not have a repeat of last night.
I did my wii fit exercises in the hotel room. No, I did not bring my wii fit with me, I recorded my regular workout session on my iPhone and then listen back and followed along. Worked surprisingly well. I then went out for a thirty minute run.
After the run I wanted to grab some healthy food and used yelp to find a subway to get a veggie delite. There was one about a block away and I hoofed it and when I walked up to the subway there was a barbecue joint right next door. The universe was being cruel. I chose the subway. After eating, getting back to the hotel and showering it was time to get up to Kingsbury Hall for show rehearsal.
There's a new piece in the show called Windy. It's a very 'muppet show-esq' piece to the song of the same name. It features table top puppetry and I manipulate e feet of one of the singers. It's difficult because its hard to see the monitors during it thanks to the black velvet beekeeper masks we have to wear while performing. We needed to run through this several times. As well as a few other set pieces of the show.
After rehearsal there was tech rehearsal, then dinner, then prep for showtime. I was sporting brand new, all black, Converse high tops and, because I wanted to class things up a little, a skinny black tie.
The Salt Lake City crowd was incredible. I felt I could have done better improv wise. The best improv bit was a film noir that took place at Temple Square park. It was so lucky that Tyler and I went there the night before. In just started working in things I had seen there and the audience loved it. Also the alien barbershop, my favorite structure, went well. The song topic was Polygamy.
Polygamy
Means many wives.
The though to which,
Makes me sick with hives.
I was disappointed in my performance in Windy. The feet were way off and I felt I let Allan, the senior puppeteer on the tour, down as it was his feet I was controlling. I shook it off though and vowed to do better the next night.
After the show it was time to get on the bus towards Idaho Falls, ID. We had a three and a half hour long drive. It was only about ten or fifteen minutes into the drive when we realized that there was something wrong with our driver. We were in a big, fifty six seat, chartered bus and this guy could not keep it in the lane. He was constantly veering between lanes and other cars were swerving around us. It was not fun.
We finally got him to pull over and there was a mass exodus off the bus. We were going to wait an hour for another bus but it was well past midnight. Our intrepid tour crew made the decision we'd stay at a nearby Comfort Inn and travel on to Idaho Falls in the morning.
Side note: we later found out our bus driver is scheduled to have cataract surgery next week. Yeah.
So day two ended at a comfort in after midnight. A good show, some precarious bus riding and then sleep.
Thank you Salt Lake City, goodnight.