S&US Tour Diary – April 10, 2013 – Checkin' In & Austin show
So, the hotel.
We often head to the next town the night after a show. This gives our crew more time to get, much needed, sleep before they have to be at the venue.
We left Fort Worth earlier than normal, about 11PM. We got to Austin around 2AM. As I said it was an uneventful bus trip, which was nice for a change.
When we got to the hotel, the inner door to the lobby was locked. A guy, another hotel guest opened the door for us but when we got in there was no one at the front desk. The place was deserted.
A sign read that we should dial 0 on the phone in the lobby and someone could help us. Alan dialed 0 and the phone rang at the front desk where no one was. It rang and rang and no one came out. Alan hung up and tried again and it went to a busy signal. So we were standing in the lobby at 2AM with no one to check us in.
It was then that Tyler spotted a stack of check in papers and keys on the front desk. He hopped over the counter and proceeded to check us all in. The papers were made out to us, so it was basically him distributing room keys. Relieved to be able to sleep, we wandered off to our rooms.
Outside the door of my room there was a horribly musty, moldy, smell. I entered the room and was knocked over by a super powerful 'cleaner' smell. It was super powerful, and nauseating. I put down my stuff and wandered back towards the front desk, contemplating going across the street to the Hyatt in the parking lot. It was late though and if I did go to another hotel, I'd have to pay for it. So I just bit the bullet and bedded down for the night in my horrible smelling room.
The next morning I was up early to do a TV appearance on local Austin TV. Patrick, Juliana and I headed out with a driver from the venue, The Long Center and we went and did a very brief TV appearance. It was fun and we got to see some of the sights of Austin as we drove to and from the television station.
They bought us breakfast at a place called Spiderhouse Cafe. Juliana and I had the Tupelo Honey & Bacon Sandwich. Bacon, Peanut Butter, Bananas and honey on whole wheat bread. The whole wheat bread makes it healthy. It was amazing.
Once back to the hotel, I asked about switching my room. This was the opportunity the hotel staff was waiting for.
STAFF: You with the group that checked in last night?
ME: Yes.
STAFF: We have a phone right there, you know. You could have called us.
ME: We did. The first time it just rang and rang. The second time it was busy. No one was here.
STAFF: Well, the woman on duty has worked here for 10 years and there's never been a problem.
ME: Well, there was a problem last night. She wasn't around.
STAFF: Well, one of you hopped over our counter. We have it on video.
ME: Well, it wasn't me. How about that new room?
STAFF: We don't have any available at your rate. Sorry.
Ugh. They'll be getting a nice review on Yelp.
As I was changing to strike out into Austin to meet some friends for lunch, I realized why my room smelled so horrible. At some point the rooms on the first floor on this side of the hotel had flooded. They got rid of the water. Maybe replaced the carpet…maybe. But then they didn't do any other cleaning, they just poured on the industrial cleaner. Lovely.
I then headed out to meet up with Mary Jo Pehl and her husband for lunch. It was so much fun to hang out with them. We had a great lunch and they were excited to come see the show that night.
Afterwards, I walked around Austin for a bit and then it was time to get back to the hotel and get set for soundcheck.
Over at the venue, I ran into Dani Pruitt who works at the center. She helped put on Leslie Carrara-Rudolph's show in New York and she's helping Leslie put on her show in Austin, so I'll be seeing her again soon.

The show in Austin was fantastic. The crowd was into the show from the moment it started and there were a lot of great suggestions.
I had a great Slide Show structure with Allan. We were doing an orientation for new exorcists. It was really loose and fun and Allan and I had a lot of fun playing off of each other.
The Alien Barbershop was another fun one. The suggestion was Long Division. I REALLY wanted to do a long division problem, in song, in four lines, but I needed some scratch paper to work it out. Anyway, this is what I came up with:
I like long division.
I'm not a hater.
But I'm no fool,
I use a calculator.
Overall it was a really tight show and a lot of fun. We got a standing ovation at the end, so Austin was super kind to us.
After the show we spent some time in a tiny bar called Ego, then Sean Johnson and I walked to a place called Gourdoughs. They make the most INSANE donuts in the world. Just look at this thing….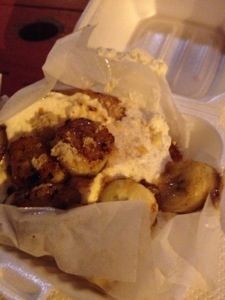 There is a donut in there. Somewhere.
We then walked back to the stinky hotel, saw Patrick and Juliana and Patrick in the lobby and chatted for a minute and then retired.
Tomorrow is a travel day to Wisconsin. It'll be a long day of travel, but it'll be very good to get out of this hotel. Blech. The glamor of life of on tour.