S&US Tour Diary – April 15, 2013 – One of the best days ever.
We were up early on Tax day because it was a travel day to Florida. I was doubly excited because there had been rumblings that we may have the opportunity to visit Walt Disney World. It was confirmed late yesterday that we would, in fact, be doing just that. So Monday became Travel/Walt Disney World Day! I was beyond excited.
The flight to Orlando from O'Hare was great. Sat next to an great girl from Winnipeg, Canada on the flight, who works for the Winnipeg Jets Hockey Team. We had a great time chatting about hockey, puppetry, Canada, travel and life in general. It made the two hour trip fly by. No pun intended. Well, maybe a little.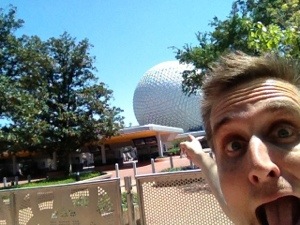 Upon landing in Orlando we made our way to Walt Disney World and met at Epcot and thanks to the very gracious connections of Tyler Bunch we all got complimentary Park Hopper tickets. It was about 3PM. We began in Epcot and went on Spaceship Earth, Test Track and Mission Space. Then we broke for lunch at The Land in Epcot.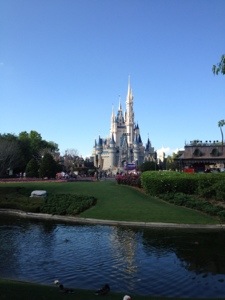 Then Sean Johnson, Dan Ring and I went over to Magic Kingdom. We rode Haunted Mansion and then went to my favorite, The Country Bear Jamboree. Right in front of the Jamboree were several characters including Big Al, who I've never seen in person. I was, because I'm insane, wearing my vintage Big Al shirt, so I went up to get a picture with him. I then wound up being dragged by Big Al into a big dance circle. There is video. When I get to regular internet, I may upload it.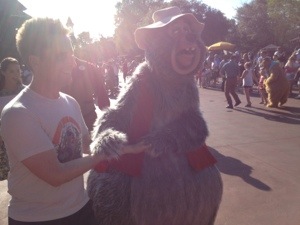 After my dance debut, we watched Country Bears. I am not a fan of the edits. They seem disjointed and Dan, who'd never seen it, commented that it just felt like a bunch of random songs. I AM grateful they didn't take it out.
I will make this one gripe, across from the Country Bear Jamboree is a merchandise kiosk called Big Al's, named after Big Al from the Country Bear Jamboree. In that merchandise kiosk there is not one, not one, piece of Country Bear Merchandise. Not one. Yeah.
Anyway, we then went on Little Mermaid and ended at the Carousel of Progress. We then had to head back to Epcot to meet up with the rest of the group. We did and in another stroke of fun luck, Brian Clark had a rental car so Sean Johnson and I stayed with Brian for two more hours at Magic Kingdom while everyone else went on to Ocala, Florida.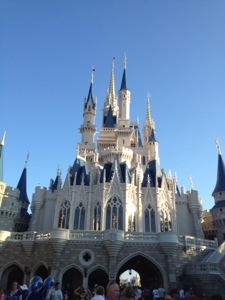 We headed back over to Magic Kingdom and we did that park. This week was just a perfect time to be at the parks. There were no lines. In the two hours left in the day, Brian and Sean and I did Space Mountain, Mickey's Philharmagic, Big Thunder Mountain, Splash Mountain, Pirates of the Caribbean, Jungle Cruise, Peter Pan and then, with five minutes left during park operating hours, we ran across and went on Space Mountain one more time.
Then, as we were walking towards Main Street, the lights on Main Street went out and the Main Street Electrical Parade was just beginning. After the parade we had a great meal on Main Street and then headed off to Ocala.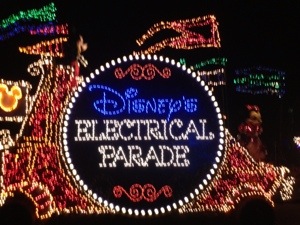 Today was just a great day. Just a fantastic day. Just a great case of perfect timing and it made this amazing tour the best tour ever. Much thanks to Tyler Bunch for his contacts, Greg Bellon, our production manager and Brian Clark for making this day possible.
An unexpected trip to Disney World in the middle of a fantastic tour.
This day will be in the top 10 of my best days ever.
Almost perfect.