Puppet Up Toronto Tour Diary – Day 11 – A Walking Tour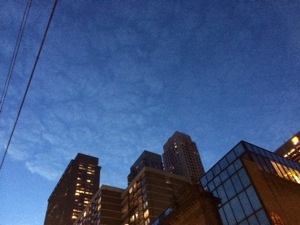 In the quest to try new and exciting foods here in Toronto, Dan has got it in his head to get Steak Frites. So he found a place and shortly after noon Dan, Brian and I hopped a cab to a cafe about two and a half miles away.
We had a nice meal at a tiny little french inspired cafe down in the fashion district. After we took a walk to the CN Tower. I used the opportunity to film some Uncle Interloper stuff for Vine and Tout as well as snap a few photos along the way.
After our walk about Dan wanted to take the Subway back to the hotel and Brian and I decided to walk. We then walked most of the way through the large underground mall that's downtown Toronto. It goes on for blocks and blocks and really has just about every kind of store you'd want in a mall.
When the mall ended we surfaced and continued out nice walk back to the hotel, chatting as we took in the sights. Once back I relaxed, picked up my shirts form the laundry, and caught up on email. Just generally relaxing before tonight's show.
The goal for tonight it to listen. Focus. Have a really great improv night with super strong puppetry.
It's amazing how small puppetry movements can get big reactions. Earlier in the run I was doing a scene with Colleen and she made a comment in an improv and I thought, "My character would be nervous about that." so I just had my puppet take two small steps backwards and look nervously at Colleen's character. This got a huge laugh from the audience and it was so simple. That same night there was another instance where I made a character do a move and it got a laugh. These two experiences really drove it into me that the puppetry can be just as funny as any witty line of improvised dialogue. Since then I've really been looking for those moments in scenes to make those simple puppetry movements.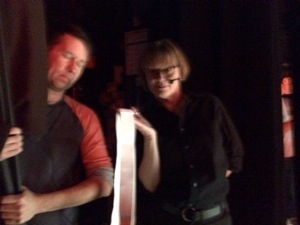 Tonight's show was really a lot of fun. Fantastic laughs, great suggestions. I really focused on listening and responding and it worked. Also found some fun puppetry movements as well. Really fun show. Everyone was on and the crowd was great.
The suggestion for alien barbershop was Online Banking. I was much more relaxed tonight and easily came up with a rhyme. During the intro to the song though my punchline got scooped. Instead of panicking, I remained calm and quickly came up with a rhyme that, actually, I think was better than the original.
Oh online banking
Make me forlorn.
Cause when I login,
I see how much I spent on porn.
Got a nice laugh with that one. And totally not true. Totally, not true at all. Totally.
After the show, and meeting the crowd in the lobby, Patrick, Peggy, Brian and I went to a place called Spring Roll right near the theatre and the food was delicious.
Tomorrow, a day off for Halloween and then it's a straight sprint to the end! The end…boooo.