Puppet Up Toronto Tour Diary – Day 14 – The Women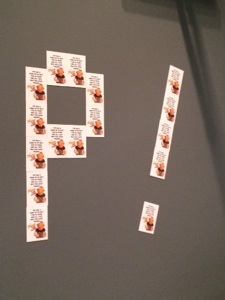 Woke up Saturday morning with the realization that there was only 4 shows left. End of tour blues set in hard.
I got up and did a little writing. Attempting NaNoWriMo this year. For the past couple of years I start writing and usually wind up being too busy to finish, but it always gives me a good start on something that I can work on throughout the year.
I then met up with Dan, Amanda and Brian as we were going to go get that indian food lunch special we had the other day. We walked over to the place that was supposed to be open by 1. At 1:15 they were still not open and the guy inside was ignoring our walking. We decided to take our party to the place up the street called Spring Roll. We had a delicious lunch and went back to the theatre for the first of two shows.
The Saturday Matinee crowd was just fantastic. They threw out great suggestions and the show was a total blast. We had a fun game show called Wheel of Death that was a ton of fun. One of the 'punishments' was death by Miley Cyrus. Ted's interpretation of that was just way too funny.
(BREAKING BAD SPOILER BELOW)
The Alien Barbershop suggestion was Breaking Bad. My rhyme was:
Oh Walter White
Jessie was his friend
He got cancer and cooked meth
And he died in the end
Then my alien just started saying, "Spoiler Alert, Spoiler Alert!" That got a big laugh.
A really fun matinee show and a great time meeting folks in the lobby especially, superfan, Randall who is already leading the charge to get us back in Toronto! Go, Randall, Go!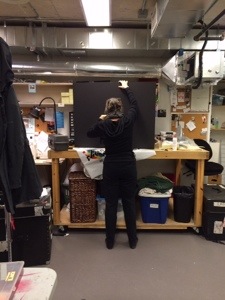 Between shows, Michael, Dan and I wound up at the Indian food place which was now open for a quick meal then it was back over to the theatre for our second show.
I want to take a moment to talk about the two women on this tour, Colleen and Peggy. Colleen is just an amazing improviser. She's so relaxed and incredibly smart. She has an ease in her improvs where she'll just drop a hilarious little line that will just KILL. Tonight in the audience participation bit, the audience puppeteer was sort of standing crooked, with the puppets head to one side and the audience was just rolling and Colleen just bides her time and says, "Tony, is your neck broke." Probably not that hilarious in print, but it just tore the house down and I was laughing uncontrollably in the chair. So lucky I get to perform with her. Our 'New Choice' scenes have been a lot of fun.
Peggy is just so much fun to be on the road with and perform with. Out of the whole class I've known her and Brian for the longest (excepting Patrick) and Peggy and I started in Puppet Up, roughly, about the same time. She is always so funny and there are so many memorable moments with Peggy on stage. Tonight during our 'Flashback' scene I just found myself smiling from ear to ear at her 'passing her kidney stones' screaming. I was in the scene but just laughing right along with the audience. At that moment I thought to myself, "This is the most fun job in the world." It really is.
The crowd for the evening show was just as crazy and into it as the matinee crowd. The Alien Barbershop suggestion was YouTube.
I love YouTube
Best entertainment around
Nothing but hours of videos
Of people falling down.
Got an okay laugh. Not the strongest rhyme. But it did okay. The rest of the show was fun with, of course, a lot more Mayor Ford references that the audiences just love. Well most of them anyway.
After the show we hung out at one of the nearby pubs and just chilled. I'm really going to miss this once it's over.
Now, to bed! Two more shows tomorrow! Gonna make them count!