Shambling
Long ago, way back in November of 2004, podcasting was in it's infancy.  I always like to say there were about 300 podcasters back then and we all knew each other.  That's actually not far from the truth.  Back there there was a site you could submit your new episode to and it created one giant feed to subscribe to.  Something you couldn't do today, for sure.  Everybody knew each other and everybody was just having fun.  There wasn't a thought of monetization or social media, people were just enjoying producing in a new medium.
Back then I listened to a lot of podcasts.  Listening to what other people were doing with this new fangled invention and one of the very first podcasts I remember listening to was GEEK FU ACTION GRIP hosted by Mur Lafferty.  Who was this mysterious Mur?  I had no idea.  I knew she lived on the East Coast somewhere and I found the first episode I heard of GEEK FU ACTION GRIP absolutely hilarious.  It was an essay about how she sort of had a crush on Steve from Blue's Clues having watched it so much with her daughter.  It was funny, well written and presented in a way where I knew I was going to subscribe.  And I did.
Fast forward to today, December 2013, just over 9 years later, and I'm happy to say that this mysterious Mur is a good friend of mine.  In fact, just moments ago we had a conversation via text about production on my Advent Calendar and her daughter, Princess Scientist's.  In the past 9 years Mur has become a friend and an inspiration.  I've watched her pursue her dreams as a writer and go from selling a few article, self-publishing a novel and then, bam, landing a book deal.  As I said, she's a good friend and a creative inspiration.  Proof positive that if you work hard you can achieve your dreams.
Back in May of this year, Mur's first professionally published book, The Shambling Guide To New York City was released.  Being a fan I, of course, pre-ordered and had it delivered to my door the day of the release.  Unfortunately, with touring and other things going on my time to sit down and read is very limited.  I got 6 books last year at Christmas and they are still on my bookshelf waiting to be read.
But Mur is amazing and, because she understands the value of podcasting, she actually podcaster the audio of her book.  FOR FREE!  You read that right!  For FREE!  Through the podcast I was able to 'read' the book and it is fantastic.  And I'm not just saying that because Mur is my friend.  I really did think it was great.
It is an 'urban fantasy' about a young woman who moves to New York and gets a job writing a guide book to the city.  Except this guide book if for monsters visiting the Big Apple.  Zombies, Vampires, Water Sprites, Dragons, if you have a favorite creature, chances are it's mentioned in this book.  It is funny and Mur has a great knack for writing some fun action sequences.  I highly recommend this one to anyone who likes a fantasy set in present day.
And the great news is that it is the first book in a series and the second book comes out in March of 2014!
So, friends, check out this book.  Below are links on where you can pick it up, and I highly recommend that you do!  None of the links below are affiliate links, I just wanted to promote this really fun read.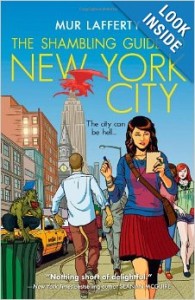 The Shambling Guide to New York City
By Mur Lafferty
Podcast (Only available until December 15, 2013)