Creative Mondays #003 – Truth In Your Art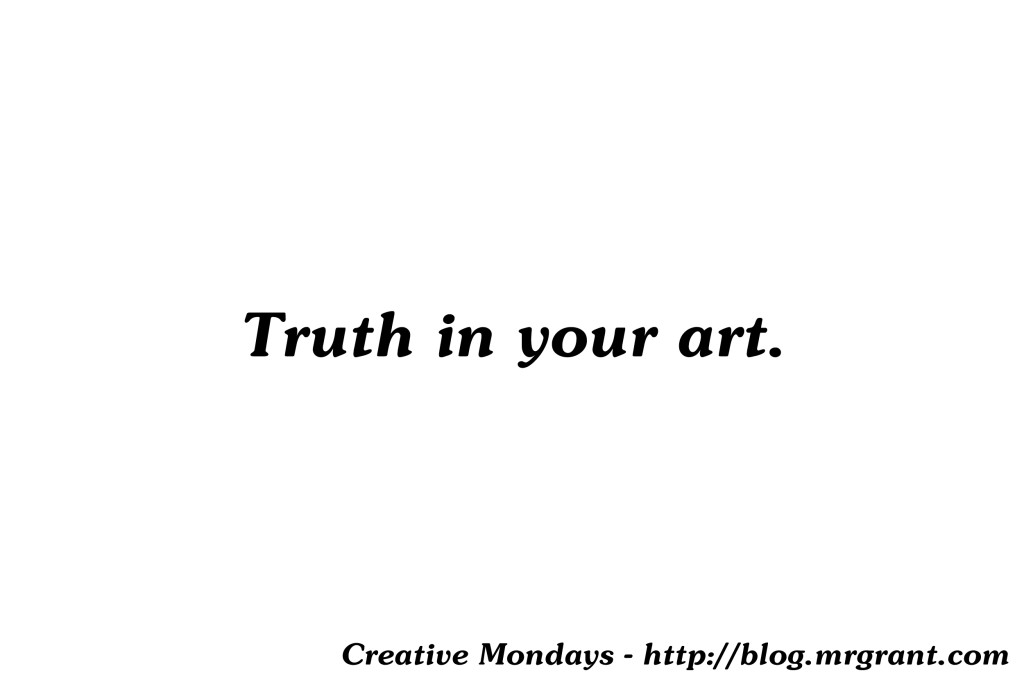 Someone once told me I needed to 'put a little more truth' into my art.  This person felt that things going on in my life should be expressed through the things I was creating at that moment.  I can see this person's point.  What's going on in your life can have a heavy influence on your creativity and lead you to new places.  The problem was the current things going in my life were fraught with turmoil and my current project was a lighthearted, family friendly affair.  Adding the 'turmoil' to that project would have been…wrong.
But that comment, 'put some more truth into your art,' really got me thinking about things.  About putting truth, what's currently going on in your life, into you art.  I think this is a really good thing to do.  The art you create should capture your true spirit.  Your art should speak the things you feel deep down inside.  The things that, maybe , you are afraid to say out loud.  Your inner truth can make for some amazing art.
However, people should recognize that everybody's truth is different.  It's not the same for every single person.  Two artists would undoubtedly go about tackling the same subject completely differently.  If two artists are feeling pain and heartache, one may create a somber piece that clearly defines the pain they are going through because that's their truth.  The other artist might create a darkly comic piece that points out the humor in the bleakest of situation because that's how they deal with their truth.  Two artists, same pain, two different pieces of work.
When I was in college I took a directing course in theatre.  The professor was a very accomplished, yet very opinionated, woman.  In the class I quickly realized I had a strike against me, I was male.  This is not just something I'm saying because of sour grapes.  I respected her and her work and was in a play or two of hers while in college and learned a lot.  I'm saying because she was the type of woman who would regularly wear a shirt to school that would read (and I'm sorry for my sensitive readers) CL*T POWER.  If you were a guy, you had a strike against you.
Anyway, the major class assignment was for each student to direct two other students in the classic 'water' scene from The Miracle Worker.   If you are familiar with the story this scene is where Annie Sullivan finally gets through to Hellen Keller.   As we were instructed to do, we all read the play and were to find our 'take' on the text. The 'water' scene is a powerful scene in the play and the major turning point and I knew that everyone was going to direct it that standard way it is written.  Serious.  Powerful.  Stoic.  Well, I wanted to find a different take and, as I do in most of my creative endeavors, I wanted to add some humor.  Then it hit me, "Laughter can build bridges."  What if Annie could get Hellen to laugh and THAT's what creates the breakthrough?
So that's how I did it.  Super big shout out to my actors in that scene (John & Kristin) who went with everything I put them through.  I blocked a raucous scene involving climbing under and over the table, silverware flying and a dutch door that was the cause to much consternation to poor Hellen.  When we did the scene for the final project it killed.  I have several ideas as to why it killed.  One, the amazing actors.  Two, it was different.  It was different from every other one of the same exact scenes because it was a different truth.  The other scenes were fine.  They told passionate, dramatic versions of the same story.  They were one truth.  Mine was another truth.  Mine was MY truth.
The professor wound up giving me a B+ on the scene.  Why?  Who knows?  I believe it was because she felt I didn't take the material 'seriously.'  I will tell you this, I've never forgotten how fun that was to do, because I was bringing my truth to the project.
So  bring your truth to your creative work and never apologize for it.  If someone tells you to put more truth in your art, ignore them.  Your truth is not theirs.  Putting your truth in your art is all that matters.
—
Are you someone who brings their truth to their project?  What one creative thing can you point to right now and say, "That has a lot of my truth in it."  If you are comfortable with sharing, let us know in the comments below!