Puppet Up Down Under 2014 – March 24, 2014 – I Heart Melbourne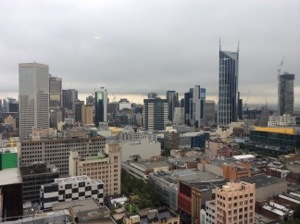 Last night the challenge was to stay up until 11:00 PM. At about 9:45 PM I walked into the living room to find Brian dozing on the couch. I said, "Hey, thought we were staying up until 11:00 PM?" He stood up, turned off the TV and said, "No, It's 10:00 PM."
I put on a little Mystery Science Theatre 3000 as I normally do and didn't even make it through the opening sketch. I was out.
I woke up at about 3:40 AM and thought I was just going to be awake, but I went right back to sleep and didn't get up until 7:00 AM. I forced myself to get up and went down to the gym and ran on the treadmill for 30 minutes, then did some push ups and sit ups and was ready to start the day.
Aren't you glad you know all that now?
Around lunchtime, Brian and I walked around the city a bit to find a place to get a salad for lunch. Can I just say, I love Melbourne. It's just a really great place to walk around. The people are all super friendly and the place is clean. It also helps there are Puppet Up ads everywhere (even on TV). I like it here a lot. A lot, a lot. Going to start investigating home prices. Seriously.
We've only been here two days but the weather has been great. Even though it was a bit rainy, it has been really rather nice outside. And when we went for a walk, even though it was drizzling, there were continuous awnings that kept you nice and dry.
We had a great salad at a place called Nourish Salad, just a few blocks from the hotel. Then we walked around a bit more. We saw a magic shop and I dragged Brian in. It was fun poking around. They had some puppets in there that were fun to look at. After a bit we went back to the hotel.
Brian went off to deal with some issues with his computer and I just did some writing. After a few hours Brian returned and we grabbed some dinner. Then there was a company meeting and rehearsal because on Wednesday, we're going to be on TV.
The rehearsal was fun, we blocked out a shorter version of the opening song we are going to do for the show and we also went over some press that we're going to be involved in.

I get to be part of a group that is going out to an amusement park called Luna Park and do a photo shoot with some of the puppets. Should be fun.
After the meeting, we just hung out and talked a bit and that was it. Pretty much a quiet evening. I'll be sad to leave Melbourne on Monday, but happy to know we will be back shortly after to spend three weeks. So looking forward to it.