What Others Are Creating #002
It's Friday, that means it's time to take a look at what some other creative folks are working on.  I'm not sure that this will be a regular feature of the blog or a semi-regular feature, but if I have some creative stuff to promote I will.

Tappin' and Yappin' – http://orlandofringe.ticketleap.com/tappin-and-yappin/ – My good buddy John B. deHaas has a show opening TONIGHT at the Orlando Fringe Festival.  It's  a hilarious, cabaret style show that John wrote and will be playing piano for.  If you are in the Orlando area, check it out!  With John behind ti, it's bound to be gut busting funny.  Again, the show opens tonight and runs for a total of seven performances!  Don't miss it.
AdvoCat – http://www.advocattv.com – Written and directed by my friend and fellow Puppet Up! Uncensored puppeteer, Michael Oosterom, AdvoCat is a web series about a woman who stands up for animals in the guise of superhero: AdvoCat!  Episode 2 just came out, so catch up now over at the AdvoCat website.  Not only is this project funny, Michael and crew have partnered with animal rescues to actually get some pets adopted!  A worthwhile cause and very funny.  Check it out!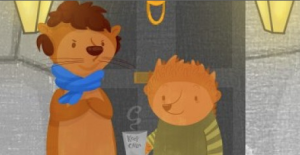 The Sherlock Holmes Playing Card Kickstarter – http://www.sherlockholmesdeck.com – Tabitha Grace Smith is a friend of mine who I met via the wonderful world of podcasting.  She is a podcaster, a published author and a super fan of all things Sherlock Holmes!  In fact, she's such a fan, she's spearheading a Kickstarter to produce a set of playing cards with a Sherlock Holmes theme.  She's got some great people working on the project and I cannot wait to support her when the kickstarted goes live next week.  If you are  a Sherlockian (or even if you are not), be sure to check this one out and consider giving Tabz your support.

Comedy4Cast – http://www.comedy4cast.com – Clinton is another friend I met through podcasting.  He's been around from the start of podcasting and even though we live on opposite ends of the country, we still talk regularly.  Since June of 2005, Clinton has been producing the Comedy4Cast podcast.  It's 'random bits of audio fun' are something the whole family can enjoy together.  It seems every year or so, Clinton completely revamps the show and I believe that, along with Clinton's clever writing, has made the show one I have never even considered unsubscribing to.  Give his current episode a listen and if you enjoy it, consider supporting his Patreon campaign.
Kristin Hogan – https://www.etsy.com/shop/SquidFriends – I mentioned Kristin last week, but she's at Dallas Comic-Con this weekend.  If you're nearby, go check out here squids at Table A126!
That about wraps it up for this edition of What Others Are Creating.  Feel free to check out one or two (or all) of the projects listed above.  I'm sure you'll find one that you can dig a little deeper into.  And, who knows, you may find something that really inspires you to create something.
Also, if you have a creative project, I'd love to check it out.  Leave a comment below telling me how I can check it out and I'll investigate further!