Creative Mondays #053 – Wrap Up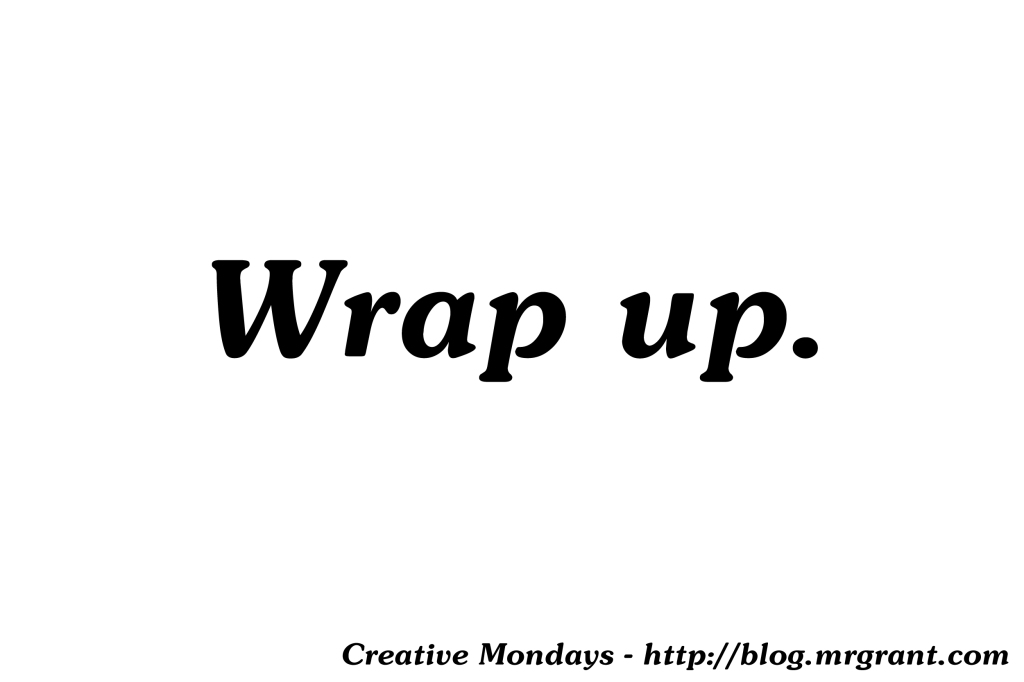 Well, here we are one year later.  I had set out to write and publish to the web, one short essay on creativity a week for all of 2014 and I am happy to say I achieved that goal.  I actually surpassed that goal in that I wrote more than fifty-two essays.  I believe I will release the remaining essays, once per week, going forward.  I may not release all of them as the reason some weren't released in the past was because I didn't feel they were strong enough.  But you can still expect a few more weeks of thoughts to continue into 2015.
I would like to whole heartedly thank those of you who followed along with this experiment and a big shout out to the people who commented on the various posts and to those who would send me comments in by email.  It was rewarding to know that I was reaching people in various creative fields and I just wasn't shouting into the void.
My initial goal was to write fifty-two of these essays and then, possibly, collect them in a book.  I guess that's still a possibility, but I'm not sure if the interest is there.  I guess it wouldn't hurt to give the essays an edit and then maybe put out an ebook for those who would be interested.  I'm not sure these require an official print version, but a digital version could be fun.  Of course this step means I would have to actually go back and edit them, a task I really don't enjoy.  I guess we'll see.
What's next?  I don't know.  Now that this project is complete I'll have to find another one to spur me on.  This one was fun, but I may look into something a little more creative.  A novel.  A screenplay.  Something.  Time will tell.
At any rate, thanks for following along on this Creative Monday's project.  Enjoy the few 'bonus' posts in the weeks to come and keep checking back here at blog.mrgrant.com where I will always be posting…something.
Oh, and check in now and then with the creative projects you're working on.  I always like to see what's going on in the creative minds of others!
Thanks again.