Tag:
arts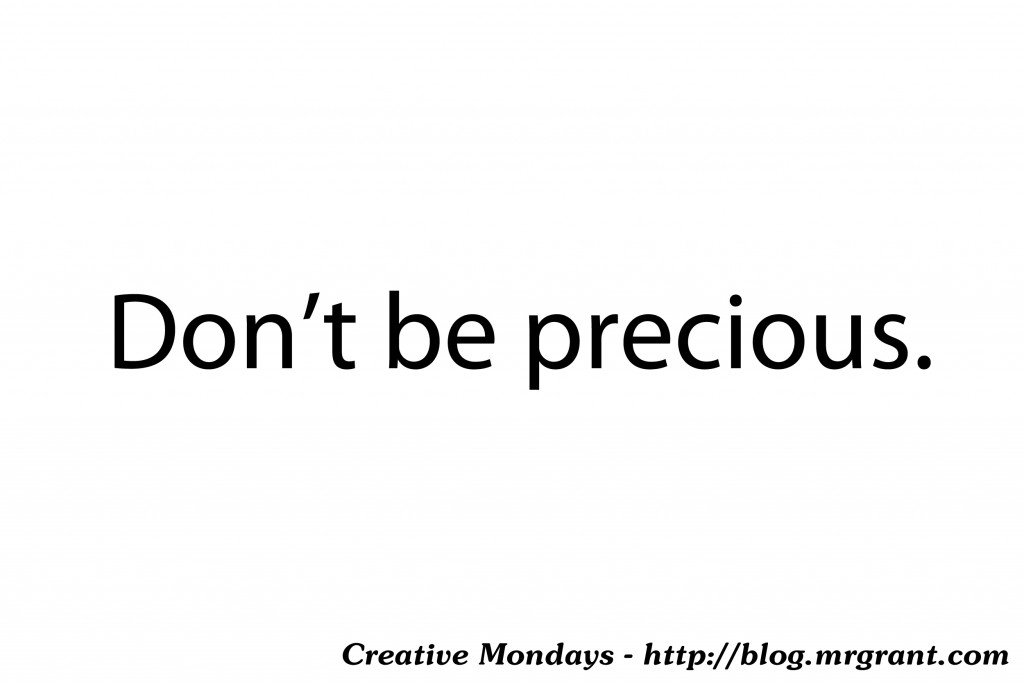 This is one of those rules on creativity that people talk about a lot.  When you are creating something, especially something you are creating with other people, you cannot be precious with your ideas.  Some of them will get used, some of them will not get used.  You must know this going in otherwise you'll be setting yourself up for misery.
This rule struck me one time when I watched it happen right in front of me.  In 2003, I was lucky enough to be invited to hang out on the set of a Muppet commercial shoot.  It was the Dominoes Pizza Super Bowl ads that they were in.  For two days I just sat, like a fly on the wall, and watched as the people behind the Muppets worked their magic.  As a side note here, my favorite Muppet is Gonzo, so I kept a close eye on what Dave Goelz, Gonzo's performer, was doing.
During one break I noticed Dave was over near the Puppet Wrangler's table working on something.  He had some items from the Craft Service table, a long puppet rod and some tools and was busily building something.  Someone asked what it was and he said he felt lil Gonzo should be doing something in the background of the next shot they were filming, so he was building a stack of food for Gonzo to balance on his finger.  The rig would have made it appear like Gonzo was balancing a peanut on his fingertip, then balanced on that, a soda can, and then a bag of chips and so on.  It was really a great looking rig and it was built out of actual stuff!  He drilled holes in a REAL peanut in order to slide the rod through.
I'd say he spent about a good thirty minutes of his lunch break on this neat little addition to the commercial.  When he was done he tried it out and the effect was hilarious, it looked like Gonzo was balancing all this stuff on his finger.  Everybody loved it.  They tested it out on camera and it looked great.  But then, somebody decided that it just wasn't right for the scene.  The Muppets mantra has always been, "Pull Focus" but this gag was pulling a little too much focus.  Ultimately, the decision was made not to use it.  I guess in a commercial you don't want to pull too much focus away from the product you're actually selling.
So, after working so hard on this little piece of puppetry fun, what did Dave Goelz do?  He just tossed it aside with a smile and got ready for the next shot.  His attitude was one of, "Well, that would have been fun but, oh well, no big deal."  Now, he could have been upset or fought for it or thrown a big-time hollywood star tantrum, but he didn't.  He moved on to the next order of business with a smile.
Seeing this happen really struck me.  Something you work hard on, no matter how good of an idea it is, may not make the final project.  This happens all the time when creating things with others and it can happen in working on your own stuff as well.  A particular exchange of dialogue in your writing may be the best you've ever written, but if if doesn't work with the story, you have to toss it.  You can be upset for a moment, but then you have to move on with your creating.
This is a tough one.  Usually us artists go from thinking everything we do is crap to everything we do is good.  Sometimes, even when you know you have something good, you have to let it go if it's not working.
Take a lesson from Gonzo: you can't be precious with your work.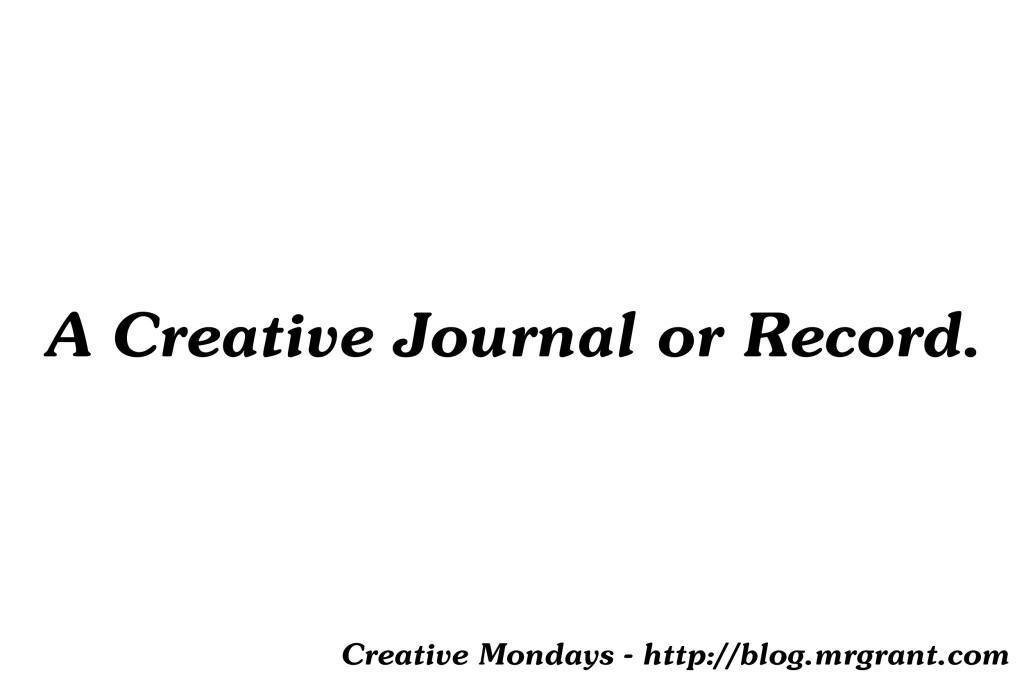 In 2010, I learned about Jim Henson's Red Book.  The Red Book was a journal that Jim Henson started in 1965 where he wrote down all the significant events that had happened in his life up to that point and then he continued to keep updating the journal from then on.  He wrote entries all the way through 1988.  There's a fun website set up at www.JimsRedBook.com where you can see what Jim wrote down for that day in his journal.  Jim wrote entries for major events in his life, both creative and personal and it's an amazing record of some of the amazing things Jim accomplished in his life.  A bulk of the entries were accumulated into a book called Imagination Illustrated which is well worth a read.  Or two.
After discovering this fact about Jim Henson, I really liked the idea of starting a creative journal.  I'm not talking about a journal where I wrote down ideas, though I have one of those as well.  I'm talking about a journal where I write down, daily, what creative things I have worked on during the day.  I guess the real term would be a Creative Record but I'm just comfortable using the word record.
So I bought a hardbound Moleskin, lined notebook and began keeping the journal.  At the end of each day, before bed, I write down the creative things I did that day.  I just write a simple line for each thing with the date.  Here's an example of an entry.
8/2/2011 − 2 Milk Minimum show at Flappers
– Continued work on Astral Factor for Cinematic Titanic.
– Met with Leslie Carrara- Rudolph about NorCal Shows
– PuppetUp Rehearsal at Henson.
That's it.  Just a line for each item and I do this every day.  I started October 6, 2010 and have made entries for just about every day since then because of my goal of doing at least ONE creative thing everyday.  With two minor exceptions, one being breaking my arm, the other recording the day I met someone who influenced me greatly, I only put creative things in this journal.  It's a fantastic record I can look back through to see what I was working on then and what I'm working on now.
It's also a super great motivator to keep creating.  I look forward to writing down the creative things I did each day and I always make sure there is at least one thing I can write down before going to bed.  And I do it EVERY day.  If I'm on the road or on vacation, I keep a list in my phone and the moment I'm back I write down all the creative things I did while away.
I finished my first creative journal on November 7, 2013 and I started a new one.  I'm really proud of that first one as it is a three year, one month and one day record of everything I creatively worked on.  It is SUPER fun to go back through and look at what I was doing on a particular day.  It was so much fun to start a new one, what a great feeling of accomplishment.  And even though I'm only a little ways into my second one, I'm already looking forward to the third!
So try out a creative journal.  It doesn't have to be a physical journal either.  It could be a word processor file or a Google Doc you could update from anywhere.  But give it a shot and see if it helps motivate you into being creative each day.
Now, if you'll excuse me, I'm off to enter writing this blog post into my creative journal!
—
Have you been doing something similar to this already?  If so, let us know what it is and what your process is in the comments below.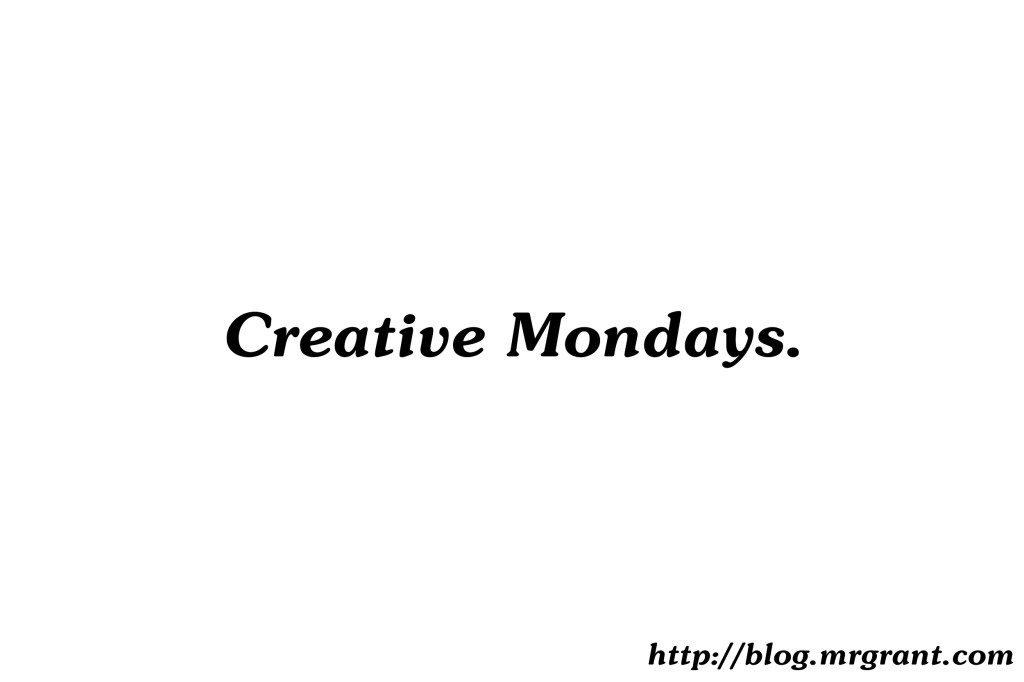 To me, being creative is something that has become second nature.  It is now like breathing or blinking to me.  I just have to create.  I'm not saying all of it is good, but I just have this, almost instinctive, desire to constantly create things.
It has actually been that way for a very long time.  As far back as I can remember, I always wanted to 'put on a show.'  I can remember recording the audio from cartoons off of television and then rounding up neighborhood kids and putting them through rehearsals to act out the cartoons in front of our parents.  When mom and dad would have friends over I would organize the kids to do a lip sync number or something and then drag all the parents to watch it at some point in the evening.  As a kid I also loved to draw, though I was never any good at it.  I'm still not but I continue to do so anyway.  I also loved to sing along with records and strum on plastic guitar (though I didn't know any chords).  I was just always trying to think of someway to entertain people.
I was very lucky.  My parents encouraged all this.  Sure, they would have liked me to focus a little more on my studies and less on drawing or writing, but they never told me I couldn't pursue these passions.  As I reached high school and started getting involved in theatre and band, they became very involved.  Mom in the Drama Boosters and dad building sets for the shows.  Again, I know exactly how lucky I am to have had that support and that is largely responsible for why creating is so important to me now.
At the beginning of 2012, for some odd reason, I just started posting daily Facebook posts and Tweets on Twitter that shared a short thought on some aspect of creating.  I would sometimes sit down and think of them for the week or sometimes I would just go day after day coming up with one for each day.  These daily postings seemed to catch on with people resulting in a lot of 'Likes' and 'ReTweets.'  People would message me privately and let me know the little quotes were inspiring them to be creative in their daily lives and one person even wrote that because of these daily postings, they had left their full time job, partially, to pursue a creative career.  Whoa, that's heavy.
After a couple of weeks of these daily postings, I started to run dry.  I had been keeping good track of them, but all the new thoughts I was coming up with were either duplicates of or very similar too ones I had put out earlier, so I stopped.  But, as I said, I was keeping good track of them and the thought hit me to take each little thought and then write a three hundred to five hundred word piece on each of them and release them on this blog every Monday.  My goal is to do this for a whole year so that by the end of 2014 I'll have 52 short pieces on different aspects of creativity.  I already have fifteen written, not including this intro post, so it'll continue for fifteen weeks at least.
I would really love this to become something interactive as well.  I'd love to hear your feedback on this "Creative Mondays" project as a whole and the weekly posts when they come out.  Also, if you feel so inclined, I welcome you to share these posts with anyone you feel would enjoy them.  Also, at the end of each piece I will post a question or prompt and I'd love for you to post your response in the comments below.  Feel free to interact with other readers as well.  Though creativity is not a decisive tops, I ask you please keep discussion civil and supportive.  Comments will be moderated.  Let's get a really good creative discussion going!
See you next week for Creative Mondays #001!
—
This week's prompt….
Introduce yourself and tell us what your main creative passion is.  (Writing?  Drawing?  Painting?  Sculpting?  Woodworking?  Digital art? Etc.)  Tell us in the comments below!