Tag:
arts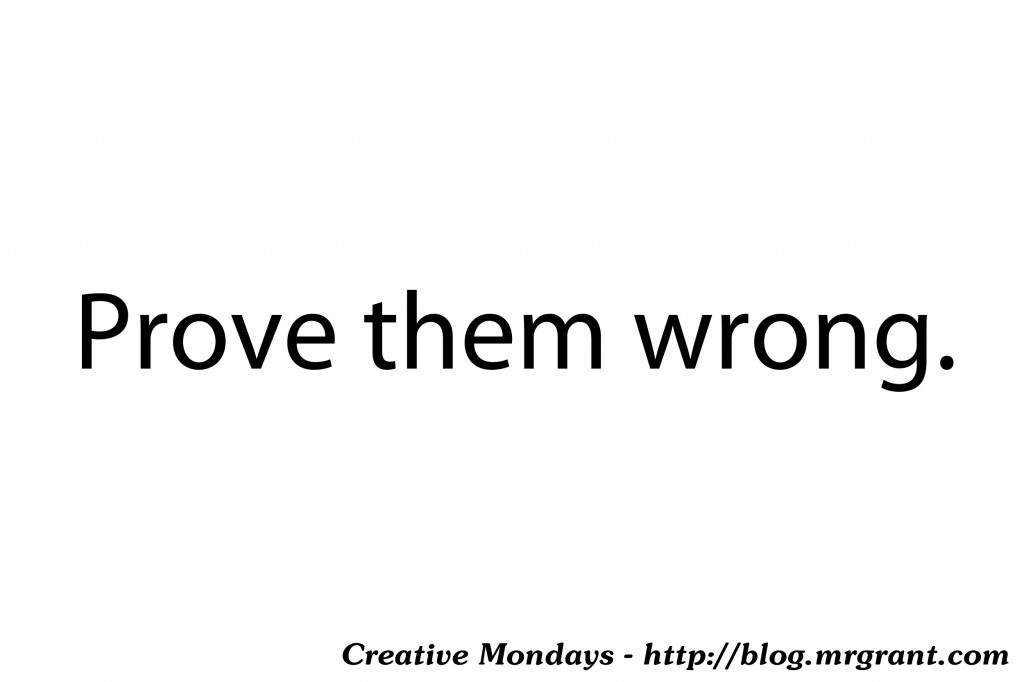 If there's one thing all creative folks have in common, no matter what their chosen artistic field is, it is that you will have your fair share of naysayers.  People who tell you the creative goal you have in mind just simply cannot be accomplished.  These people will, to your face, tell you that what you are doing isn't going to work.  Or that your creative goals are unattainable.
Now I'm sure there's a deep psychological reason why these people do this.  It could be jealousy, just plain meanness or any number of other things.  I think these people are the absolute worst kind of people to have around because what they are doing is killing creativity.  They are stomping on your dreams.  Killing your confidence.  They are, unfortunately, all around us and they can even be lurking amongst those who we consider our close friends or even our family.
People will tell you to ignore the naysayers and I agree.  Ignore them.  They should be meaningless in your artistic career.  But I say do not just ignore them, use their naysaying to propel you even further down the path to your creative dreams.  Prove them wrong.  The feeling of proving someone who doubted you wrong is a feeling that can only be eclipsed by the feeling of producing a piece of art.  I love proving naysayers wrong and it's something I developed at a young age.
I remember I was taking a theatre management class in college and the teacher had us do some writing on a project.  I forget exactly what the project was focused on but at the end when the teacher went over what we had written, he pointed out that two of us in the class had written about that there would be no greater feeling of satisfaction in our careers than to prove the naysayers, the people who said we couldn't accomplish what we wanted to accomplish, wrong.  It was at that moment I knew that I was not alone in my thinking that way.  There were others out there too.
This was proven again to me wham I heard the song Acceptance Speech by the band Friendly Indians.  In the song, the singer warns all those who crossed him to get ready to grit their teeth when he steps up to the mic to make his acceptance speech.  This song clicked with me from the first moment I heard it and, to this day, I will listen to it to focus me back on the path getting creative work down and proving the naysayers wrong.
Also, this may be a good tactic to try if the main naysayer who is holding you back is you!  If that's the case, prove yourself wrong.  Show yourself that the things you want to do can be done.  If you do that enough, you'll stuff your own personal naysayer back down where he or she belongs!
I will offer this one bit of warning, however.  You don't want to dwell on the negative things that people say about your creative goals.  That's a great way to rev up the old negative brain and that will not serve you at all.  I've talked about the negative brain before on in this blog, but if you're joint us late, once the negative brain is ramped up, it's hard to shut down, so don't let the naysayers get you going in that respect.  Only use their naysaying as fuel to propel you further towards accomplishing your goals.
Prove the naysayers wrong.
—
How do you deal with naysayers?  Is there a better way than plotting to prove them wrong?  If so, let me know in the comments below.  Have a great week!