Tag:
goals
As I said in my post yesterday, it always starts this way, I drop a few pounds the first few days then nothing.  Today was nothing.  Still the same weight as yesterday.    Totally not discouraged though, that's how it goes.
I knew going into today it was going to be a little different that the past few.  I had a rehearsal with the improv group I'm in, Improvatorium, from 10-1.  A kid's show at Flappers at 4:30 and then I had to high tail it over to Hollywood before 5:45 to run sound for a one woman show.  I was going to be eating a little earlier than normal (before my class) so I decided to eat a little but more, choosing a footlong turkey sub at Subway as opposed to the regular 6 inch.  The day before I kinda laid out the day in terms of eating which several people say is a good thing when trying to lose weight.  Plan out what you're going to eat as opposed to just going on whims (mmmm…burrito….).
I also like to plan out because if it's something I really love I can look forward to it and say "No I'm not going to eat that now, I'm having (good food I'm looking forward to) later.  So today I planned Subway in the morning early, grab a footlong.  Some sort of fruit back at my office after my rehearsal.  Then a salad with chicken up at Flappers before the show.
That plan did not workout however.  The time between when I got to Flappers and when the show was going to start was too short.  So no food.  Immediately after I got off stage at Flappers I had to book it to Hollywood to run sound, so my only option was to eat after the show.
By the time I got back to my palce it was 9PM so I was hungry.  Was VERY tempted to stop along the way and get something bad.  In-N-Out….Panda Express (guilty pleasure).  Also thought about getting a Subway sandwich.  But, I decided to just get home because I had healthier stuff there and I wanted to go on a run because I hadn't during the day.
Got home, had a sensible dinner, as you'll see below, and then went for a great run.  It was a well lit path, no worries.
I do feel like I want somewhat of a 'treat' tomorrow.  Not sure what but something.  Pretzel M&Ms are low points, 6 for a bag, so maybe those.  We'll see.
Onto the food!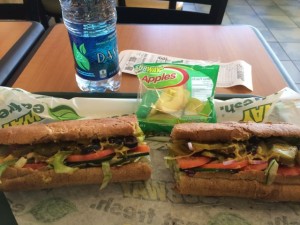 Footlong Turkey sub on whole wheat, apple slices, bottle of water – 15 WW Points
Didn't get Chips because I was getting the footlong.  Not much else to say.  Standard sandwich.  Except she put banana peppers on if before I could tell her not too. I don't mind banana peppers, just not my favorite.  Jalepeños though….mmmm.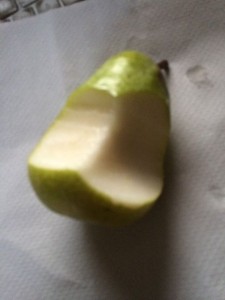 Pear – 0 WW Points
This pear was so much better than yesterdays.  I think they just needed a day to ripen.  You know, fruit does that.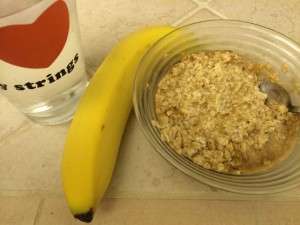 Quaker Low Sugar Maple & Brown Sugar Oatmeal (2 Packets) a banana and water. – 6 WW Points
That was my dinner.  I could have eaten a ton more but I was focused on my, newer plan, of eating something light and going for a run.  It worked and I feel good.
That'll wrap today up with a bow.  Thanks for reading. Goodnight.
Welcome to Day 2.  You're gonna hurt.
I ate too little yesterday, no doubt about it.  Shortly after midnight, my head and stomach hurt pretty bad.  I was screaming at myself, inside my head as I usually do, to eat SOMETHING.  I refused and just went to bed.  See, I'm letting you in on my sickness, my body was telling me to eat and I refused.  Now, I refused because, if I ate at that time I would eat a TON.  Two, three bowls of cereal.  A huge sandwich.  Something and a lot of something.  So I just went to be hungry.
In the morning, my head hurt even worse than it had before.  At about 7AM it was so bad I couldn't sleep, so I got up and fixed me some instant oatmeal.  Ate a bowl of it and went back a rested for another hour or so, feeling much better.
My usual routine is to get up, get ready and leave the house.  I never eat breakfast and usually do not eat for an hour or two (or three) after getting up.  Usually I'll eat around 10:30am or 11am.  That may have to change.  I may need to eat SOMETHING before getting going in the mornings.
Today went well and I consciously ate a little more than yesterday, while still staying in my WW daily points allowance.  I also started taking a daily vitamin this morning.  Everything I read about losing weight and such says to do so, so I did.  I actually take them off and on, but I'm going to be more conscious about taking one daily now.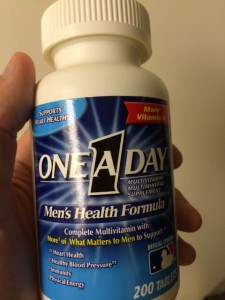 Anyway, after getting up, the second time, and getting ready I weighed myself.  177 lbs!  Down a pound already!  My head works this way though, "Crap!  I should have weighed myself BEFORE eating the oatmeal.  I might have weighed less!"  I didn't eat a POUND of oatmeal, but my head still goes that way.
So, onto what I ate today.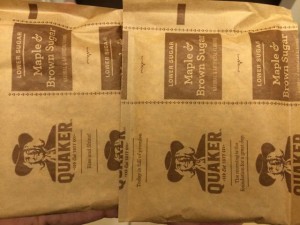 2 Packets of Quaker Maple & Brown Sugar Lower Sugar Instant Oatmeal.  WW Points = 6
Love Maple & Brown Sugar oatmeal.  Always have.  SECRET:  Love eating this stuff right out of the packet.  No water, no heating up.  You heard me. Love it that way.  I ate it in a bowl with water this morning.
Porto's Southwest Steak Salad (No dressing, tortilla strips or cheese) & Bottle of water. WW Points = 12 (estimate)
I love this salad form Portos, a cuban restaurant right across the street from my office.  Little tricky to figure out the exact points here as Portos doesn't have their nutrition available but really only the avocado, steak and black beans count (and I think in my tally I actually over counted the beans.  The salad comes standard (like a car) with tortilla strips, cheese and slathered in dressing.  I ordered without the tortilla strips and cheese and asked for dressing on the side.  When they brought it they forgot the dressing.  For a brief second I was going to ask for it then decided I didn't need it.  Great salad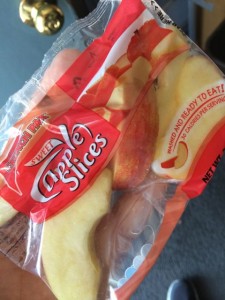 Apple Slices – WW Points = 1 (I say apples are 0, but according to the nutrition on the back of the bag they are 1.)
Mid afternoon snack of some apple slices.  Same picture as yesterday, but it'll save time to recycle pictures.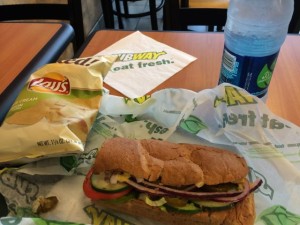 Subway 6″ Turkey on Wheat, Baked Lays Sour Cream & Onion Chips & Bottled Water.  WW Points = 11 Points
Yeah, the chips add more to the point total but, as I said earlier, I wanted to eat a little more than yesterday and avoid that headache.  So far so good.
ACTIVITY: 30 MINUTE RUN
My usual run through Toluca Lake.  Love running through there.  Quiet streets, not a lot of traffic.  Shade.  Great place to run.  Also wanted to note that I usually run before my evening meal, I'm just listing activity last on these report pages.
So that's day 2!  Another day down.  I'm realistic in that I know I won't be losing a pound a day, but losing one off the bat sure feels like a good start.  Got the 'offer' for the big creative thing I'll be doing on October 21 (the reason I'm focusing on this slimming down), si it looks like it's a go.  Don't want to announce too wildly until I get the contract in hand.   And my passport.  🙂
With that tease I'll bid you a goodnight!
"Announcing your plans is a good way to hear God laugh." – Al Swearengen, HBO's Deadwood.
I'm dragging my hinder getting my 2013 goals written down because the job search is sucking the very life out of every fiber of my being.  I have, however, had the goals I'd like to get accomplished in 2013 rattling around my in my head and have a few moments to get at least some of them down.
– Get a job –
Self explanatory.  I'm on this one.  Been on it for months.  Hoping something comes through soon.  Very, very soon.  In the meantime: www.HireGrant.com
– See the Grand Canyon –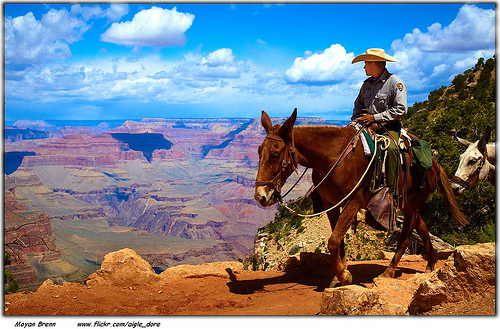 I don't have the finances to plan a big fancy trip this year.  Luckily I'll have a job taking me to Austin in May so that'll be some travel.  But I wanted to get some sort of 'no business' travel on the books that I can look forward to.  I have only seen the Grand Canyon from the cabin of an airplane and I've always wanted to see it so that's my travel goal for 2013.  See the Grand Canyon.
It's only about 8 hours away by car, so I figure this is pretty doable. Perhaps I can even book a few gigs on the way to make it all a write off.  But even if I can't, I want to see the Grand Canyon in 2013.   Not sure is I'll go rafting (never done that) or ride a burro down to the bottom, but I'm excited to make this happen.
Will I walk out on the Skywalk?  I'll cross that bridge when I get to it.  (Sometimes afraid of heights.)
– Time Skippers –
In February 2011, I finished writing my first 'young adult' novella.  It's a 20,000 plus word story called Time Skippers.  I wrote the first draft out by hand.  Then I did a rewrite as I typed it into Scrivener.  Once that was done I had it proofread from spelling/grammar and then printed out two copies.  One I gave to my mother (a voracious reader) and one to a good friend who is a published author and very graciously offered to read it.  My mom, of course, said she loved it and said she can give a more detailed critique, but we've yet to do so.  My author friend read it and, to be polite, gave me a major (and appreciated) ass kicking.  The ass kicking though made me shy away from getting back to doing another rewrite.  Recently, I've been thinking more and more I should drag it out and, you know, do something with it.  So towards the end of 2013 I printed out three more copies.  Two went to friends and the third went to an English teacher from high school.  I'm expecting critiques back from them very soon
So, for 2013, my goal is to do another rewrite of Time Skippers once those critiques are in.  Then, if I can find a good editor (and afford it) get it professionally edited and then…get it out into the world.  The plan, I'm thinking right now, will be to get it professionally read and recored and put it out piece and piece as a podcast much like Scott Sigler or Mur Lafferty do.  If there's enough interest, I'll explore self publishing.  But who knows, maybe the podcast will become so WILDLY popular I'll get a book deal (Ha!).  I'll never know till I out it out though, right?  So coming in 2013…Time Skippers.
The other main reason behind wanting to get it out is because I actually have two other books half written, but I'm forcing myself to get Time Skippers 'done' before I work on working on those two.
That's it for goals right now.  Much more on the way.  But I'll wrap up this post by giving you the synopsis of Time Skippers.

"When thirteen year old Maureen Kell is forced to stay with her recently widowed Grandmother, she prepares for the most boring Spring Break in recorded history.  Little does Maureen know she'll soon become PART of recorded history after a group of mysterious strangers attack her Grandmother's house and her Grandmother saves her from capture by sending her back in time to 1775 with the mystical practice of Time Skipping!  Now Maureen has to find her way back to the present and figure out a way to rescue her Grandmother, all before her parents return to pick her up at the end of the week!"
And without giving too much away, The Grand Canyon makes a cameo in the book.  Hmmm, maybe that trip can be a write off after all.  Research!
Have a great week!