10 in 20 – Day 2 – Down a pound
Welcome to Day 2.  You're gonna hurt.
I ate too little yesterday, no doubt about it.  Shortly after midnight, my head and stomach hurt pretty bad.  I was screaming at myself, inside my head as I usually do, to eat SOMETHING.  I refused and just went to bed.  See, I'm letting you in on my sickness, my body was telling me to eat and I refused.  Now, I refused because, if I ate at that time I would eat a TON.  Two, three bowls of cereal.  A huge sandwich.  Something and a lot of something.  So I just went to be hungry.
In the morning, my head hurt even worse than it had before.  At about 7AM it was so bad I couldn't sleep, so I got up and fixed me some instant oatmeal.  Ate a bowl of it and went back a rested for another hour or so, feeling much better.
My usual routine is to get up, get ready and leave the house.  I never eat breakfast and usually do not eat for an hour or two (or three) after getting up.  Usually I'll eat around 10:30am or 11am.  That may have to change.  I may need to eat SOMETHING before getting going in the mornings.
Today went well and I consciously ate a little more than yesterday, while still staying in my WW daily points allowance.  I also started taking a daily vitamin this morning.  Everything I read about losing weight and such says to do so, so I did.  I actually take them off and on, but I'm going to be more conscious about taking one daily now.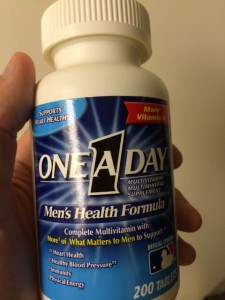 Anyway, after getting up, the second time, and getting ready I weighed myself.  177 lbs!  Down a pound already!  My head works this way though, "Crap!  I should have weighed myself BEFORE eating the oatmeal.  I might have weighed less!"  I didn't eat a POUND of oatmeal, but my head still goes that way.
So, onto what I ate today.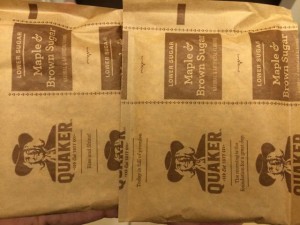 2 Packets of Quaker Maple & Brown Sugar Lower Sugar Instant Oatmeal.  WW Points = 6
Love Maple & Brown Sugar oatmeal.  Always have.  SECRET:  Love eating this stuff right out of the packet.  No water, no heating up.  You heard me. Love it that way.  I ate it in a bowl with water this morning.
Porto's Southwest Steak Salad (No dressing, tortilla strips or cheese) & Bottle of water. WW Points = 12 (estimate)
I love this salad form Portos, a cuban restaurant right across the street from my office.  Little tricky to figure out the exact points here as Portos doesn't have their nutrition available but really only the avocado, steak and black beans count (and I think in my tally I actually over counted the beans.  The salad comes standard (like a car) with tortilla strips, cheese and slathered in dressing.  I ordered without the tortilla strips and cheese and asked for dressing on the side.  When they brought it they forgot the dressing.  For a brief second I was going to ask for it then decided I didn't need it.  Great salad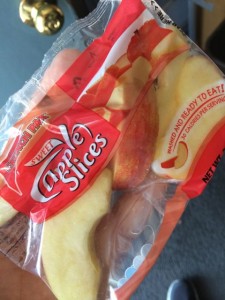 Apple Slices – WW Points = 1 (I say apples are 0, but according to the nutrition on the back of the bag they are 1.)
Mid afternoon snack of some apple slices.  Same picture as yesterday, but it'll save time to recycle pictures.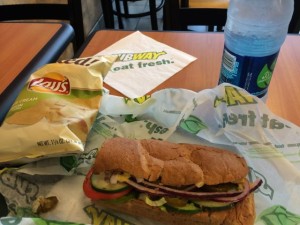 Subway 6″ Turkey on Wheat, Baked Lays Sour Cream & Onion Chips & Bottled Water.  WW Points = 11 Points
Yeah, the chips add more to the point total but, as I said earlier, I wanted to eat a little more than yesterday and avoid that headache.  So far so good.
ACTIVITY: 30 MINUTE RUN
My usual run through Toluca Lake.  Love running through there.  Quiet streets, not a lot of traffic.  Shade.  Great place to run.  Also wanted to note that I usually run before my evening meal, I'm just listing activity last on these report pages.
So that's day 2!  Another day down.  I'm realistic in that I know I won't be losing a pound a day, but losing one off the bat sure feels like a good start.  Got the 'offer' for the big creative thing I'll be doing on October 21 (the reason I'm focusing on this slimming down), si it looks like it's a go.  Don't want to announce too wildly until I get the contract in hand.   And my passport.  🙂
With that tease I'll bid you a goodnight!