10 in 20 – Day 1
So here we are at the end of Day #1.
I will say this day was pretty easy.  First days, usually are for me.  Over the past few months I've had a lot of first days.  Even some 'two days' but then things fall apart after that.  The Wednesday Morning weigh-in helped focus me today, though. 178lbs!  Yikes.  To give you a little insight into that Yikes, I was 170 on August 28th!  8 pounds in a month!  YIKES!
I got through the day pretty good.  Around 2PM I got REALLy hungry.  Luckily, I have some apple slices packs in my office fridge.  I know, I know, just buy real apples.  I can't eat apples the 'normal' way, long story.  These are just easier.
I'm focusing on the Weight Watchers program as I do this.  It's worked for me in the past.  I'm also trying out a few other apps and techniques as well which I'll talk about over the course of this experiment.
I've written before on here about The Magic Spreadsheet.  The tool I've been using to inspire me to write 500 words per day.  Well the guy who came up with the idea for The Magic Spreadsheet has now created The Magic Workout Spreadsheet.  It's the same idea except instead of writing every day, you get points for working out.  And, unlike The Magic Worksheet, there's no set minimum.  You decide what you need to do each day to earn a point.  For me I decided at LEAST 30 minutes a day.  As I said in my post yesterday, I usually do that anyway.  I may step it up a little, but for now I'm focusing all my energy on eating right.
So, let's get to today's meals and the pictures of my scrumptious food.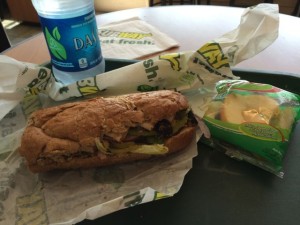 LUNCH:  Subway 6″ Turkey on Wheat, Apple Slices & Bottled Water.  WW Points = 8 Points
First warning, get used to this meal.  You're going to be seeing it a lot in the next 19 days.  It's my go-to meal.  When I lost the 70 pounds originally, it was mostly by eating Subway sandwiches.  Back then I'd eat a foot long Veggie Delite once or twice a day.  Anyway, what more can you say?  It's a Subway sandwich.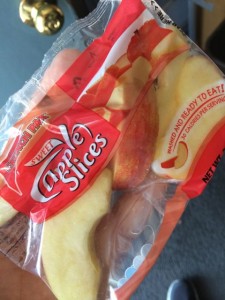 SNACK:  Apple Slices – WW Points = 1 (I say apples are 0, but according to the nutrition on the back of the bag they are 1.)
These are from Target.  As I said, around 2PM I felt like I could eat a ton of just about anything.  I reached for a bag of these and then was fine.  This is actually pretty amazing because I currently have a bag of Reese's Peanut Butter Pumpkins in my fridge as well.  I could have reached for one of those.  No, I remained focused.  Also want to mention here that I drink a ton of water throughout the day.  It's pretty much all I drink, so during the day I go through several bottles.  Yes, bottles, get off my back you hippies!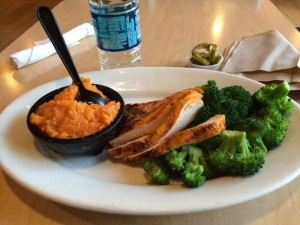 DINNER: Sharky's 1/2 Chicken Power Plate with Broccoli & Yams w/ Jalapeños.  Bottled Water. WW Points = 10 Points
No Subway for dinner.  I like Sharky's.  A lot.  Remember when I mentioned the burritos yesterday?  They come from Sharky's.  Sharky's has a lot of healthy stuff, like this, that is really really good.  Is this something I could have easily made at home?  Yes, well, maybe except for the Yams, but I like the ease and convenience of eating out.  I'll explain why one day coming up.  Anyway, this is a great meal and fills you up.
ACTIVITY: 30 MINUTE RUN
My usual run.  No Wii Fit today for a few reasons, but hope to add that in soon.  Running is always helped by a great podcast to listen to and recently that's been Nerd Poker.  It's pretty hilarious.  NWFW though.
Well there you have it.  The end of Day #1.  19 to go!  Thanks for joining me.