Tag:
niagara falls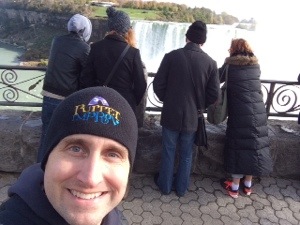 Today started early with me and Brian heading over to pick up a rental car. We had a quick breakfast at this place near where the Avis was and I got my 'Canadian Bacon.' Well, on the menu it was called Peameal Bacon. I had never even heard of it and when I asked about it the waitress said, "Are you from the States?" Uh, yeah. Anyway it was great and I had a pancake with maple syrup as well to complete my Canadian Breakfast checklist.
After breakfast we picked up our rental car and went back to pick up the rest of the gang who were planning to join us. Patrick, Peggy and Colleen hopped in and we were off to Niagara Falls. I drove, because I love driving. Brian had rented us a Ford Flex and I have to say I loved it. It was a really super up model but was really comfortable and hi tech and was fun to drive.
The drive out was short and soon we could see the rushing waters of Niagara Falls. We parked, on the Canadian Side and walked over to the falls. I had seen it from the American side before and I have to say, it's a lot more impressive on the Canadian Side. We walked along the falls for a bit and then walked back. We had talked about going over to the US side but some dummy, me, had forgotten his passport. So, no go there. I did film a few fun Uncle Interloper vines and Touts. The Tout go featured right away, which was kinda cool. After browsing the gift shop and buy a magnet for my dad and a pencil for a special someone, we were back in the car to explore more.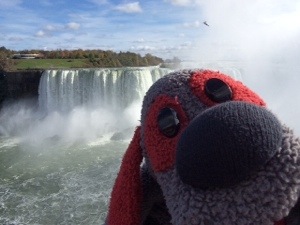 And then we discovered Clifton Hill. If you're unfamiliar with Clifton Hill, it is the 'street of fun by the falls.' I was instantly, madly in love with the place. To me it was all the best things about America here in Canada! Just every cheesy tourist attraction you could think of. A Ripleys, a shooting gallery, a Ferris wheel, the Crimnals Hall of Fame, an upside down house, the crystal caverns, an indoor water park and a haunted walk through that promised 'fill your pants fun!' How could you go wrong?! Well, no one wanted to eat there so we drove down the road a bit to find a place to eat. A brewery type place. Had a salad and rested for a bit and then we decided to head back to Clifton Hill or 'Tacky Town' as it was being called.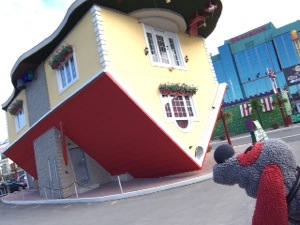 Brian and I tried out the shooting gallery. The Crystal Caverns attraction had a great animatronic vulture out front that I could have watched forever and there were a ton of great attractions. I really wanted to go into the Criminal Hall of Fame, but no one wanted to wait for me to do so. I also tried to get everyone to take an 'old timey' picture but there was a lack of interest. Anyway, it was a ton of fun and I will be back.
We then drove back to Toronto. Great discussions on the way back always fun to learn more about my fellow performers.
Once back in Toronto, it was another round of laundry, this time the show blacks were watched. A really fun day and I will always remember my first trip to Tacky Town.