Tag:
notebook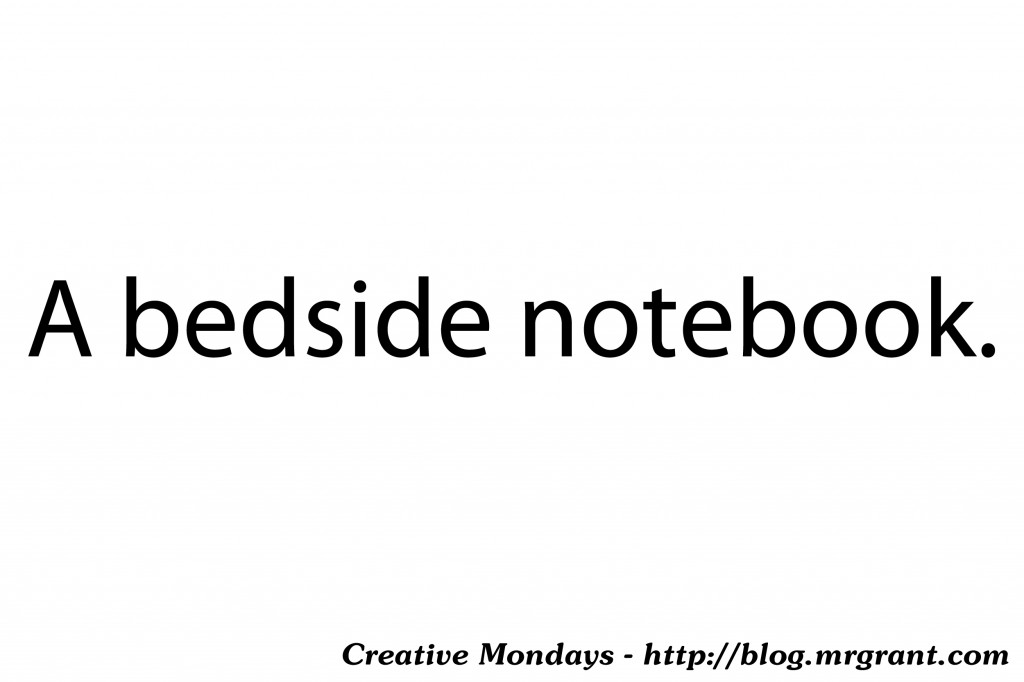 This one is going to be one for the 'duh' column but it's an important reminder for creative tyoes and our scattered right brians.
Keep a notebook and pen or pencil next to your bed so that when you have a inspirational thought (or dream) in the middle of the night, you can jot it down.
No matter how much you think to yourself that you'll remember the idea in the morning, YOU WILL NOT.  Okay, maybe you will every now and then, but do you really want to risk the possibility of losing a REALLY, REALLY good idea?  No.  THen keep the notebook by your bed.
Every year around the start of fall, stores like Rite-Aid, CVS or Walgreens sell those 70 page spiral notebooks for under a dollar.  Usually something crazy like 60 cents or so. I usually pick up a few.  Then, on my nightstand I put one of those notebooks, opened to a blank page with a pen resting right on top of it.
If inspiration strikes in the middle of the night, I reach for the notebook and pen without even turning on the light.  Then, I slowly start writing down the idea on the page.  I don't worry about writing on the lines, I just try to write as deliberately neatly as possible in the dark so that in the morning I can read what I've written.
I write in big letters, turning the page if I get to the bottom.  Again, the main goal is to get the idea down, not write a report you're turning in for a grade.  The reason for doing it in this manner is so I don't have to turn on the light.  Personally, if I turn on the light, I'll be awake.  This method really works for me.
In the morning I read through what I wrote and then transfer it to my Creative Idea Journal for further action. Once it is safely transferred, I will tear out the pages from the nighttime notebook and then place it back on my nightstand, ready for the next late night inspiration.
This is my method but you may have some other way of doing it.  I'd thought about jotting the things down on my iPhone, but if you think light wakes me up, the iPhone would have me up answering emails.
This bedside notebook does the trick.
—
Do you have a method for recording those late night ideas or dreams?  If so, let me know what it is in the comments below.  Have a creative week!