Tag:
Salt Lake City
(Again, unedited and not spell checked. Just posted.)
APRIL 4, 2013
I woke up the morning of the 4th with a determination to eat better on the rest of the tour so as to not have a repeat of last night.
I did my wii fit exercises in the hotel room. No, I did not bring my wii fit with me, I recorded my regular workout session on my iPhone and then listen back and followed along. Worked surprisingly well. I then went out for a thirty minute run.
After the run I wanted to grab some healthy food and used yelp to find a subway to get a veggie delite. There was one about a block away and I hoofed it and when I walked up to the subway there was a barbecue joint right next door. The universe was being cruel. I chose the subway. After eating, getting back to the hotel and showering it was time to get up to Kingsbury Hall for show rehearsal.
There's a new piece in the show called Windy. It's a very 'muppet show-esq' piece to the song of the same name. It features table top puppetry and I manipulate e feet of one of the singers. It's difficult because its hard to see the monitors during it thanks to the black velvet beekeeper masks we have to wear while performing. We needed to run through this several times. As well as a few other set pieces of the show.
After rehearsal there was tech rehearsal, then dinner, then prep for showtime. I was sporting brand new, all black, Converse high tops and, because I wanted to class things up a little, a skinny black tie.
The Salt Lake City crowd was incredible. I felt I could have done better improv wise. The best improv bit was a film noir that took place at Temple Square park. It was so lucky that Tyler and I went there the night before. In just started working in things I had seen there and the audience loved it. Also the alien barbershop, my favorite structure, went well. The song topic was Polygamy.
Polygamy
Means many wives.
The though to which,
Makes me sick with hives.
I was disappointed in my performance in Windy. The feet were way off and I felt I let Allan, the senior puppeteer on the tour, down as it was his feet I was controlling. I shook it off though and vowed to do better the next night.
After the show it was time to get on the bus towards Idaho Falls, ID. We had a three and a half hour long drive. It was only about ten or fifteen minutes into the drive when we realized that there was something wrong with our driver. We were in a big, fifty six seat, chartered bus and this guy could not keep it in the lane. He was constantly veering between lanes and other cars were swerving around us. It was not fun.
We finally got him to pull over and there was a mass exodus off the bus. We were going to wait an hour for another bus but it was well past midnight. Our intrepid tour crew made the decision we'd stay at a nearby Comfort Inn and travel on to Idaho Falls in the morning.
Side note: we later found out our bus driver is scheduled to have cataract surgery next week. Yeah.
So day two ended at a comfort in after midnight. A good show, some precarious bus riding and then sleep.
Thank you Salt Lake City, goodnight.
Okay, so I've been attempting to write every day while on tour with Stuffed & Unstrung. It's been a little rough, as you see, because of some of our travel woes. So I figured the easiest way to get my 500 words per day would be to just journal about the travel adventures.
These are unedited and basically just barfed out, so don't expect too much. They'll appear about two days behind, but were written on the day.
Here we go!
APRIL 3, 2013
The first day of the Stuffed & Unstrung tour was rather uneventful. The first day is always a bit like a reunion. You get to the airport and see a person or two you haven't seen in a bit and you catch up on what's been going on.
The reunion, this time, took place at LAX and it was good to see folks I had net seen in a while. The flight from LAX to Salt Lake City was uneventful and shorter than expected.
The flight was rather uneventful. I did upgrade my seat because i was ticketed in an middle seat. Ugh. Hate middle seats. I'm an aisle man. Just like knowing if I need to get up I don't have to bother anybody. So I paid the $29 to upgrade to a window but one with no seats in front of it, so I was free to move about the cabin.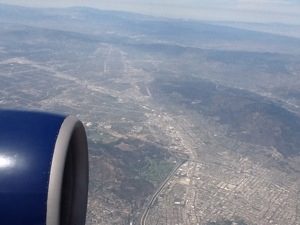 Once in Salt Lake City we met up with the parts of our crew who flew in from New York and we were off to the hotel.
I had never been to Salt Lake City and found it to be rather beautiful being surrounded by mountains and all. Once checked in to the hotel, a bunch of us decided to take a walk to take in some of the downtown sights and grab some food.
While looking for a place to eat, some of our crew wanted to just go to the food court at a mall downtown. Puppeteer Tyler Bunch and I wanted to sample a little more of the local flavor of the area outside of Sbarro so we struck out on out own.
We decided upon a Brazilian Steakhouse. If you've never been to one, they are pretty great. All you can eat and just many different kids of meat. Certainly not for our vegetarian friends. We ate our fill and then struck out to see the rest of Salt Lake City.
I quickly realized I had eaten far too much as I suddenly started getting a pain in my side. As we walked to Temple Park downtown, my side just kept getting worse. Temple Park is beautiful. I wish I could have appreciated it a bit more but I was in pain.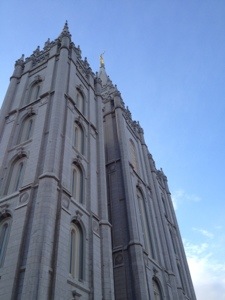 I took a pedal cab back to the hotel and laid down. I was not feeling good at all. One of those, "I'll never eat that much again. Ever." Types of not feeling good. Surprisingly, after lying down for 20 mins I was right as rain.
I then met up with Tyler again and we met up with a friend of ours who is teaching at University of Utah. We had a pleasant visit with her and some of the other professors from the school and then were back to the hotel for bed.
I do get quite excited for these tours and so sleep on the first night is rare. I was up way later than I should have been but luckily didn't have anywhere to be until 12:30pm.
END
<