Tag:
san franccisco
I did not get to bed last night until after 1:30 AM. I slept very well in the cool house that Puppet Up has put me and Michael Oosterom up in. I got up at about 9:00 AM worked out and then walked the easy 10 minute walk to my parents shop.
I absolutely love to walking around San Francisco and being very familiar with my surroundings. When I was walking down the street that my parent's shop is on, I saw my father standing out front and started to wildly wave at him. Next thing I know, my mother comes out in front of the shop and she starts running down the street to greet me. It was so good to see my parents as I haven't seen them in a few months and that was just for a short visit.
I went over to the shop because some people were coming to film a promotional video for my dad's business. My dad did not want to be on the video at all so he asked me to be there to be sort of the spokesman for the company. We took some time to shoot the video with the production company and, being the Baciocco family, we had a great time doing it. There's always a lot of laughs when the four of us are together.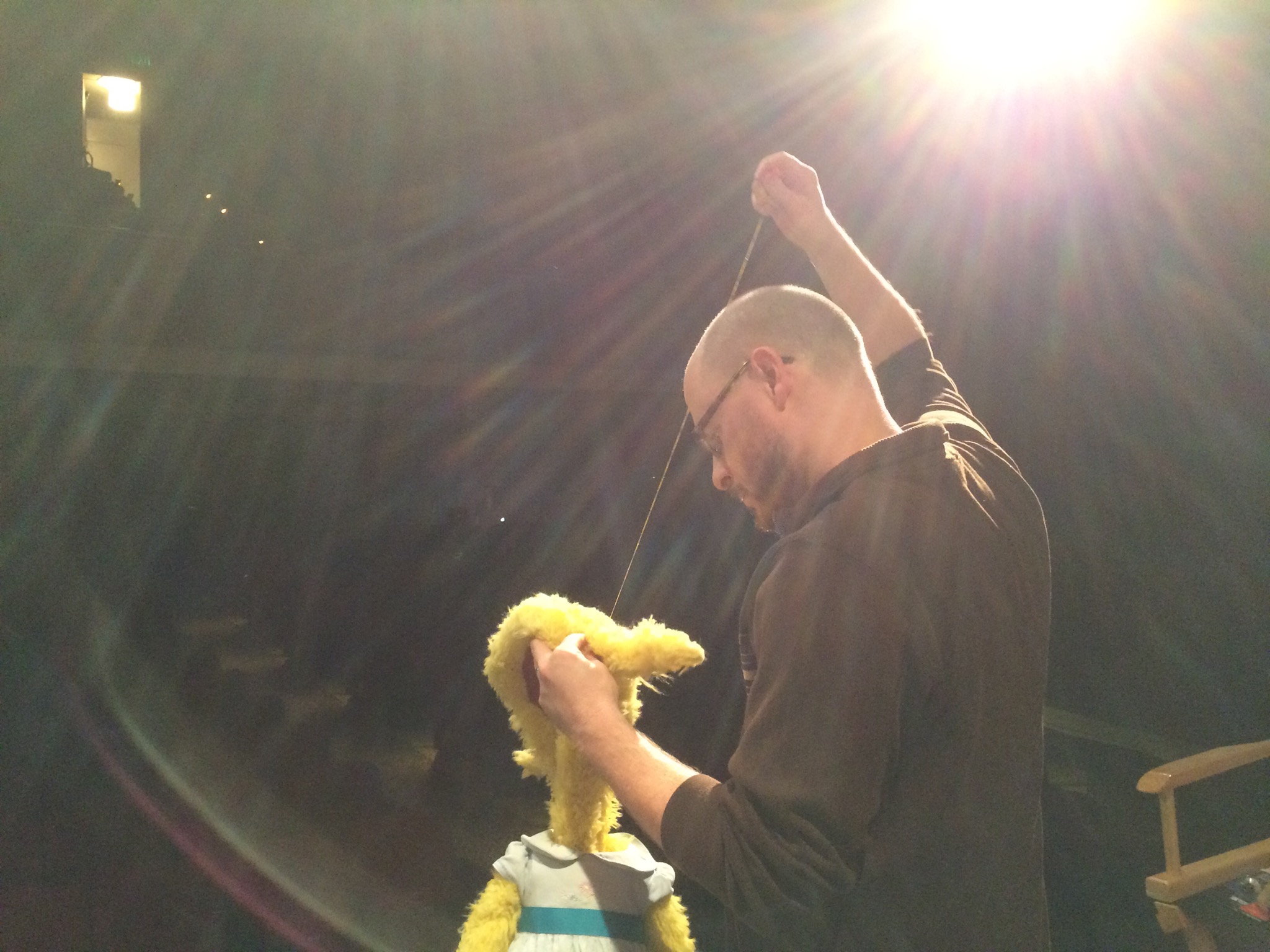 After the video was done, I hung out and visited with my parents and brother for a bit then Cameron and Aaron from the Puppet Up production came by the shopand we all took a walk to get some barbecue. It's always great fun to hang out with both Cameron and Aaron. And the barbecue was pretty great too.
After lunch Cameron and Aaron went off to explore San Francisco and I went back to the shop and hung out with my parents for a while. My parents, along with my brother, and some of their friends were all coming to the show tonight so I'm very, very excited.
I'm also excited tonight because Robin Goodrow is coming to the show. Robin Goodrow created a show called Buster and me that was a local San Francisco kids show. It was one of my first exposures to the puppets, outside of the Muppet show. I'm very excited to get to perform puppets in front of somebody who inspired me as a kid.
After visiting with my family for a bit, I walked back to where we were staying and just relaxed.
Headed down to the theater at about 5:30 PM. Got to experience the fun of taking my first Uber ride. At the theater we rehearsed some pieces including the jamboree song which would be in tonight's show. Soon enough it was showtime.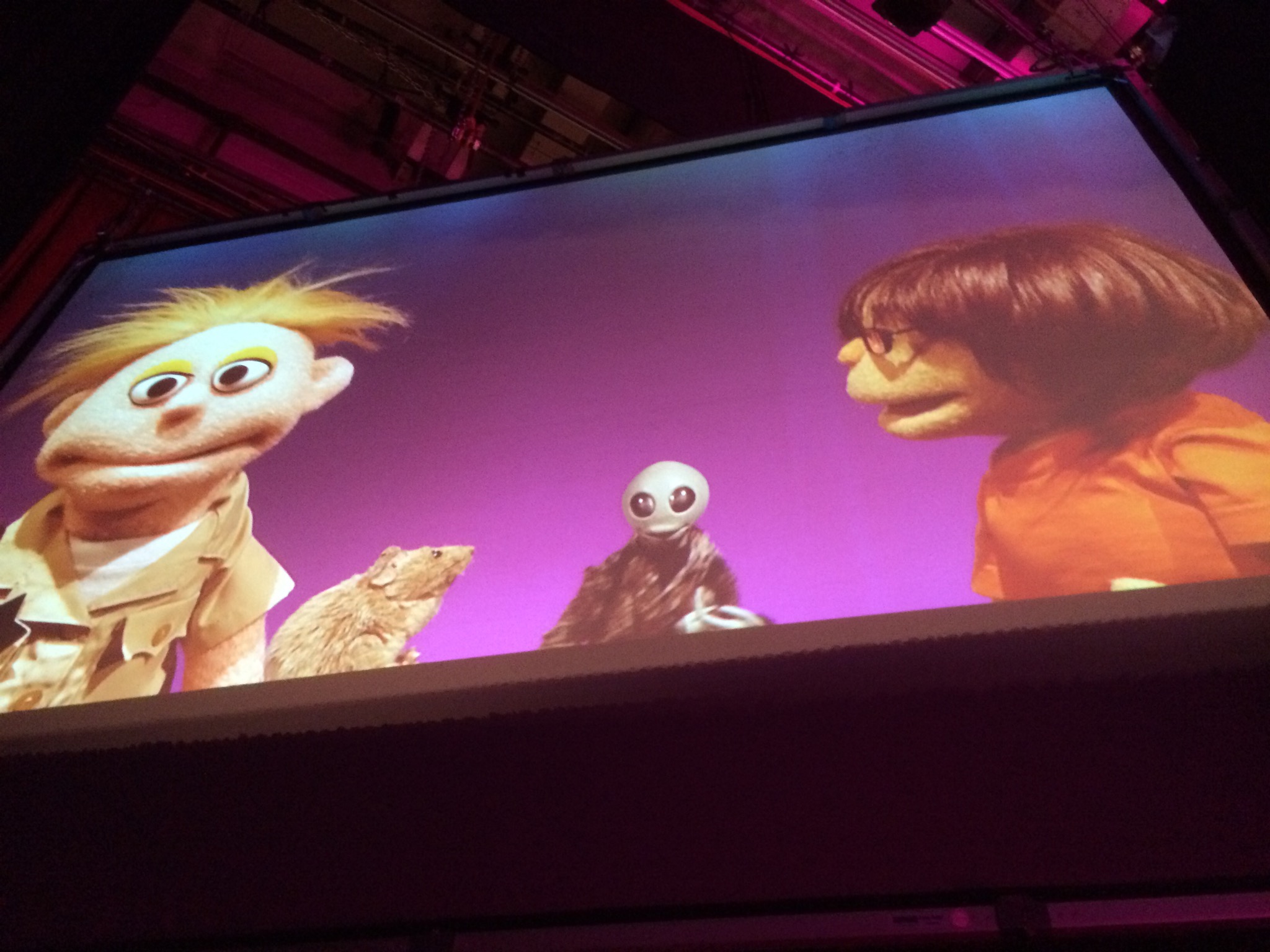 Such a fun show tonight. Lots of great suggestions from the audience and a few crazy ones! The jamboree went well. Sang about Justin sitting in the front row who was a clinical psychologist. The jamboree got many laughs but it's just not quite where I want it to be yet. It will get there though. Another favorite sketch involved Ted, Michael and myself stuck in an elevator. It was really a funny sketch and it's hard to explain via writing. You kind of had to be there. But that was probably my favorite sketch of the night.
Because I sang in the jamboree, I did not sing the alien barbershop tonight. Those duties fell to Michael Oosterom.
After the show I went out to the lobby and it was great to have my family there. I can tell that my mom and dad and brother all enjoy coming to see the show. That means a lot me. It was also great fun to meet Robin Goodrow after the show.I told her again how her show had been a big influence on my love of puppets. She told me that she never had kids but all the people who watched her show her like her kids. I took a picture with her and I can't wait to get a copy of it.
After the show, the cast went and had some food. Then we were off back to our places of residence. Tomorrow, we have two shows which will be interesting. But exciting. I can't wait.