Tag:
stu stone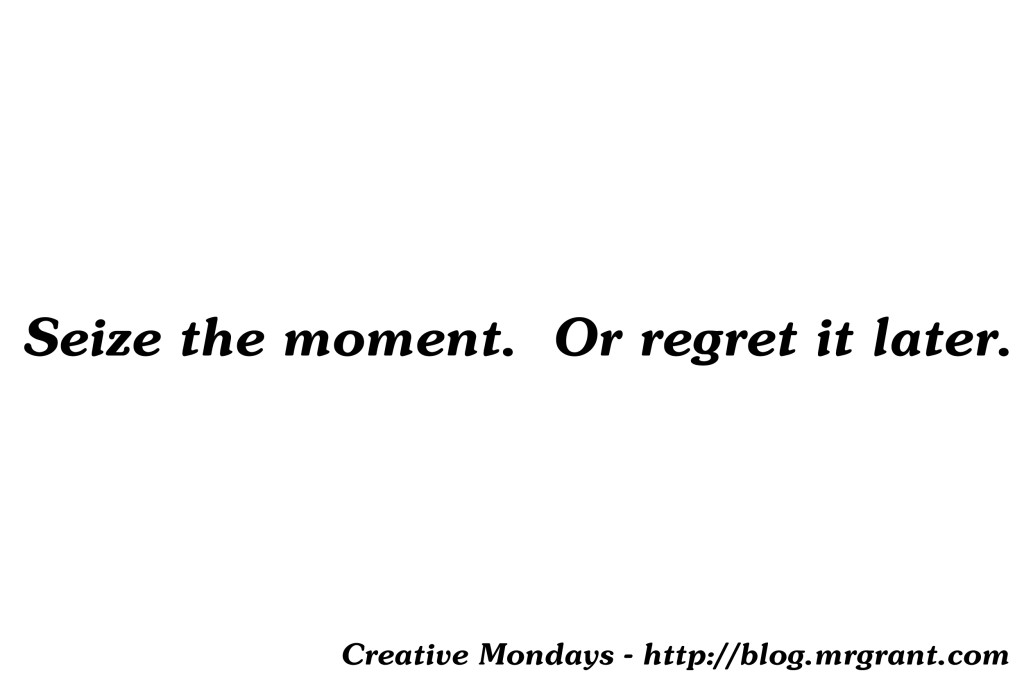 When I first thought about the topic for today's post, I figured this would only work for those who are in the performing side of the creative arts world.  But the more I thought about it, the more I feel it applies to everyone in the art world and, heck, everyone in general.  Again, it's a saying we have all heard a million times, but it bears repeating:
Seize the moment.  Or regret it later.
This has rumbled back around in my brain this past week because I failed to seize a moment presented to me this past week and I'm totally regretting it now.  Let my tale be a lesson to you all.
As you may or may not know, I am a ringside interviewer for Championship Wrestling from Hollywood.  It is a totally fun job with a great group of people and last Sunday (February 23) I worked the latest round of TV Tapings for the show.
Before the show I found out that we would only have one permanent commentator for the day, the fantastic Johnny LaQuasto.  He would be joined periodically on commentary by manager Stu Stone, but for the most part, he would be on his own.  During the tapings, I sit next to the commentators table to ring the bell for the start and finish of each match and to be able to hop down to ringside to conduct the interviews.  So I'm very close to the 'action.'
Before we started the show, Stu Stone took me aside and said, "Listen, I have to be ringside for a lot of the matches and LaQuasto will be on his own.  Hop on to commentary when I'm not there."  I nodded and said, "Okay."
Now, I have never done commentary before.  I had thought about it, yes, but never have I stepped up to the mic to actually call a match.  My brain started tumbling with thoughts, "Yeah, you should totally do it.  But what if I suck?  Well, then they'll never have you do it again, but you aren't going to kill anyone by doing it.  But I know I will suck."  The old negative brain hard at work.
The show started and Johnny and Stu were on commentary and soon Stu was off to head to ringside.  I put on the extra headset (earphones and a mic) and sat there and…I didn't say anything.  Not that I was prompted to, Johnny was doing just fine solo.  But in my head I felt, "I don't really have the okay from someone in charge to do this so I'm not going to say anything.  Plus, I've never done it so I'll probably be bad at it."
At one point during a match, Stu came past the table while running around the ring and yelled at me, "Why aren't you saying anything?!"  I laughed, but deep down I knew he was right.  I should just start talking.  Stu Stone is one of the best managers working the 'indy' wrestling world today.  He got to that position by seizing EVERY opportunity that came his way.
So I sat there, pretty much the whole taping, with the headset on and I didn't say a word.  Because my brain was telling me that I'd be bad at it and I had this fear that I would 'get in trouble.'
Days after I'm still regretting that decision for several reasons.  First of all, I wouldn't have been 'bad' at doing commentary during the match.  I wouldn't have been the next coming of Jim Ross by a long shot, but I wouldn't have been as 'bad' as my brain had me convinced.  I'm a strong improviser, I've been watching wrestling since 4th grade and I know all the guys in the ring.  I could have done it.  And, besides, if my commentary had been REALLY bad, I would have realized and I could have just dropped out at the end of the current match and not done it again.  No biggie.
Secondly, I wouldn't have 'gotten in trouble.'  I wouldn't have been fired or drummed out of wrestling.  The worst case scenario is that Dave Marquez, our director and executive producer, would have just told me not to do it again.  But again, knowing Dave, that would have only been if I would have been miserably bad, which we already have stated I wouldn't have been.  Had I seized the chance and it had been halfway decent, it would have shown to Dave and the other producers of the show that there is another place I can be plugged in during the shows.
I should have seized the opportunity.  Now I just regret it.
Don't let this happen to you.  If you get the opportunity, seize it.  Or regret it later.
—
Okay, let's hear about the opportunities you failed to grab hold of.  Why didn't you jump?  What did you learn from not seizing the chance to do something?