Tag:
stuffed and unstrung
We were back on a bus early this morning heading off to Joliet, IL from Milwaukee. The bus ride was nothing major, which if you've been reading was a very good thing.
We rolled into Joliet and drove past the Old Joliet Prison, the prison used in the opening credits of The Blues Brothers. Very cool. I put She Caught caught the Katy on the iPhone as we passed. Thought it was appropriate.
Minutes later we were at our accommodations. The Harrah's Casino Hotel in Joliet. We checked in and I hadn't had breakfast so I decided to strike out for food. I was much into eating at the Paula Deen kitchen that was in the hotel. I looked up what was around on Yelp and discovered Chicken-N-Spice. Sort of a 'mom & pop' version of KFC. It was pretty great. Dan Ring joined me and we had a good lunch.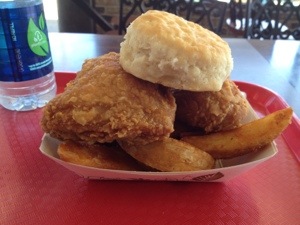 We walked past the theatre and saw that the Marx Brothers had performed there in the 1930's. pretty amazing. The theatre outside was beautiful.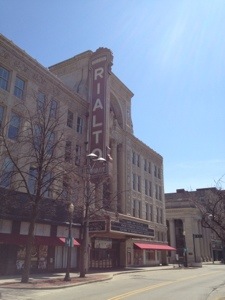 We walked back to the hotel and I decided to check out the casino with the eight dollars I had in my pocket. I wandered around looking for something to play and wound up at a video poker machine. Two hands later I was up forth six dollars. Decided that was a good time to call it quits and headed back to my room.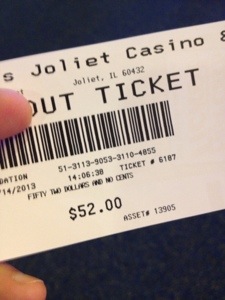 I prepared my bag for the show and headed to the lobby. We walked as a cast and over to the theatre.
The venue was beautiful on the inside and they have a lobby that is just about a city block long. It was impressive. We went into rehearsal and tonight it was going to be a little nerve wracking as I was switching into operating the Henson Digital Puppetry System and Ive Grown Accustomed To Your Face.
I've done HDPS before in San Francisco, so I'm more or less okay with that, but Face would be a new one. I was swapping in with Sean Johnson and we were both making our debuts. It was exciting, but as I said, nerve wracking.
I was confident though because on the walls backstage all the previous artists had signed their name and the Oak Ridge Boys had been through here. I felt Grandma Donny would be there in spirit if that was the case.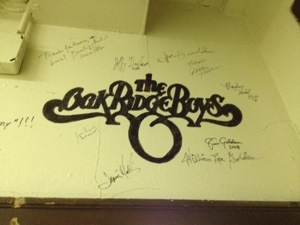 The show was great. DId a fun New Choice with Peggy about bobsledding. We did an insane Hot Dog bit about a Spelling Bee and Face and HDPS went over great (though there's room for improvement in both. I'm sure once I have them down pat, it'll be the last night of the tour and then I won't do them again for several months to a year.
Alien Barbershop was fun. Lets see if you can guess the topic:
I have hot flashes.
I'm cranky you bet
And when it's time to get busy
I'm not very….fun.
After the show it was back to the hotel and we all spent some time in the casino. Not too much though as we had to get up early for a flight to Florida. And we were all excited for FLorida because there was a possibility something very cool would happen tomorrow. And it did. But you'll have to wait and see what it is.