Tag:
toronto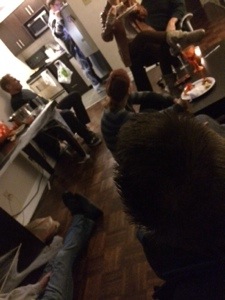 It is a rainy Thursday here in Toronto and the Puppet Up crew has a day off. Our final day off of this run. After today it's one show Friday and then two shows on both Saturday and Sunday.
Normally, about this time in the run, I'd be getting 'end of tour blues.' You see, I'd LOVE it if this continued forever. As I've said before, this is THE most fun I've had and I'd gladly keep doing it for as long they'd let me. However, the blues haven't set in yet because I've just been told I'lll be performing the 'Lady Singer' in the recreation I've Grown Accustomed To Your Face. One of the signature pieces of the show! And I have some pretty big shoes to fill! Allan Trautman, Leslie Carrara-Rudolph, Alison Mork, Peggy Etra and Sean Johnson have all performed the role in the show. And, oh yeah, a guy named Jim Henson originated the role. Just a little pressure. But I'm VERY excited about accepting the challenge. Let's do this!
Today is Halloween and the cast is planning on heading out to Church Street here in Toronto tonight to celebrate. I'm not much of a party person but I'll tag along, at least for a little bit. I do have a costume. It's one I've worn before but it was easy to pack and bring along to Toronto. It's Jamie Madrox, The Multiple Man from the X-Men/X-Factor comics. Easy costume, I've worn it before.
Headed out for a great Indian Food lunch with Brian. It was fantastic. Afterwards we went shopping for Brian's Halloween costume. I also needed an eyeliner pencil to make the Mutant brand over my eye that Madrox has now.
Brian is a blast to shop with and we were all over several stores as he created his costume. He found a big giant spider at one store and said he was going to buy a big gab of spiderwebs, cover himself with them and then put the spider on his head. He then found a box of little battery operated lights that when you pressed a button flashed light lightning and the sound of thunder played from a little speaker. He then decided he was going to be a 'Storm.' So it was then off to the dollar store to buy a cheap plastic white table cloth to be the cloud and yellow glitter paper that he could cut lightning bolts out of. His costume was a hit!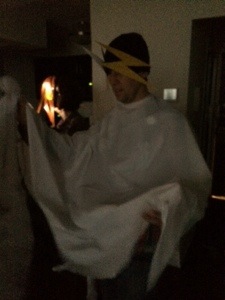 We then donned our costumes and headed up to Colleen's room who was having a Halloween party. It was a blast. Everyone showed up and we sat and talked, people played poker, ate snacks and candy and just had a generally great time. The costume rundown was:
Me – Jamie Madrox
Brian – The Storm
Dan – Spider Victim (yes, Brian convinced Dan to use his first idea. Dan was wrapped head to toe in spiderwebs.)
Peggy – Spirit of Halloween
Patrick – A creepy, creepy, homemade pig mask. It was creepy.
Michael – Burglar
Colleen – Ziggy Stardust
Amanda – Nico
We then headed out onto a drizzly Church Street to join in the Halloween reverie. The street was packed with tons of people in all types of costumes. We walked to one end and then back up. It was a lot of fun. Found a few fellow mutants to take pictures with. Actually saw someone dressed as Guardian from Alpha Flight but I didn't get to snap a photo with him.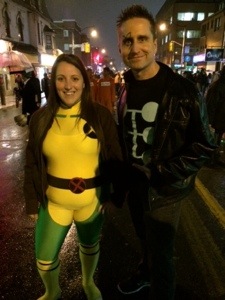 One hilarious thing we saw was, in the middle of all this Halloween debauchery, one store was putting up their Christmas decorations. WHILE the Halloween pxarty was going on. So funny, Amanda our puppet wrangler, had to take a photo in front of it.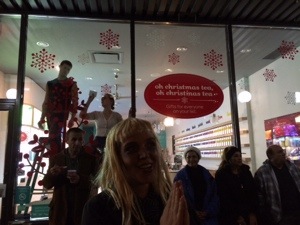 Then is was back home to the hotel. Time to relax. Time to chill and get set for tomorrow and our return to the stage. And my debut as Lady Singer.
Can't. Wait.