S&US Tour Diary – April 17, 2013 – Fort Pierce, FL
The day started super early in being woken up as the bus pulled into our hotel at Fort Pierce. I was so out of it, I just walked off the bus, grabbed my suitcase, walked past the front desk where all our keys were laid out and walked to my room to go back to sleep.
I woke up,unfortunately around 9:30AM. I couldn't quite get back to sleep, so I got up and worked out. Thirty minutes on the treadmill. I then went up and wrote yesterday's blog post.
That, and just moving rather slow, took me right up until it was time to get over to the theatre in Fort Pierce. Tyler and I took the runners car over to the theatre which was the Sunrise Theatre in Fort Pierce. COol because just days before "Weird Al" had been through. Not sure how he and his crew fit on that stage. It's tiny. We barely fit.
Didn't get to walk around Fort Pierce much. I wanted to, but those who'd already come over earlier, as there was not much to do around the hotel, had said the town was pretty much closed up. Not much was open. So I just hung out at the theatre until show time.

The show last night was an odd beast. The audience enjoyed it tremendously. We got a standing ovation, again. So, obviously, the crowd loved it. But right from the top there were audio problems. Problems that weren't around at all in soundcheck. I just could not hear anyone during any scene. All I could hear was the house speakers echoing back to the stage. None of the rest of the cast was coming through the monitors clearly. This threw me big time. Improvisation is 90% listening to what your scene partners are saying. It just doesn't work if you're fighting to hear them. As a result I was off the whole first act.
At intermission I found out I was not alone, everybody was having the same problem. Our tech crew, which is awesome, went to work on it, but we're using the house sound so sound is always a crapshoot. They tweaked it a bit, but the problems persisted into the second act.
As I said though, the show was good. I just felt off, not connected, disjointed and the harder I worked to reconnect, the worse it seemed I spun out. There were a few spot I thought I did a passable job. I had to improvise a song during the HDPS segment which I did okay at. Peggy and I did a fun scene using the suggestion 'Graduating from the school of Tourettes' which ended in a song. I've Grown Accustomed To Your Face went well. Sean and I weren't spot on, but the scene got laughs from the audience. I'm growing more and more comfortable with it each time.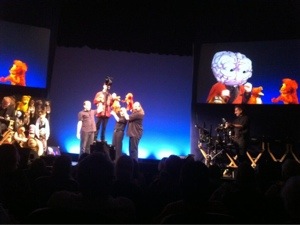 Alien Barbershop was okay. Not my best. Subject was Stripping and I, stupidly built my rhyme around 'Strippers' which was not the suggestion. I realized my error right as we were about to sing and a last minute line change threw everything out of whack.
I like stripping. (Original line was strippers)
Especially south of the border.
Because the strippers there,
Always accept quarters.
Blech. Horrible.
After the show we all loaded back up onto the bus for our final drive to St. Petersburg for our last stop on this tour. Here's hoping we go out with a kick ass final show.