Tag:
florida
The bus pulled into St. Petersburg at about 3AM. I went straight to my room and right to bed. I'd been able to snooze a little on the bus, but got too into browsing the web to really get any real sleep.
I woke up about noon and headed down to work out. Others in the cast and crew were up early to check out the Salvador Dali museum that was right across the street and near the theater we were at. I decided to just take the day to regroup and get my head straight for the show.
I had really mixed emotions about this show. I love this show. I love everything about it. We genuinely have fun on stage. Even though last night's show was rough, it was still some of the most fun I've had performing. When I get down about shows I have to remember that. It's hard. So I was excited to be doing another show, but also bummed that this is the last show for, who knows how long. So it was bitter sweet.
After working out, I wrote yesterday's blog post and checked in on some emails I had to get done. Just took my time to make it through the morning…er…early afternoon.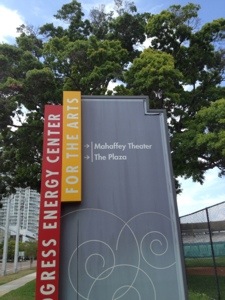 Soon it was time to meet in the lobby to head to the venue. The venue was directly across the street so we were there in no time and went through an easy soundcheck and tech rehearsal. All that was left was dinner and to perform.
Right before the show began, I was sure to stand center stage behind the scrim, look out towards the audience and take a big deep breath. I was determined to enjoy every second of this show.

The show was awesome. A great way to wrap up the tour. The crowd in St. Petersburg was fantastic. Their suggestions were great and they were extremely into the show.
I had a great first act. New Choice with Peggy had our characters cooking meth. The Digital Puppetry section had me telling a story called The Henson Dropout, about an intern who had dealings with a Sara Lee bunt cake and a resurrected Adolf Hitler who shopped at Lane Bryant. Alien Barbershop was okay. The topic was Cannibalisim.
Trapped in a mine.
No food to eat.
We were getting hungry
So we dined on Pete.
Meh. So so.
I've Grown Accustomed To Your Face went the best it's gone. Would love to work on this even more and be able to put my own touches on it. Right now I feel I JUST have the basic mechanics down. I'd love to work on it more to really get it down. The audience loved it though and Patrick said it was our most violent version yet. It was fun working on it with Sean Johnson. He's a fantastic puppeteer and as two of the younger members of the cast, it was fun to get the nod to do these recreations in the show.
In Act II I did a fun spot scene with Brian where the subject was Deliverance. The movie. I had a fun time making Brian's character extremely uncomfortable and, of course, told him he had a pretty mouth. It got a great reaction.
The rest of the show was great fun and, again, the audience was really great. After the show we did a VIP Meet and Greet which was fun.
Arnorld, our producer from Westbeth Entertainment and Lenny our booked were in town for the show and they said they both loved it and it was the best show they'd seen.
After we left the theatre we all journeyed to an Oyster Bar to have a closing night celebration. It was fun but, again, bittersweet. Really don't want this tour to end at all.
After much revelry, I said goodbye to those who I wouldn't see in the morning and walked with a group back to the hotel to put a cap on the last performance day.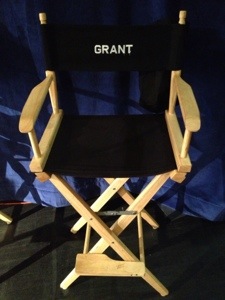 The day started super early in being woken up as the bus pulled into our hotel at Fort Pierce. I was so out of it, I just walked off the bus, grabbed my suitcase, walked past the front desk where all our keys were laid out and walked to my room to go back to sleep.
I woke up,unfortunately around 9:30AM. I couldn't quite get back to sleep, so I got up and worked out. Thirty minutes on the treadmill. I then went up and wrote yesterday's blog post.
That, and just moving rather slow, took me right up until it was time to get over to the theatre in Fort Pierce. Tyler and I took the runners car over to the theatre which was the Sunrise Theatre in Fort Pierce. COol because just days before "Weird Al" had been through. Not sure how he and his crew fit on that stage. It's tiny. We barely fit.
Didn't get to walk around Fort Pierce much. I wanted to, but those who'd already come over earlier, as there was not much to do around the hotel, had said the town was pretty much closed up. Not much was open. So I just hung out at the theatre until show time.

The show last night was an odd beast. The audience enjoyed it tremendously. We got a standing ovation, again. So, obviously, the crowd loved it. But right from the top there were audio problems. Problems that weren't around at all in soundcheck. I just could not hear anyone during any scene. All I could hear was the house speakers echoing back to the stage. None of the rest of the cast was coming through the monitors clearly. This threw me big time. Improvisation is 90% listening to what your scene partners are saying. It just doesn't work if you're fighting to hear them. As a result I was off the whole first act.
At intermission I found out I was not alone, everybody was having the same problem. Our tech crew, which is awesome, went to work on it, but we're using the house sound so sound is always a crapshoot. They tweaked it a bit, but the problems persisted into the second act.
As I said though, the show was good. I just felt off, not connected, disjointed and the harder I worked to reconnect, the worse it seemed I spun out. There were a few spot I thought I did a passable job. I had to improvise a song during the HDPS segment which I did okay at. Peggy and I did a fun scene using the suggestion 'Graduating from the school of Tourettes' which ended in a song. I've Grown Accustomed To Your Face went well. Sean and I weren't spot on, but the scene got laughs from the audience. I'm growing more and more comfortable with it each time.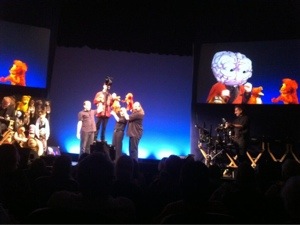 Alien Barbershop was okay. Not my best. Subject was Stripping and I, stupidly built my rhyme around 'Strippers' which was not the suggestion. I realized my error right as we were about to sing and a last minute line change threw everything out of whack.
I like stripping. (Original line was strippers)
Especially south of the border.
Because the strippers there,
Always accept quarters.
Blech. Horrible.
After the show we all loaded back up onto the bus for our final drive to St. Petersburg for our last stop on this tour. Here's hoping we go out with a kick ass final show.