S&US Tour Diary – April 7, 2013 – Travel Day
(No editing, just a stream of thought travel diary.)
APRIL 7, 2013
It was with a heavy heart that we had to leave our amazing accommodations in Hamilton, Montana. WIth those great digs and the amazing crowd we had the night before, none of us wanted to head to the airport.
We did however because, dammit, there were more shows to perform. The drive from the cabins to the Missoula airport was pretty great, mainly because we were doing it in the day time as opposed to 4am at night like we had on the way in to Hamilton. Beautiful countryside, lots of cows, sheep and other animals frolicking about in the grass. It was a great ride and out drive, who's name escapes me, who drove Peggy, Ted & myself, had a great sense of humor and we all four laughed the whole way to Missoula.
Topics of funny included a store we passed with a sign that advertised it'd figured out a way to make 'Tarping your hay' easier. Peggy and riffed on just how time consuming tarping your hay is. We then passed a tattoo parlor in Missoula called 'You Mother's Nightmare Tattoos.' Next door was a place called 'Piercings By Paul.' The joke then became that you cold get a tattoo and a piercing at the same time thanks to holes in the wall of the tattoo parlor which allowed you to stick the things you'd like pierced through to allow Paul to work his magic. It's always fun to travel with comedians because the funny just seems to keep rolling along.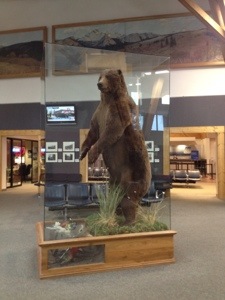 We got to the Missoula airport, which was festooned with many taxidermied creatures on all the walls and were soon winging our way to Denver en route to Fort Worth. On the plane from Missoula to Denver, I created a puppet out of one of the barf bags. He visited with Patrick and Peggy who were in the row in front of me. They dubbed him Barf Bag. Minutes later, two sexy girl barf bags appeared over the back of their seats and Barf Bag met the Ho Bags. The woman next to me thought we were out of our minds. We are.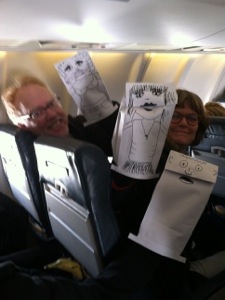 The flight from Denver to Fort Worth was unremarkable. What was remarkable was the bus that was awaiting us upon our arrival to DFW. It was a party bus in all sense of the term. Lights, leather, extremely nice compared to what had come before.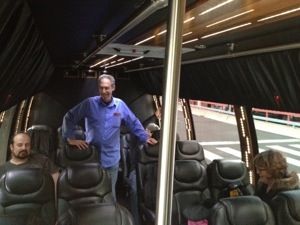 Upon arriving in Fort Worth we checked in and explored the downtown a big. Major construction going on here, but there's still some great buildings to check out.
Allan, Dan, Tyler, Ted and I had dinner at a place called The Flying Saucer. A pub type place. Not being a drinker it was not my thing and the menu didn't entice me much. Being in Texas I wanted barbecue, but the place I was recommended to visit in Fort Worth was closed Sundays, so I made do with pub food. It wasn't bad, I had some bratwurst. It was okay, but not my thing, especially being in one of the barbecue homelands.