S&US Tour Diary – April 8, 2013 – Day Off – Trip to Dallas, TX
(No editing, just a stream of thought travel diary.)
APRIL 8, 2013
Today was a much anticipated day off. After the rough travel that kicked off our tour most were ready to just chill for a day.
I however love seeing things I've never seen, especially history related, So I decided to rent a car and drive into Dallas to see Dealey Plaza. Our wrangler, Sean Johnson decided to join in.
We got there in no time and while we waited for the Sixth Floor museum to open, we walked around the plaza. It's really fascinating seeing the things you've only seen in the Zapruder film in person. It puts the whole event into perspective. We stood on the grassy knoll and I even filmed a little video from the spot where Zapruder stood on that day in 1963.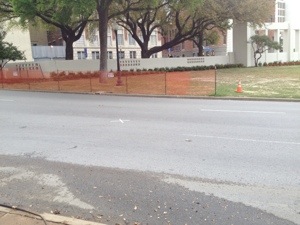 After exploring all the angles from the Plaza checked out the Museum Cafe & Gift Shop, where you can get yourself a tin of Book Depository breath mints, if you so desire. Fun.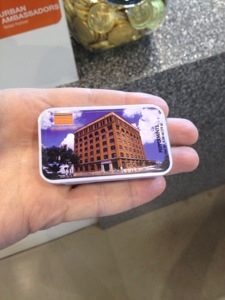 When the Museum opened we went in and tok the 90 Minute audio tour. I really enjoyed it and thought it does a great job of presenting all the information and events that lead up to that day. As you walk through you're learning all about Kennedy and his administration. Then they start breaking it down…his arrival in Texas, then his arrival in Dallas…then the motorcade. Then suddenly you're at the sixth floor window. The actual window.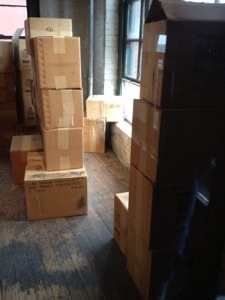 Looking out the window I realized that the shots weren't as far away as I always thought they were and looking at it, it would be possible for him to make them. It's pretty powerful and even more so when you realize that Oswald was here. He walked on these floor boards. (The boxes are a recreation, but the floor is legit. Also, you're not supposed to take pictures. Shhhh….)
Then the museum takes you through the aftermath and the conspiracy theories. They do a really good job, in my opinion, leaving it all open for you to decide. I don't know if Oswald was in cahoots with anyone else, but seeing the view of the street from the window, I do think it was possible for him to make the shots from there.
We then walked over to the JFK memorial. Pretty unremarkable if you ask me, but was still glad to see it.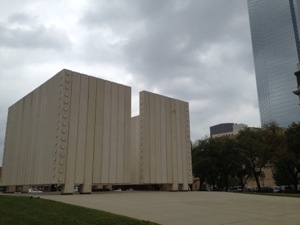 Having our fill of conspiracy, we then went for barbecue in Dallas. The place was called Off the Bone and it was pretty good, I ordered the pork and links. The pork was okay but the links were just amazing. I told Sean I was glad we left right after we ate because I was tempted to order more.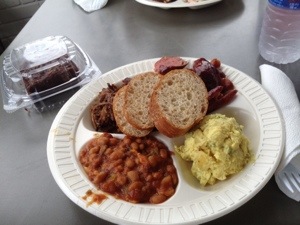 We then just drove a bit around Dallas. We tried to see if we could go up in Reunion Tower but couldn't find parking anywhere. So we drove back downtown and went to Pioneer Plaza and checked out the 'cattle drive' sculpture they have and the cemetery behind it where some important figures in early Dallas history are laid to rest. We then walked over to City Hall which is an impressively weird building.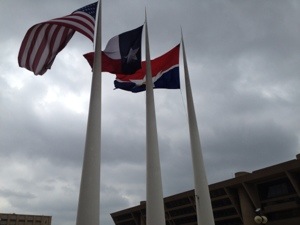 About that time we got a call from Patrick and Peggy who'd taken the train into Dallas and were wondering if we could give them a ride back. We picked them up and then, upon hearing about the Cattle Drive sculpture we doubled back because Peggy had to see it. More pictures with cows were taken. Then we headed back to Fort Worth.
I'll add it's eerie driving out of downtown via the same route JFK's motorcade took. Two white X's mark the street in the approximate spots where JFK was shot. Again, eerie.
Once back in Fort Worth the plan was made to have dinner and we decided to listen to fellow Stuffed & Unstrunger Michael Oosterom's suggestion to try Angelo's Barbecue. A whole big group of us walked the 1.6 miles to the place and it was worth every step. Just fantastically great barbecue. We were all appreciative of Michael's suggestion and toasted him even though he wasn't there.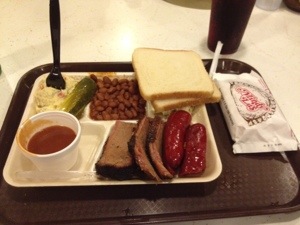 After the walk back, the evening was just sort of chill as people relaxed, not having anything much to do. The travel starts up again in earnest after tomorrow's show in Fort Worth, but we are ready!