10 in 20 – Day 12 – A short one
This one will be brief.  Busy, busy day trying to get things tied up before I leave for Toronto.  Just one week away.  I'm so excited, I can't stand it.  This trip is going to be fantastic, I can just tell.
Good food day today.  Pretty similar to recent fare.  At about noon I realized that I had a show tonight at Flappers that I'd completely forgotten about.  So glad I remembered in time and it was SUCH a great show.  There is no point in my life that I am happier than performing.  That's it.  Nothing compares.  Friday I had an improv show and I was off.  The bits I was in were wonky (part of the problem was I hadn't eaten).  So since Friday night I was really bummed because of that.
Tonight though was like therapy.  Great crowd, great venue (I love Flappers, proud to say it's my 'home' club) and just a fun time.  I had a great time playing with the crowd, riffing on what they said.  Making up songs about them.  Just a fun time.  Much looser than Friday night was.  I'm assuming that's because I had eaten earlier in the evening.
Weight today was a maintained 171.0lbs.  Little frustrating but I know the loss will come.
Okay, let's get to the food.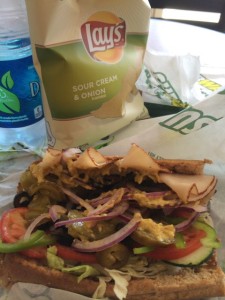 Subway 6″ Turkey on wheat, Baked Lays Sour Cream & Onion, bottled water – 11 WW Points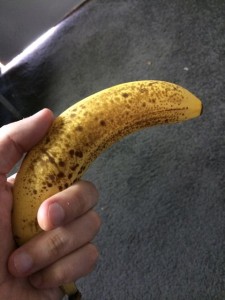 1 Banana – 0 WW Points.
Boring.  But healthy.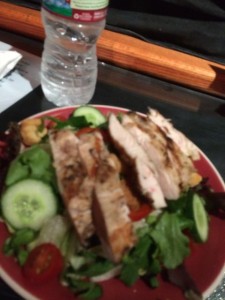 Small salad with grilled chicken breast & croutons – 8 WW Points
This little salad….worlds better than that salad from Tender Greens.  Not sure why, I think it's just because I got what I expected. (Christ Grant, shut up about the salad!!)
ACTIVITY – 30 Mins Running.
Okay, that's it.  Tomorrow's gonna start early.  Night!