10 in 20 – Day 15 – Feelings
I did not wake up too hungry despite not eating later in the day yesterday.  Pretty great feeling.  Looks like me wrestling with myself over when I feel hungry and feel the need to eat is winning.  No more big burrito cravings in the later afternoon.  Still didn't feel too swell to eat much today.  Just not that hungry, but I did make myself eat at least something tonight for dinner.
It's funny because focusing on achieving this goal, has made me a much better at knowing when I'm really hungry and when I'm just stressed and looking for food to take the edge off.  I think I need a little bit more weight to come off before I start feeling it in how my clothes fit, but my belt isn't causing me pain anymore, so that's a good inkling that it's working.
Tonight I had set out two M&Ms Fun Size packages to have after dinner.  I ate dinner and had one and really wasn't that hungry for the second one.  Even though there's only about 6 pieces of candy in each one, one package was enough.  I really like that I'm thinking that way.  Also it seems that since I'm eating smaller portions, I'm getting fuller faster.  The sandwich I had at 10AM really filled me up and I wasn't hungry until later in the day.  The old me would have had that sandwich, two potato balls, and who knows what else and then still been hungry later in the afternoon.
Wednesday is my Weight Watchers weigh in day and today the scale read 170LBS.  So that's good.  Down three pounds from the weigh in last week.  We're getting into the home stretch and I'd really like to lose those final two pounds before Sunday.  Still have some time to make that happen.
As we approach the 20th, I've been thinking about what to do with these daily updates.  Once the Toronto shows start, I'll probably be blogging daily about the things that are happening.  I don't want to put a lot of irrelevant food info in those entries, so I think what I'll do is once the 20th passes, I'll just go to weekly updates on how this weight loss things is going.  I do have a second goal in mind, but I really want to reach the first.  I think weekely updates, possibly on Wednesday, would be enough to keep me motivated.  What do you say?  You guys have been so great with the support comments, Facebook posts and texts throughout this, so I'm asking you.  Weekly updates?  Should I stick with daily?  What?
Okay, on to the food…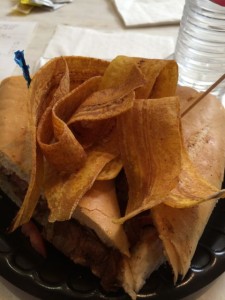 Portos Pan Con Bistec (Steak Sandwich), Plantains & Bottle of water – 15 WW Points*
This is an estimate as it was last week.  Great sandwich.  Love those plantain chips.  Just good stuff.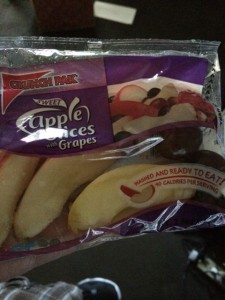 Apple slices & Grapes – 1 WW Point

Just a great afternoon snack.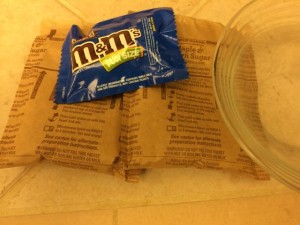 Quaker Lower Sugar Maple & Brown Sugar Oatmeal & 1 Fun Size package of Pretzel M&Ms – 6 WW Points (Oatmeal) –  2 WW Points (M&Ms)
And this was dinner.  I love maple & brown sugar oatmeal, just do.  Have since I was a kid.  The M&Ms were good too and, as I said, glad I only ate one bag.  Even so they are super low points!  Only 2 points per 'Fun SIze' bag.  Nice.
ACTIVITY – 30 Minute running.
That's it for today.  I will talk to you tomorrow with another tale from the scale!