10 in 20 – Day 17 – The End Is Near
We're entering the very final day of this little experiment.  I will still weigh myself before I head off to Toronto on Sunday morning, but tomorrow is last full day of this little challenge.
By the goals I laid out at the start of this whole adventure, I've achieved them.  The goal was 10, but getting close was good enough.  I got to 9.5lbs yesterday, so were there.  I'd REALLY like to hit that 10 though, so I ain't giving in yet.
So this morning the scale flipped out again.  It said 169.5lbs.  Then 168.0Lbs.  Then 169.5lbs again.  Then back down to 168.0lbs.  SO I took out the battery and reset it.  Calibrated it and, after several weighings settled on 168.5lbs.  I'll gladly take that over 169.5lbs.  So, holding steady from yesterday.  Yay!
I got a haircut today.  It had been two months.  I'm hoping the half pound of hair cut from my head will factor in tomorrow when I get on the scale.
Nearing the end, I have given a bit of thought about the next goal and I think it's going to be another 10 pounds before Thanksgiving.  I THINK that's it.  If I can get down to 158lbs, I will feel much happier with my weight.  I'll actually still be over that old 'proper weight for your height/age/etc' chart, but 158 will make me happy and now I know it can be done and in a relatively short time.  That would put me at a nice weight for Mom's Thanksgiving Dinner.  I'm drooling already thinking about it.
Today I ate pretty well.  I did have a small treat, but I dropped come other foods to make up for it.  Still ate less WW Points than yesterday.  Even with the treat. Okay, let's take a look at today's food…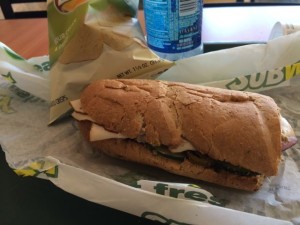 Subway 6″ Turkey on Wheat, Baked Lays Sour Cream & Onion Crisps, bottle of water – 11 WW Points
Yep.  Same old.  Don't mess with the classics.  It's a decent sandwich.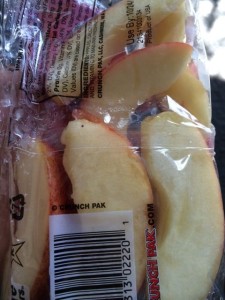 Apple Slices – 1 WW Point
Yep.  Same old. *grumble grumble* 1 point.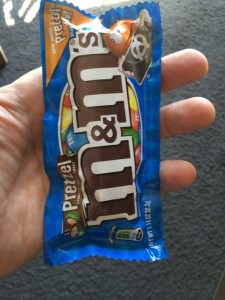 Pretzel M&Ms – 4 WW Points
Treat!  Not the fun size size.  Though, pretzel M&Ms are so big there's not that many more in a regular size bag than in a fun size.  Nice to snack on as I was editing video and audio in my office this afternoon.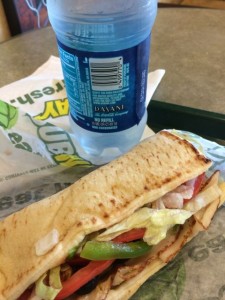 Subway Turkey on Flatbread & Bottle of water – 8 WW Points
Switched it up for dinner and got the sandwich on Flatbread.  One extra point, so I decided not to have Chips with this mean.  Worked out good.  Filled me up and I was fine.
ACTIVITY – 30 Mins Running
Okay, that's all for today.  I will see you all tomorrow as we rush headlong to the end!  TOmorrow will be a mad dash of a puppet audition, a kids show and trying to remember to pack absolutely everything I need for Toronto, but I shall still blog and track all my food.  If I make my goal I may splurge a little tomorrow night (I haven't used any of my WW Flex Points).  If I don't, I'll keep it pretty tame.
Okay, goodnight.