10 in 20 – Day 5 – Keepin' on
Welcome to yet another day of this journey.
I did really good food wise today and didn't feel too hungry or anything after only eating light last night.  This morning the scale still read the same 175.5 lbs, but I'm not worried at all.  Just remaining focused.  Not frustrated at all.  These things take time.
I did get really hungry this afternoon.  Glad I had the bananas and the apples around in my office.  Seeing a tweet from Smoke City Market advertising their prime rib Sundays didn't help either.  But, again, I remained focused on the goal.  10 pounds in 20 days.  Or close to it.
Happy I can finally announce the reason I'm doing this.  I'm headed off to Toronto, Canada on October 21 to perform in The Jim Henson Company's Puppet Up!  Uncensored.  We perform for 2 weeks and I couldn't be more excited.  This is exactly what I need right now in this moment in time and I want to make sure I'm eating right and on the path toward my overall weight goal BEFORE I head off to Canada.  Don't worry, I will have poutine while I'm there.  I just won't have it every day. 🙂  While in Canada I will continue to focus on eating right and will run or use the hotel gym to keep active.
I had known I was going for awhile now but there was the issue of an expired passport and would I get the passport in time in order to go because of  the U.S. Government Shutdown.  Luckily, the passport offices aren't closed and I got my passport yesterday, so adventure, ho!  Very excited about this trip because I'll be performing a few different roles than I have before, including a few tricky parts.  Amped to be able to work on upping my puppetry game.
Okay, excitement aside, let's get to today's food…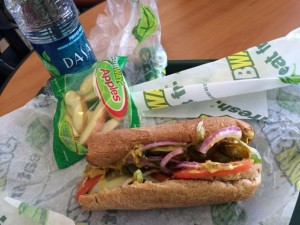 Subway 6″ Turkey Breast on wheat, apple slices & water – 8 WW Points.
Getting sick of this one yet?  Not me.  Good sandwich, fills me up and, yes, when I go into Subway they know exactly what I'm going to order.  I like Subway because it's what worked before and the points are so easy to figure out.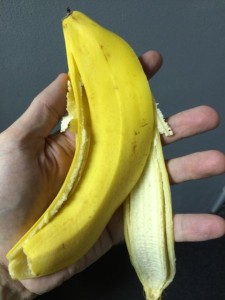 2 Bananas – 0 WW Points
I ate two but it was only after eating the second I realized that I didn't take a picture of them.  So, two.  And that's a banana peel.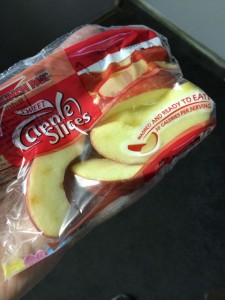 Apple slices – 1 WW Point
A little more fruit a little later in the afternoon.
Sharkys 1/2 Steak Power Plate with broccoli & Yams – 11 WW Points
The steak cousin to the chicken power plate I had a few days ago.
Activity – 30 Minute Run
Perfect night for a run.  Warm out, clear skies, sliver of a moon.  Perfect.
Okay gang, tomorrow's another day.  It'll be interesting too because I won't be able to plan one of my meals.  Dinner tomorrow night over at The Jim Henson Company when we're there for rehearsal.  Hoping it's something that'll be easy to manage.  If it includes the plantains that are normally served on rehearsal dinners, I may be in trouble.  I will report back tomorrow and let you know!
Night!