10 in 20 – Day 6 – It Works!
My friend and comedian, Ed Crasnick, has a saying, "It works if you work it."  He uses it at the end of his show the Self-Help Comedy Hour.  It's a podcast I've been on a few times that deals with mental health.  His guests are all comedians and, trust me, we need a lot of help with our mental health.  Anyway, Ed signs off that way each show meaning, this Self-Help stuff actually does work if you actually do the work.  Today, I'm borrowing it and applying it to me meeting my goals.
This morning I got on the scale and it read 173.0 LBS.  That's down 2.5 lbs from the last time I lost some pounds.  It also brings the total up to 5 LBS lost!  That's halfway to the goal in less than a week.  I was super stoked.
My brain, however, instantly, said, "Make a bigger goal!  20 in 20!" and I really had to reign myself in.  I believe it's fine to dream big dreams, but keep the goals small.  My goal is still 10 by October 21st.  If, at some point before that, I loose the 10 I think of a stretch goal.  Kind of like Kickstarter, though I guess in this situation it'd be a Stretch Mark Goal?  Maybe not.
The numbers on the scale though amped me up.  In days past, it would have made me feel like I could go out and splurge on some food today because I've been doing so well.  Today though, it refocused me.  Got me set to work even harder at dropping those pounds.
I will say that if I do drop 10 before I leave for Toronto, I may treat myself to a BBQ dinner on Oct. 20, the night before I leave.  I MIGHT.  Haven't decided yet.  My reasoning is that I will have been doing good with my weight and I'll be in Canada for several weeks and will miss my favorite barbecue place.  Though they probably have barbecue in Toronto.  Is Canada known for their barbecue?  Anyway, let's get to the food!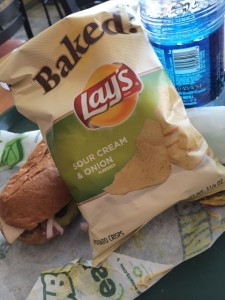 Subway 6″ Turkey Breast on wheat, Baked Lays Sour Cream & Onion Chips and water – 11 WW Points
I did splurge a little and get Chips during this meal instead of apple slices.  They are only 4 points though so they don't add that much.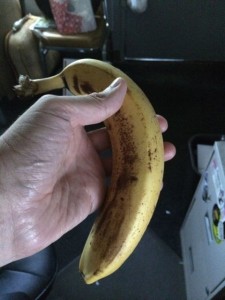 2 Bananas – 0 WW Points
Banana as a midday snack while I was at the office editing.  Around 430PM or so I was starting to get a little hungry and I had another banana.  Was about to eat it but figured I could wait.  Dinner will be at 530PM, so I figured I could hold off until then.  But then I started thinking, "If you do that, you'll be HUNGRIER at dinner and may be tempted to eat more."  So I had the banana/  The other banana looked just like that one.  Not going to bore you with TWO pictures of bananas.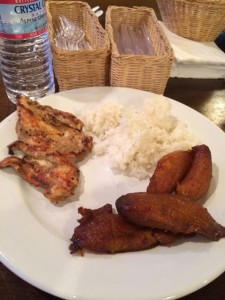 Boneless skinless chicken breast, 1/2 cup white rice and PLANTAINS – 21 WW points*
The food at Henson tonight was, as expected from a place called Bassa Nova.  The point total there is my best guess.  I may be a little off because WW Online makes you record the plantains in cups or oz.  I did my best figuring and came up with 21 total for the meal.  The food was good.  I could have eaten MUCH more.  To try and prevent myself, I cut my food into REALLY small bites.  Yeah, I looked like a doofus, but it worked.  I tricked myself into eating less.  Though I did have ONE more plantain than you see on my plate there.  But I could have eaten 20 more.  They are just SO good.  So tomorrow I may bounce back up a bit on the scale, but I know it won't be that much and I know I can get it right back down.
ACTIVITY – Running 30 minutes.
I like where this is headed and I seemed to have shaken those intense food cravings I've been having for the past few weeks months years.  Really happy.