Puppet Up Down Under 2014 – March 21, 22 & 23rd, 2014 – It Begins
Pre-flight
Less than a week after completing the last tour, it's time to head out once again for more puppet fun. This time its an extended trip to Australia for the Melbourne Comedy Festival. I think it's kind of fitting we are beginning this trip on March 21, World Puppetry Day. Who would have thought that this crazy puppet detour I took a few years back would lead to this? I'm grateful and excited. This should be fun.
It's going to be a long flight to Australia. We leave at 10:50 PM Friday, March 21 and get into Sydney at 7:30 AM on March 23rd! We just completely skip Saturday. And once we land in Sydney, we hop a second plane to Melbourne as that is where we are going to start this little adventure.
The Flight
We all assembled one by one at the Tom Bradley International Terminal at Los Angeles International airport. This is a good crew assembling for this tour. It's basically the same crew as Toronto except Alan is joining us this time. Colleen, Brian Clark, Ted Michaels and Peggy Etra round out the cast. Of course Patrick Bristow is along to host. Dan Ring is on music and Julianna is here to keep is all in line as Company Manager.
We flew Virgin Australia to Sydney and it was my first Virgin experience. Pretty great. Within seconds of sitting down Dan, Brian and I had a seat to seat chat going on our monitors, the contents of which will never be displayed here. And I hope the NSA isn't listening in.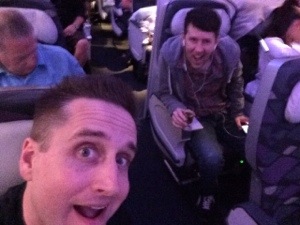 To kick things off I watched Bad Grandpa. It was a Jackass film so what could you expect? I laughed several times. Then, between bouts of drifting off to sleep, I watched The Desolation of Smaug.
We got premium economy seats on this trip. Not quite first class but a step up from economy. I will say that the seats, while roomier than economy, are not comfortable and after 10+ hours, my hinder hurt. Still, not complaining and I'm very grateful to be going on this trip. I can't wait to land in Sydney.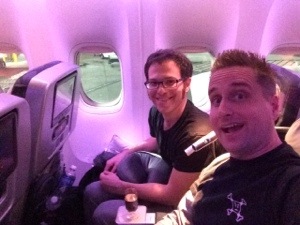 Sydney
Once we landed in Sydney, we then had a 3 hour layover to catch a plane for the one hour flight to Melbourne. That flight was short and sweet and we were met at the gat by reps from the Melbourne Comedy Festival, our hosts. They were there to take us to our hotel.
Here in Australia they drive on the opposite side of the street so I was super excited to get in the passenger side, which would be the driver's side in the United States. Very weird experience and I found myself glancing at the rear view mirror a few times which was facing toward the passenger seat. The driver.
We checked into our nifty hotel/mini apartment and breathed a sigh that the day(s) of travel were over. Let's get this thing started!
Since we sort of lost a day in Saturday, I'm going to spilt this entry up into two days. Because once we landed, we explored the area around the hotel a bit and I want to blog on that. So that'll be the next entry. Stay tuned
>