Puppet Up Down Under 2014 – March 28, 2014 – Preview 2
Started out the day as I have been, hitting the gym and running on the treadmill. After showering Brian, Dan and I headed out for lunch. We wound up at Big Boy's BBQ. This visit I ordered the Z Man which is their brisket sandwich. It was pretty good but I could have done without the cheese and onion strings. Just give me meat and sauce.
After lunch, Dan returned to the hotel and Brian and I continued to walk around a bit. On a whim we went into the Victoria State Library. It's a working library but also has great historical displays to peruse much like a museum.

They have a big reading room called the La Trobe. It was patterned after the big round too of The Library of Congress and it's pretty impressive. Just big long wooden benches, desks and chairs with spots to sit and read or type. Kind of fun being in a room that size that is so quiet. After hanging there for a minute, Brian and I walked around the other exhibits which included one on the history of Victoria and another that featured artwork from children's books. Pretty neat. After that we returned to the hotel to relax a bit. I spent the time trying to plan out what other shows I can go see as part of the festival. Many of the shows are scheduled the same time as ours so it is difficult. But there are a few times here and there where we should be able to check out some of the other acts here at the festival. Soon, it was time to get ready to head to the Princess Theatre for our second preview.
The Princess Theatre is a great old theatre. Apparently it is haunted and I keep forgetting to ask about that while we are there. I will tomorrow. We have great dressing rooms but they are up several flights of stairs. We have all learned very quickly to not forget anything you need that may cause you to have to run all the way back upstairs to get it.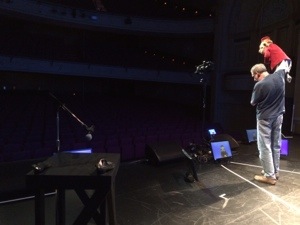 The second preview tonight was just fantastic. The crowd was really great and their suggestions were a lot of fun. We learned the harsh lessons of being too obsequious. We heard the story of My Two Lesbian Parents. We saw the Hot Dogs making a porn prison film and much, much more. Such a fun show to be part of.
I once again got to be in Java and Face. I love working on those and I take every opportunity to try and make them better and even more of a tribute to the originals.
For the next few couple of shows I want to work in more puppetry. I know I came to the same conclusion in Toronto but I want to focus on it earlier here. Sometimes I fall into the trap of just standing around and saying funny things. I want to say funny things while doing fun puppetry. So that's my challenge.
After the show Dan and I went looking for something to eat. After trying a few places that either were 'take away' or closing, we wound up at The Pancake Parlor. Pancakes, for dinner. Ain't not a thing wrong with that. Outside the Pancake Parlor they have the Mirror of Mirth. I call it the Mirror of Truth because, well, just look.