Puppet Up Down Under 2014 – April 13, 2014 – Vine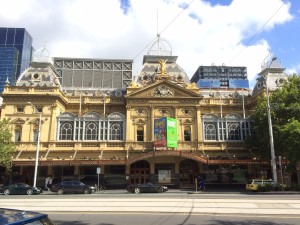 Before I get to the rest of what happened today, I have to add a little bit to what happened last night. After writing yesterday's tour diary, I was invited to go see Ingrid Elkner, who came and saw the show last night do some busking. For those that don't know, busking is street performing. So I sought her out and heard her play a song on her ukelele. Then we chatted for a bit and then she went off to her tram and I back to the hotel. As I've said before, it's always fun to hang out and chat with immensely creative people.
So, today, Sunday. Beautiful Sunday morning here in Melbourne. The sun is out and the weather was so great. I got up, hit the treadmill and the gym and then came up to shower. While at the gym my iPhone earbuds were acting weird and it dawned on me that some lint or dirt may be in the earbud jack. A common problem. An online searched revealed three ways to try to fix this issue. 1. Compressed air, which I didn't have. 2. The end of a paperclip wrapped in tape, which I didn't have and 3. A trimmed Q-Tip. Which I did have. So I trimmed a Q-Tip and carefully put it in the earphone jack. The remaining cotton on the end of the Sean promptly slid off the stick and was now lodged in the jack. Great. I was soon down at the front desk asking for a paperclip and tape. Luckily they had it and all is now right with the world.
I then headed off to the Parliament Gardens to meet up with a friend from the social media service Vine named Hamish. We had fun walking around and filing some vines with him and Uncle Interloper. I haven't met many people from Vine in person and I think it's funny that one of them was here in Australia. It was a great afternoon. Afterwards it was back to the hotel to relax for a bit before our show tonight.
Had a brief meeting with Patrick about the thing Dan and I had been working on. Not to give too much away but a few months ago, Patrick said I should work up a song improv that can be rotated into the show when I'm in it. Dan and I came up with one and, if all goes according to plan, it'll debut next week! Patrick really liked it and I think it'll be a fun addition to the show. I'll keep you posted.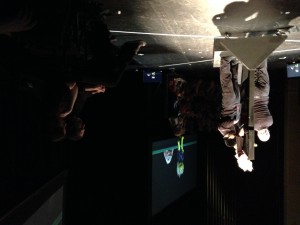 The show tonight was a big ball of fun. From the opening number to the closing it was a ton of fun. The Hot Dogs had a Sex Ed course, a beaver was in labor and had a monster for a child, we heard the story of Jerry's Bad Day and the Alien Barbershop was on Commercialism.
Commercialism
Just makes me sick.
And I'll protest it,
After I got to the mall real quick.
After the show we met the folks in the lobby and called it a night. Tomorrow we have a day off and there's some possibility that we may have some super fun activities involving Penguins. Stay tuned.