Puppet Up Down Under 2014 – April 14, 2014 – Luna Park Too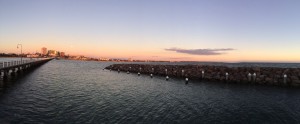 Woke up to the sun flooding in my room here in beautiful Melbourne. Working out as I have been the past couple of weeks I decided to take a day off. My legs have been really feeling it with all the running and squats I've been doing, so today is a rest day and tomorrow back at it.
After showering, Brian, Dan and I went to breakfast at a place called Self Preservation that is right near our hotel. I've walked past this place daily on the way to our theatre and they always have the most amazing looking food items in the window. I had three small buttermilk pancakes with fried banana and salted caramel on top. Yeah. Amazing. We had a nice breakfast and then came back to the hotel for a bit where I answered some email and just relaxed.
Around 1:00 PM, Brian and I had to vacate the room for housekeeping so we crashed at Dan's place for an hour or so. We each had things to do so we stayed out of each other's hair. I busied myself with watching an episode of Mr. Squiggle. Its a children's show that Hamish mentioned to me yesterday and it's one of the longest running shows in Australian TV history. It has some really amazing marionettes in it. The show has a very neat look and there's a ton of clips on YouTube to check out. Mid you have some time, do a search and see.
Around 3:00 PM, Brian, Peggy, Dan and I hopped a car to Luna Park in Melbourne. It's very similar to the Luna Park in Sydney but the two are not affiliated. They gave us free passes to ride the rides because we had done that photo shoot there the week we arrived. We road the Scenic Railway with is the longest, continuously running roller coaster in the world. It was built in 1912 and is still running today. We went on it. It was a lot of fun. There's an actual employee who rides the coaster and acts as a brake-man. They stand the whole time. It's pretty amazing.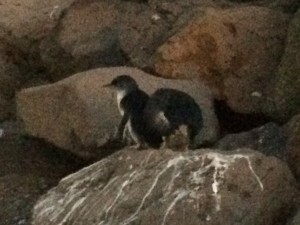 After the Scenic Railway, we were joined by Patrick, Andy, Colleen, Ted, Allan and Julianna. Then we all braved the Ghost Train ride. It's a classic Dark Ride, built in 1934. The track is the same as the 1934 attraction but the inside is different. It was supposed to be fear inducing, but it was hardly scary at all. I think the most fun thing is that we all went on it, though only two at a time. After that a few of us rode the Ferris Wheel and that wrapped up our day at Luna Park. Glad I was able to get a little Uncle Interloper footage while we were there.
We then walked over to the St. Kilda Breakwater at dusk to see the colony of 'little penguins' that nest in the rocks there. We didn't see a ton of them, guess that happens more during the summer and we are now getting into fall, but we did see a few of the fuzzy birds. It's a very popular tourist attraction though so I soon had to beg off because tons of people were crowding onto the tiny wooden dock to view them and they were getting quite pushy about it.
Afterwards we all went and had dinner together at a restaurant near the beach and then it was transportation back to the hotel.
All in all, a really fun day off.