Puppet Up Down Under 2014 – April 15, 2014 – Dinosaurs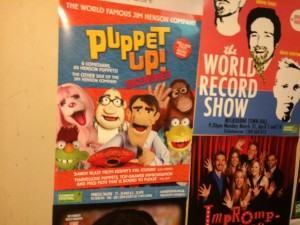 When I woke up this morning I did not feel like exercising at all. That's the moment I knew I absolutely HAD to get up and get my butt to the gym and get to working out. Very glad that I did.
After getting showered, a bunch of us met in the lobby because we were going on two very special tours today. We hopped in a cab and went to a section of Melbourne called The Docklands. Our first destination was Ampersand Studio and Gallery. This is an art space that is run by some local puppet builders. They had come to see our show our first week in Melbourne and invited us down. There were some really interesting pieces of art. From an alien in a walker, to a giant dust mite, to an alien costume. It was all pretty fascinating. I shot some fun Uncle Interloper footage there.
After that tour, we had a bit of time before we were scheduled to go to our next tour stop, so we ate at a local cafe. Always fun to have a big group meal. Lots of laughs. After lunch we headed over to our next destination, The Creature Technology Company.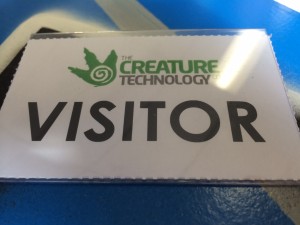 The Creature Technology Company makes puppets. BIG puppets. Walking With Dinosaurs, How To TrainYour Dragon, King Kong and, oh yeah, that big crying bear at the end of the Winter Olympics? They did that too. We got a really great tour of their whole puppet shop and it was simply amazing. To see the dinosaurs from Walking With Dinosaurs up close. And not only see them, they let us Puppeteer them. It was pretty great.
I took a lot of pictures and filmed some Uncle Interloper things but I can't post some of them for a bit as some of the creatures we saw haven't debuted yet. We also got to see the, incredible, King Kong puppet they made for the stage show mid you haven't see clips of it, google it now. It's out of this world.
Huge thanks to everyone at The Creature Technology Company for the tour and the hands on fun. Certainly won't be forgetting that for awhile.
After the amazing walk with dinosaurs we went back to the hotel to chill out before our show. Oh yeah, we had a show today! That's how you make a great day even better.
Super fun show. Great crowd! We had an HR video for Stone masons, the Hot Dogs had a Hot Dog eating contest, we played the Shark Bait game show and an Alien Barbershop about Circumcision. If you've read my past blogs you'll know you'll know that we've had that before. I didn't want to reuse the same joke so I tried to come up with something new.
Oh circumcision,
Scares me I confess
Just one little snip
And you're a little less.
Eh. The rest of the show was a lot of fun. Breezy is getting really good and the crowd seems to enjoy it. After the show we took audience photos and then headed back to the hotel.
Dan and I struck out to see a Comedy Festival show. The one we were going to see was sold out, so we stopped in another. No names because it just wasn't our thing and we actually walked out of it.
Walking around we went to go look for a friend of mine and stumbled into another festival show by Ryan Coffey. I'm so glad we did, it was so great. He is a funny musician and he is a really great singer and does great things with loop pedals. Really inspiring. Look him up on YouTube too.
After the show we met up with my friend for a bit, then we grabbed some food and then headed back to the hotel. A full day. A full, good day.