Puppet Up Down Under 2014 – April 16, 2014 – Sleep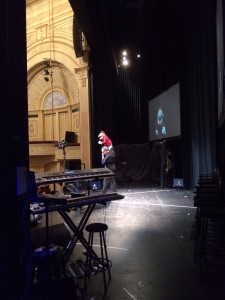 This morning I had grand plans of getting up early, working out and then going to catch a 10:00 AM kids show with Dan. The comedy fest has kids shows that run during the day because many schools are on their 'Spring Break.' However, I had been up until after 2:00 AM the night before and when I woke up after 8:00 AM, my head hurt and all I wanted to do was sleep. So, I begged off Dan and went back to bed and wound up sleeping until noon!
After waking up, I went straight to the gym to work out, run on the treadmill and such. Then, I came back up and showered. Around 3:00 PM, Dan and I walked over to catch a different kid's show, this time an improv show for kids called Improvilicious. It was a half improv half scripted show that was a brief history of theatre. I can see how these guys, I believe Australian, would be very popular in schools and libraries. Fun to see different forms of improv.
After the show I grabbed some food, hadn't eaten all day, and then just relaxed back at the hotel. Soon enough it was time to head to the theatre for tech call and tonight's show.
The show tonight was great fun. The audience was really into the show ant their suggestions were great. We saw an HR video about working on the Death Star (Do not make eye contact with the Emperor). We saw the Hot Dogs sell insurance. There was the game show Cocaine & Chlamydia (the show about Snorts & Warts). And the first act in our puppet variety show was 'Puppet Up', so puppets doing a puppet show. I got to do Alien Barbershop again. The topic was Tight Rope Walking.
When you're tight rope walking
Just don't look down
And either way it ends
Your underwear will be brown
I slipped a little during Java tonight. On the final 'spin' that Big Java does, his foot slipped off the rail a bit. Need to look at that tomorrow to try and nail that better. That hasn't happened too much, but I really want it to be as clean as possible.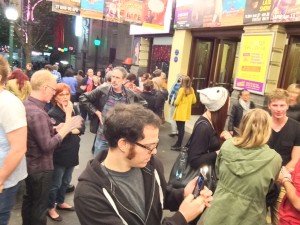 After the show we went to see a show called Sammy J & Randy. This is a show involving a puppet, Randy, that our puppet wrangler Bek has done work for. The show is just amazing. As a puppeteer to sit there and watch what 'Randy' does on stage is mind boggling. You just can't describe it. I will never again complain about holding my arm up during a long scene again. Ever. Look Sammy J and Randy up on YouTube. Funny show, funny songs. A good time. Look them up on YouTube and check out their album.
After Sammy J and Randy, Patrick, Julianna and I went out and found a place to eat. We had some good conversation about ideas we have to make the show even better. Some pipe dreams, some that may happen. Who knows.
After that it was back to the hotel to write this and hit the sack. We still have a bunch more shows to do, but our time is getting shorter here and I'm getting the blues. But I'm going to enjoy every minute, for sure.