Puppet Up Down Under – April 17, 2014 – Improv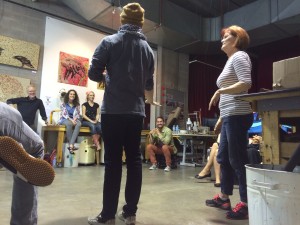 Today was a pretty great day. I woke up this morning and quickly headed down to the lobby to meet up with Peggy for a walk across Melbourne. We were headed over to & Studio and Gallery to meet up with Patrick and Brian because Patrick was teaching and improvisation class to some of the local Melbourne puppeteers and artists. The day could not have been any better to go for a great walk. It seems as if the weather here in Melbourne is trying it's best to convince us to stay now that our visit is dwindling down to just a few days.
We got over to the gallery around 11:00 AM. From bed until about 2:00 PM, Peggy, Brian and I, helped Patrick teach the improvisation class. It was a fun time meeting local artists from Melbourne. Included in the group where the two improvisers that Dan and I saw perform yesterday. Also I'm the class was my friend, the uber talented, Lana Schwarcz. I had convinced her to bring her amazing mini puppet show called The Curator. I was so happy she did and that Patrick, Brian and Peggy got to see it. Always fun to hang out with Lana.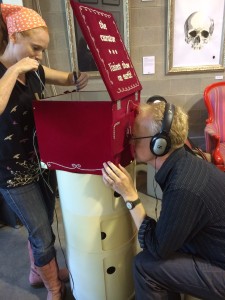 After the class, I decided to take a taxi cab back with Patrick and Brian. When we got back to the hotel, Brian and I went and had lunch. Then we walked around downtown Melbourne including stops at a shoe store to look at a pair shoes Brian was looking at, and then to the comic store where I picked up a few comics.
After that we headed back to the hotel. Brian got to work on his writing while I read some comic books and then headed down to the gym to work out. I ran on the treadmill for a bit, lifted some weights and then headed back upstairs to get ready for the show.
Exciting to rehearsal today as today was the day that I showed my song improv to the rest of the cast for the first time. They all seemed to be pretty excited to work on new piece for the show. It is a fun piece that involves all the rest of the cast. We did sort of a stumble through blocking out some of the choreograph, and everyone seemed to like it. No word on when it'll make its debut in the show, but it will probably happen sometime here in Australia.
Then it was showtime. We had a great show tonight with a great audience. The hotdogs gave birth, we learned about the dangers of working in a hospital, and we played a game show all about getting Brazilian waxes. We also had the alien barbershop the topic of which was regicide.
If you do regicide,
Some folks will cheer.
But I would not,
Because the prince is here.
That was a reference to Prince Harry who is currently visiting Australia with Kate and the baby. All in all, a great show filled with some very funny scenes and some awesome audience suggestions.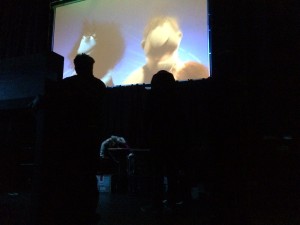 After the close of the show, and taking audience photos, we headed back to the hotel. Then Dan, Juliana and I went out into Melbourne to see a comedy show. We saw Marcel Lucont, a character played by comedian, who is a French expert. The show was okay. Not necessarily my cup of tea but there were some funny parts.
After the show, then I grab some dinner and then we came back to the hotel to hang out a bit with Brian. After that it was time to do some writing and then head off to bed.