Puppet Up Down Under 2014 – April 19, 2014 – Debut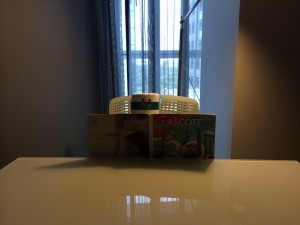 This morning started by getting up at 9:00 AM and quickly getting ready to head out to Federation Square with Dan. We were finally going to go see the show we had been meaning to see all week. The show is a children's show called Luck Child. It is a one man show performed by David Collins who is one half of the group the Umbilical Brothers. I'm so glad we finally got to see this show. It was incredible. It was filled with physical comedy, sound effects, and a cardboard set that just inspired me to be creative. David had the entire room in the palm of his hand the entire show. If luck child is playing anywhere near you, and unless you live in Australia I don't think it is, you must go see it. It is 40 minutes of just pure fun.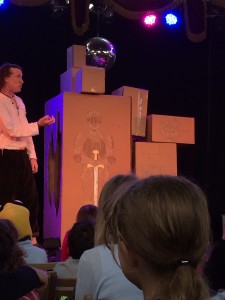 After we got back from the show, I went and worked out down in the gym. Then I started work rehearsing on my song improv which was set to debut in tonight's show. Brian has been really amazing and helping me prepare for the songs debut. It would not be in the shape it was and if it weren't for him. I also have to give a huge amount of thanks to Dan Ring who came up with an amazing track for me to sing too. It is exactly what I wanted and even better then I could have imagined.
After the Toronto tour, Patrick told me that I should start thinking about doing a song improv in the show. I tossed around a few ideas, a country western song, and 80s rock song, but nothing really struck me as being THE right song.
Before the Australia tour there was a small US tour, which you know about if you are a regular reader of this blog. We had a night off in Park city, Utah, and one night we were having dinner in this restaurant and I went to use the restroom. Well I was in the restroom a song came over the speakers that I had never heard before. It was just a really great Americana style folksong. But I could tell that it was recorded relatively recently. I remember the lyrics and later did a Google search and found out that the song was called old Dan Tucker and it was by Bruce Springsteen. It was a cover of an old Pete Seger song which in itself was a cover of an old traditional folk song. I bought the song from iTunes and listen to it on repeat. I then started thinking that it might be fun for the song improv to be a song about an audience member but turned into one of those classic American folk songs about John Henry, Paul Bunyan, Johnny Appleseed, and Pecos Bill. And that is what it has become.
During tonight's show I sang the song about Josh the lawyer in the front row. The thing I love about this song is that it is not a solo song. The entire cast gets involved singing backup and doing some hilarious choreography. To me it's sort of reminiscent of emmet otter, because I'm using the beaver and everyone else is using woodland creature puppets. There's a lot of banjo and fiddle and singing together just like in a good old country song. And Brian does these little spoken interludes in between each of the verses that are just totally hilarious. The main thing I love about it is that everyone is up there with me. It's more of a group piece that I am leading. I had posted on Facebook earlier in the day that I was a little nervous about the song debuting tonight. Peggy replied that they would all have my back up there. And it really did feel that way.
By the end of the song the entire audience with singing along about the guy in the front row. I even had the beaver tell the guy to stand up and give her wave and he did. It was a lot of fun. It's good that I now have one time of the song in front of the audience under my belt. Now I can just work on making it better and making it funnier. Again I huge thanks to the rest of the cast for having my back, Dan for making such an amazing track. And especially for Patrick in believing in me to do the song improv.
The rest of the show was really hilarious. The Hot Dogs were in jail for being naughty and saucy, we played the game show called 'That's Not Your Car!", and Brian and Allan did some amazing puppetry and had their puppet doing handstands! Of course the Alien Barbershop was in there and the subject was boobs.
I like your boobs,
You have a nice rack.
And my favorite one,
Is the one on your back.
After the show we had a fun little get together to thank the cast and crew of the Princess Theatre who have been utterly amazing. We will miss them when we are gone. Tomorrow is the last show here in Melbourne. Can't wait to do it all again tomorrow and then see what adventure awaits in Brisbane.