Creative Mondays #016 – Become a utility player.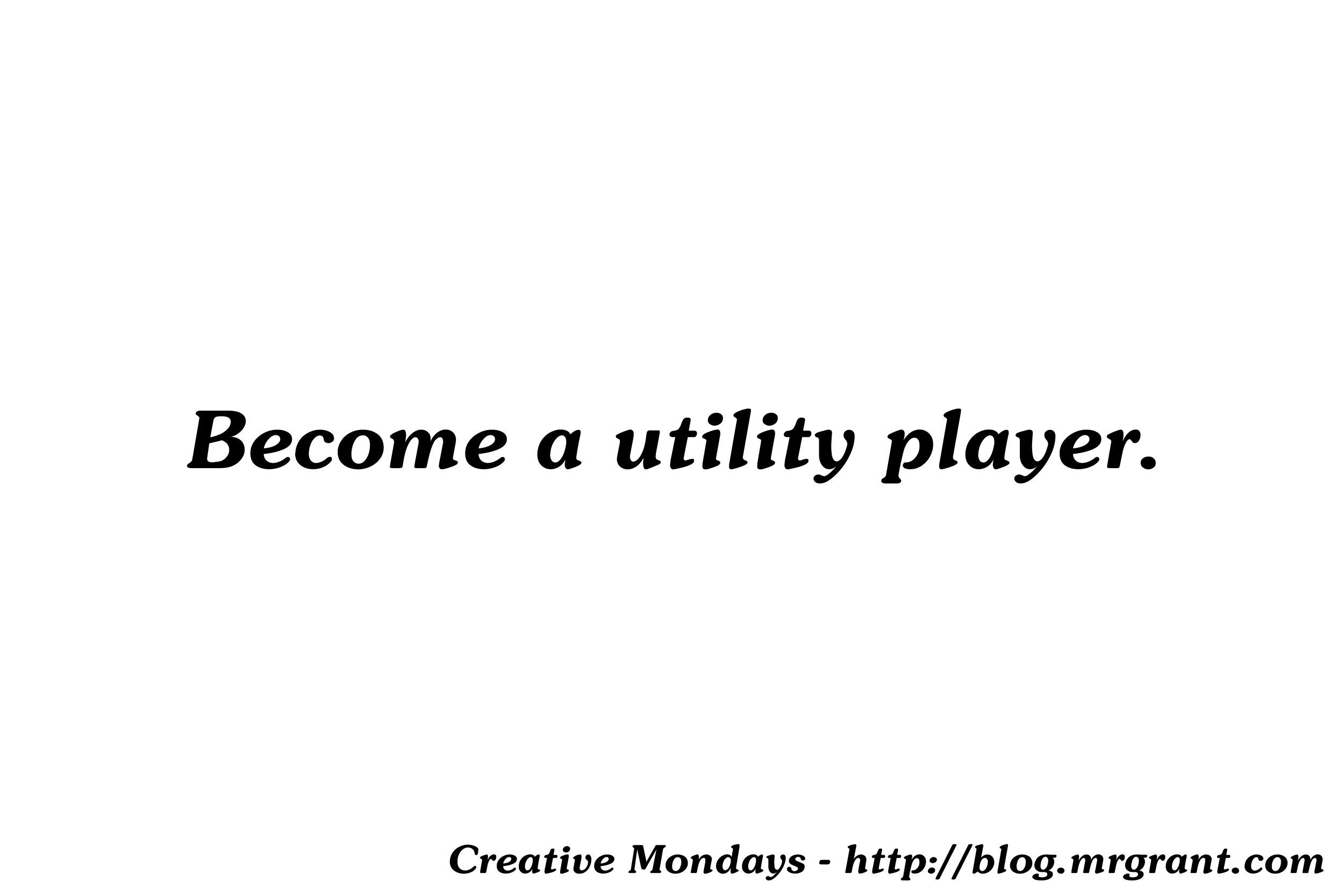 Here's another aspect of creativity that I believe is important.  That is being a utility player.  It's a sports term and it means someone who is able to play many different positions competently.  So, in you art and your creativity, you should strive to become a utility player.  I'll admit this concept may not apply to all fields of creativity, but I think it's generally a good rule to have in life.  The concept is, be good at many different aspects of your field so those in charge have a ton of options to plug you in anywhere.  This will show that you can really do anything and it will give you more opportunities to make money.
I first stumbled upon this idea when I started doing my comedy songs at open mic nights in San Francisco.  I was a young comedy songwriter who just started going to comedy open mics to play my songs.  I started with comedy open mice because I was singing comedy songs, but at the first 'mixed' open mic I attended, an open in mic where there was comedy and music and poetry, I realized I could start going to strictly music open mice as well.  I found I'd do pretty well at either comedy open mice or music open mice because my act was so different from what else was going on that night.  At comedy open mice I stood out because I did funny songs where everyone else was doing straight stand up.  At music open mice I stood out because I was doing funny songs when everyone else was doing serious straight songs.  This discovery led me to being booked on all sorts of shows because I could fit in with whatever else was going on on the bill.  I learned to be a utility player, fit in as many different places you can.  You'll get booked more.
And don't worry about bing someone who's just starting out.  I think that's the best time to become a utility player.  You aren't pigeon holed into just being able to do one thing.  This concept has really hit home with my work with Puppet Up! Uncensored.  When it comes to Puppet Up! I try to be the best utility player I can be and I started the moment I began working with the company.  When I was strong enough to do my first shows, I eagerly learned the part in the opening and closing numbers I was in.  I learned it to the best of my ability.  The next time I was asked to be in a show, they put me in a completely different part in the opening and closing.  Instead of complaining, I shut up and learned it and did it to the best of my ability.  Next time I was asked to go into another slot and I did it gratefully and willingly.  Now there are three different spots in the opening where I can be plugged in.  (And I've been working on a fourth on my own.)
In the show we have two recreations, I've Grown Accustomed To Your Face and Java.  When I was asked to learn the spot of Demon Head in Face, I jumped at it.  Then I was asked to try out Big Java in Java.  Again, no hesitation, I jumped on it.  Then I was asked if I wanted to try Lady Singer in Face.  You'd better believe I said yes.  Same thing with using the Henson Digital Puppetry Studio in that segment of the show.  I've never been trained on it officially but I've fooled around with it enough to be able to do a passable job, so now I can be plugged in there.  On top of all this, I was once asked to host the show.  A big task, but instead of waffling and saying I was unsure, I shut up, said yes, and did it to the best of my ability.  I did a passable job and now have been asked to host the show several times now.  By saying yes I created yet another spot in the show I could be plugged in.
All this saying yes came to a head recently where at one of our shows, a performer became ill moments before we started.  After a bit of nervousness about this the show worked, Patrick asked who could do certain parts of the show.  I was able to say test to just about everything and was able to perform many different roles.  I wasn't really nervous because they were all roles I'd played before and it was a true testament to becoming a utility player.
By eagerly and happily becoming a utility player, you will open yourself up to many more opportunities rather than just specializing on one thing.
—
Are you a utility player?  Tell us about where you can be plugged in to many different spots in your field in the comments below!
Tags :
acting, art, artists, create, creating, creativity, drawing, Inspiration, motivation, painting, screenwriting, sculpting, writing