Tag:
screenwriting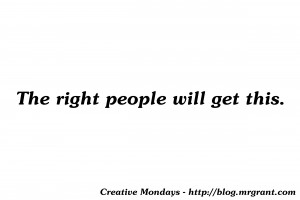 "The right people will get this."
This one one of my all time favorite quotes.  It is a quote by Joel Hodgson, creator of Mystery Science Theatre 3000 and Cinematic Titanic.  If you have followed my blog or Twitter feed or whatever, you have no doubt read it before.  Joel was said it in response if someone asked him if he worried that some people may not get all the jokes on Mystery Science Theatre 3000.  His response was, "We never ask, 'Who's gonna get this?' We always say, 'The right people will get this'."
To me this statement boils down to not trying to create art for a specific audience.  Create art that is wholly and truly for you and it will find an audience.  This is what I've tried to do in the art I create.
When I came up with the idea of The Radio Adventures of Dr. Floyd based on characters that Doug and I had created, I never had an audience in mind outside of the idea pleased me.  I don't even think at the beginning Doug was all to sure why I wanted to create a silly little radio show based on these characters.  But once we got going he got on board full force and the show soon became something that in it's base elements, just made the two of us laugh.  This is how we made the show and the show found an audience.
I will say that we did make a small change in how we wrote the show at the very beginning with the audince in mind.  In the beginning we were fine with double entendre.  In the Wright Brothers episode the joke was that the Wright Brothers wanted to invent the plane because they were secretly peanut farmers and if they invented the plane, they would required peanuts be served on every flight.  One of the Brothers had the line, "Someday the world will know the wonders of our nuts."  (A tip of the hat to the  line in the Ren & Stimpy Show's Rubber Nipple Salesmen episode.)  We found this funny, but once we began podcasting and we received emails from families saying how much their kids loved the show we thought twice about doing jokes like that.  Other than that though, we did a show that made us laugh.
When 'Hollywood' stared calling us talking about the possibility of turning it into a TV show, one of the first questions we would be asked is, "What's the demographic?"  This was so hard to answer because we never, ever, thought about it.  We would say it's a kids' show or a family show, but we'd never have a specific demographic in mind and that's what Hollywood wants.  A specific demographic.  We would say, "Our demographic is everybody." Because we'd get phone calls from people ages 3 to 80.  But Hollywood wanted a specific age range.  Did THe Muppet Show have a demographic when it was pitched?  If so, I'd say that's the demographic.  Everybody.
With Dr. Floyd, the right people 'got us.'  They got our sense of humor, our references, our jokes and for a little radio show that was recorded, mostly, in the living room of my tiny, one bedroom apartment, we did pretty good.
So create art that excites you and put it out there.  The right audience will find you.