Creative Mondays #015 – Create outside your skill set.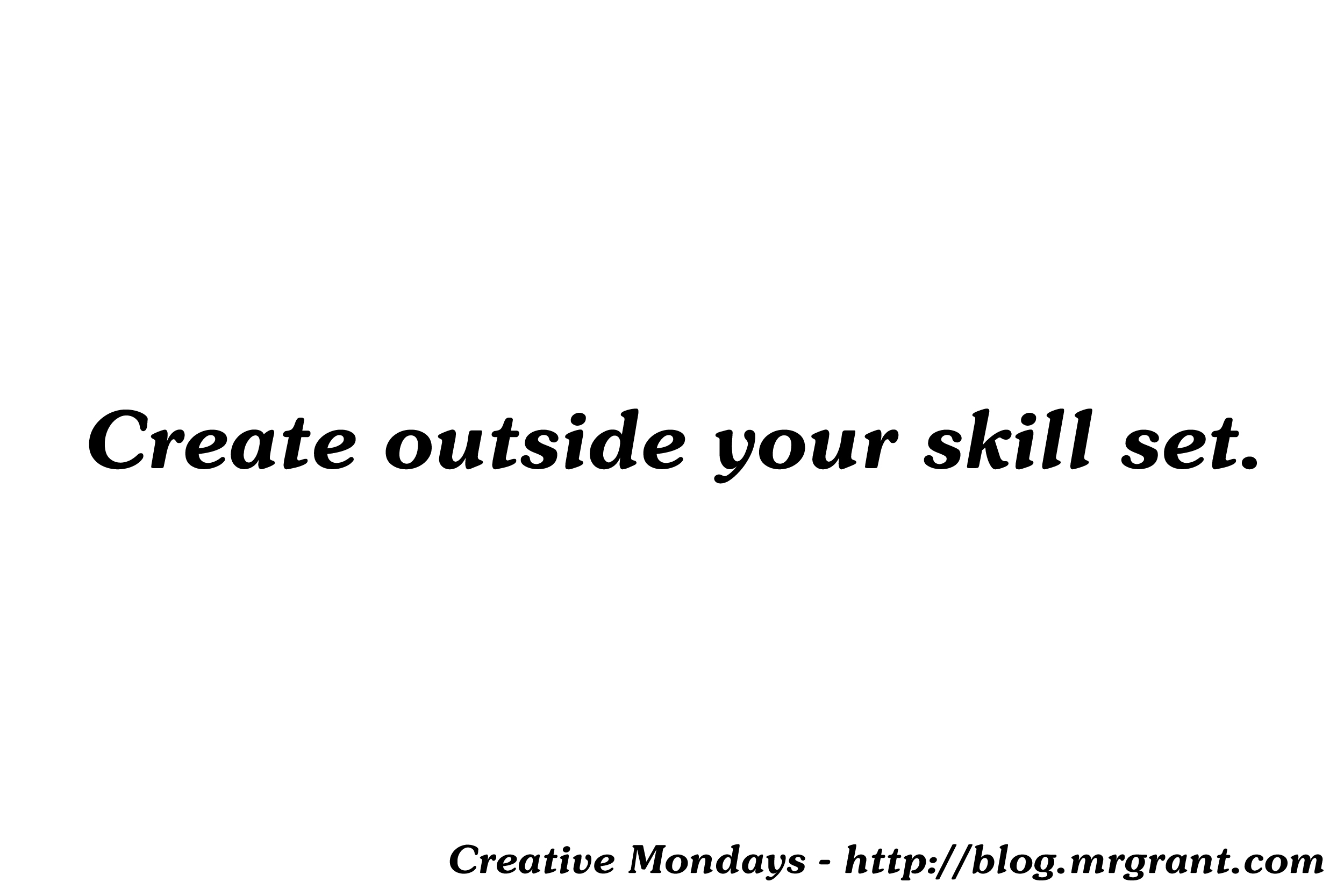 As an artist, you probably have many areas of art you are comfortable working in and they probably all compliment each other.  Looking at my work I'd say my strength is the written word.  Writing something that will become something else.  Over 150 episodes of Dr. Floyd (some co-written, but most were from my head).  The episodes of Did This Happen?, Thunder Crester, The Tales of Deputy Guppy, etc..  And all the projects that never made it anywhere or saw the light of day (at least not yet) Time Skippers, The Cauldron of Hate, The Untitled Western story, Sign Force One and countless others.  When I look at my strengths as an artists, I say putting ideas down onto paper (or screen) and forming them into a mildly entertaining story, is probably my biggest strength.  Yes, I do comedy, act, improvise and do puppets but my skills in those aren't as honed as they are in creating stories.  Maybe I'm just more comfortable putting ideas down on paper.
Today I want to talk about creating art outside of your area of expertise.  Breaking through that 'comfortable' barrier and making yourself uncomfortable by creating art in a different medium.  If you're a painter, write.  If you're an actor, dance.  Step into another realm of art.  I think this can be an extremely valuable experience for many reasons.
The first reason is that it will give you different ways to look at creating.  If you're a painter and you try sculpting or modeling out of clay, you're going to apply the practices you've learned from painting to the sculpting.  Being neither a painter or sculptor, I would assume that some of those practices will work and others will not, forcing you to think differently about how you will achieve your creative goals on that project.
I have tried to do this at several times in my creative endeavors and it has always helped me, I feel, become a better artist.  I have an iPad and I purchased the super popular app, Paper by Fifty Three when it came out.  Playing around with the tools on it really clicked with me and I just began drawing daily.  I've always enjoyed drawing in the past and would occasionally do it.  Deputy Guppy was born out of a comic book I drew in high school.  I was always vaguely aware though that my drawings aren't really that spectacular.  On the Paper app though I think my drawings turn out a little better and seeing that result has really inspired me to draw more.  This has made me to think differently.  How can I capture a feeling, a saying, a song lyric in just a picture?  With no words?  It forces me to retrain my mind to figure out a way to communicate what I want to say in picture only.  This translates back into my writing as well.  It makes me think of different ways to say the same idea and try to capture a picture in words.
Another thing creating outside my area of expertise has done is sparked ideas.  I have so many random drawing doodles, that have fired up ides for stories in my mind.  I started drawing these little figures that I called Dots.  Just splotches of paint with arms and legs.  Simple, easy to draw.  But creating them fueled my story mind and made me think of lots of different stories I could create with these characters and their world.  Will I ever do anything with them?  Maybe, maybe not.  But the simple act of creating outside my strengths inspired me.
Finally, creating outside your area of comfort may lead you into a great idea to combine the comfortable with the uncomfortable.  Going back to the painter/sculptor idea above.  What if the painter found a way to use sculpture in his or her paintings and came up with a completely new idea they'd never thought of before.  I have often wondered how I could combine my writing and stories into some multi media piece that melds to the too.  I know you're saying, "Yeah, Grant, a book with pictures."  But I'm talking maybe a podcast with pictures.  Or a story written into the designs of a drawing.  Yes, it's been done before, but not by me.  That inspires me.
So take a chance.  Get uncomfortable.  Try something new and outside your area of expertise.  Who knows where it'll lead?
—
Do you practice art outside your comfort zone?  If so, does it help your main passion?  If not, what new experiment will you try?  Let me know in the comments below!
Tags :
acting, art, artists, create, creating, creativity, drawing, Inspiration, motivation, painting, screenwriting, sculpting, writing