Puppet Up Down Under 2014 – April 21, 2014 – Goodbye Melbourne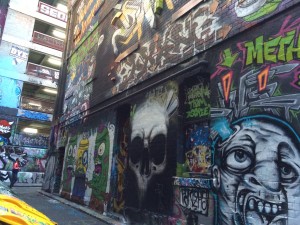 A day off.
Today we have a day off and it is our final day in Melbourne. I started the day by sleeping in pretty late. Later than I have in past days. I then got up and went down to the gym and ran on the treadmill and lifted weights. Afterwords, I went back up to my room to shower and get ready to go look for some food with Dan. Brian woke up and decided to join us so we went and had some lunch. After lunch I struck out in the city on my own. I walked around a bit, filmed a Vine or two with Uncle Interloper, and then went and picked up a few props I needed for an Uncle Interloper idea I've had for a while. Then I headed back to the hotel room for a bit.
Once I got back to our hotel, I decided to film the Uncle Interloper Vine that I had bought props for. Brian was on a phone call in his room, so I was glad that no one was around to see me film is Vine. Partly because of the position I had to get into to film it, and partly because whenever I film something like this I do a million takes. Take 2 was probably perfect, but I need to do a million of them because on little thing will be wrong in the shot. I'd be a horrible movie director. I'd be over budget the first day. At any rate, I am now one of those people who have spent way too much money on a six second Vine.
Finally getting the take right, I just spent some time in my room doing some writing and answering some email.
There was sort of an unofficial plan that everybody would go out to dinner around 5:30 PM, I had a Vine idea and I needed Brian's help with it so we planned on leaving the hotel a little early to go film it. There is a street near our hotel called Hoiser Lane. It's really neat and that all the walls of this, basically, alleyway, are covered with really impressive works of graffiti. So Brian and I went down there and we filmed an Uncle Interloper Vine in that alleyway. It was cool saying all the different kinds of graffiti all over the place. The alley was filled with a ton of other tourists who were all there taking pictures of all the different graffiti designs.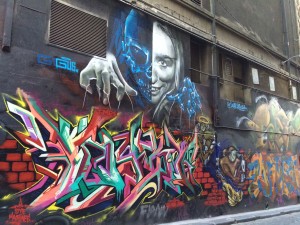 After filming the Vine and walking around for a bit, we went over to the restaurant. I was immediately not enamored with the restaurant. The maître d' at the front door was extremely rude to me when I went up to put our name in for a table. . I brushed it off, but then when we went to be seated the maître d' had told us he would get two booths instead we said nine people around one tiny booth. When I said that the maître d' had told us we could get to booths the server said that was impossible. So then we sat down in this tiny little booth and looked over the menu.
This is a very, very hip restaurant. There's lines out the door. But it's one of those places where you don't get a lot of food but you pay over $30 for the food that you do get. I can usually hang at places like that but this was one of those restaurants where there would be one ingredient that would throw the whole dish off. This is not an example from the restaurant but it's the same idea: grilled chicken, with mashed potatoes, and squid sauce poured all over it. That's kind of thing. So there was nothing really enticing to me on the menu. Patrick had to leave the meal early because he was meeting another performer from the comedy Festival, so I decided I would leave with him and find my own food.
I walked around a bit and then went to an Indian restaurant that I had gone to the first week we had gotten here. I had a great dinner on my own and just kind of enjoyed my last night in Melbourne. After that I just headed back to the hotel and started to organize my stuff for our departure tomorrow morning.
Tomorrow we had the Brisbane!
I'm going to miss Melbourne a lot.