Tag:
australia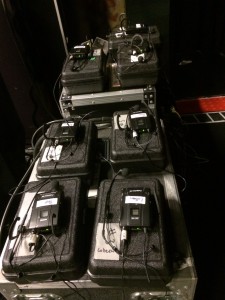 The day started as most big travel days do for me, with a stress dream. Woke up about an hour earlier than I needed too, panicked that my alarm would not have gone off and I would be late for lobby call. I wasn't. The cast met in the lobby as it was, sadly, time to head towards the airport and bring to a close our amazing Australian adventure. We said goodbye to our stage manager Stephen who had come to see us off and soon we were in a cab headed towards the airport.
Once we were all checked in at the Brisbane airport, most of us went around spending the last of our Australian money. I came away with only $2.30, which is pretty good. I'm keeping one dollar as sort of a reminder that I want to get back Down Under as soon as possible. (I'm actually looking at possibly going back later this year. We will see.)
The flight home was long, twelve and a half hours, but uneventful. I know I fell asleep twice, but it can't say how long I was out for. Maybe an hour or so, perhaps only minutes. I did watch a bunch of movies on the flight. Saving Mr. Banks (liked it), The Secret Life of Walter Mitty (decent), American Hustle (abysmal), Grudge Match (not good) and Mary Poppins (classic).
Before long, we were landing at Los Angeles International Airport. Home again. Our amazing Down Under puppet adventure was officially over.
The past five weeks have been spathe best times of my life. Incredible to get paid to go on to a foreign country and play make believe with puppets. We got to play at the Sydney Opera House! THE SYDNEY OPERA HOUSE! How many people get to say that.
Huge thanks to Melbourne International Comedy Festival for making it all possible. Susan of the Comedy Festival and her staff were truly amazing and could not have been better hosts. Not only did they give if first class treatment, they put on a heck of a festival. We loved the other shows we got to see as part of the festival and we wished we could have seen more.
Huge thanks to our crew. Stephen our stage manager, Bek our puppet wrangler and Andy our video tech. They hopped on board a very crazy, tech heavy show, made it their own and rocked it as if they had been there all along. And the crew at each venue was top notch. Especially the crew at the Princess Theatre in Melbourne who built us pieces we needed for the show. A great group of guys.
Huge thanks to the amazing fans who came out to see the shows. Each crowd was so into the show they made it so much fun to step on stage. The suggestions ranged from mild to really dirty and we delighted in trying to pay them all off.
Huge thanks to all the puppet people I got to hang with. Michael, Brett, the Hands & Gloves puppet group and the amazing Ingrid Elkner (who plays a mean ukelele). It was also great reconnecting with Lana Schwarcz who I hadn't seen since 2011. Always love talking puppets with people passionate about puppetry.
And big thanks to the rest of the core Puppet Up crew. Allan, Colleen, Peggy and Ted, always so much fun to improvise with. So many memorable scenes. Brian who is, of course, and incredible improviser but also a heck of a roommate. Dan, who came up with a great song improv backing track and always has the right song for every scene. And, the big chief, Patrick, for making the run so fun and for trusting me to be part of it.
Lastly, to you, for reading these entries. Thanks for coming along for the ride. It was a heck of a time and I'm excited to see where it all leads in the future.
Until then…
PUPPET UP!