Puppet Up Down Under 2014 – April 24, 2014 – Powerhouse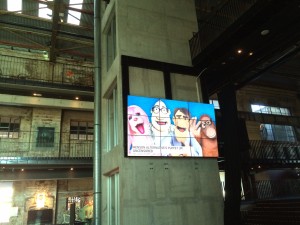 This morning, for some odd reason, I was up at 6:30. Luckily I was able to drift back off to sleep until my alarm went off at 10:00 AM. Then, not having anywhere to be until 12:30 PM, I set the alarm for 11:00 AM and slept even longer.
Once I did get up, I went down to the gym and ran on the treadmill a bit. The. I showered and got ready to leave at 12:30 PM. We are in a new theatre tonight for the last of our Australian shows, so we have to tech everything. Our crew is great though and they had us up and running. The tricky thing is that there's an act right after us tonight in the same stage so we had a tight time limit to get everything organized and ready to go. As I said though, our crew is great so they made things run smoothly.
The venue, The Brisbane Powerhouse, is pretty great. It's actually an old power station that they've turned into a pretty fun performing space. The theatre is just the right size for us and the venue sort of fits the style of the show. When they build the theatre they left up the graffiti that was painted back when the building was abandoned, so that's pretty neat. After a quick dinner break, we finished up Tech rehearsal and then it was time to prepare for the show.
And what a show it was. The crowd was packed and their suggestions were so fantastic. All our shows here in Australia have been really great, but there was something about tonight's show that was a notch above. Patrick had mixed up the casting and the order a bit so it was fun to come in and play in different scenes. Brian and I had a great scene for new choice. The talent show had a hilarious tap dancing act with the bunnies. We learned the dangers of being a jungle doctor. The Hot Dogs discussed what happens to bodily fluids Zero gravity and, the Alien Barbershop tonight was on the subject of pirates.
People love pirates
For them they always cheer
And when pirates buy corn
It's a buck an ear.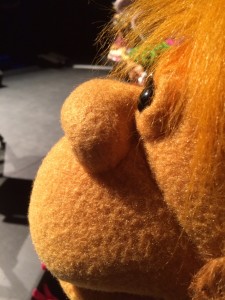 Yes, a cheap joke, but I had to go for it. I had to. It made me laugh too much to not go for it. My 'jamboree' song was okay. Still not finding the success I want with it but I made a good rhyme or two in tonight's version. Still a work in progress, but at least I've settled in a bit to it and know where I can take my time to come up with the rhymes. There's two sets of four rhymes and then the bridge has three. Why did I do this to myself?! Anyway, fun show.
After the show, some cast went to see the show that was in after us. The rest of us sat out in the deck of the Powerhouse and ate dinner. The Powerhouse really has a swell setup. The space is nice, it overlooks the river and there's free wifi!! Win-win! After some socializing, Ted, Allan and I took the ferry back to the hotel. I have to say I quite enjoyed it and will probably take it home every night. It was peaceful, quiet and we sailed right under the Story Bridge. Very cool.