Puppet Up Down Under 2014 – April 6, 2014 – Last Sydney show.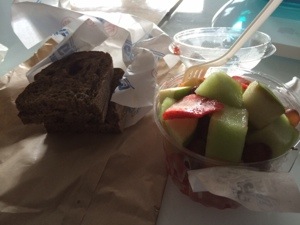 It's almost fall in Australia. That means that Daylight Savings. That means that we lose another hour from the United States. But it also meant our 11:00 AM hotel check out time was not till 'noon.' An extra hour to sleep.
As soon as I woke up I went to the gym and ran on the treadmill. Then, after showering and packing for that impending check out, I walked to get some breakfast. There was a small grocery store near our hotel that has a deli-like counter and they had a nice selection of breakfast items. I had sourdough toast with peanut butter and a fruit salad. Really nice.
Soon it was check out time so we all met in the lobby and hopped cabs down to the Opera House. Our show was not until 5:30 PM so, arriving at the Opera House at 11:30 AM, we had some time to kill before our 3:45 PM call. All week I had been eyeing Luna Park, a small amusement park across Sydney Harbor, so I decided I would spend the time before call there. Patrick and Peggy agreed to come along.
Earlier in he week I had bought a public transportation pass. $60 for a week of unlimited rides on the busses, ferries in Sydney. So it was no sweat to hop a ferry over to where Luna Park was.
Luna Park is a classic amusement park. Based heavily on Coney Island. There's a slew of carnival type rides. Ferris wheel, carousel, spinners and a classic wooden roller coaster. I didn't have intentions of going on any rides but once I saw them I bought a pass to go on a few. I also filmed a lot of fun Uncle Interloper bits that I will cobble together once I am back. I rode the roller coaster, the Tango Train and went inside the amazing Coney Island building that had a giant slide and one of those spinning turntables that fling kids off in all directions. It was a fun afternoon but soon it was time to take the ferry back over to the Opera House and get ready for our final Sydney show.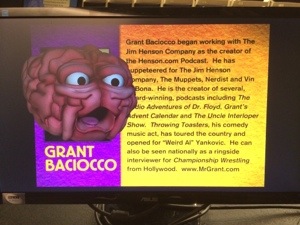 And what a show it was! The crowd was fantastic and their suggestions were just as fantastic. We learned about the dangers of twerking, we had a film noir in a submarine, a news report about a dog showing up at a cat show and a talent show that featured a magician sawing someone in half, kung-fu fighting and the Alien Barbershop with the topic of Cannibalisim.
I practice cannibalism.
It's habit forming
It keeps the populations down
And helps with global warming.
After the show we had 15 minutes….15 minutes, to get changed, get our stuff together and meet the car to the airport for out flight back to Melbourne.
Now, we're all checked into our room and ready for a day off tomorrow then a full two week's worth of shows at the Princess Theatre here in Melbourne. I cannot wait.