Creative Mondays #029 – Need help? Just ask.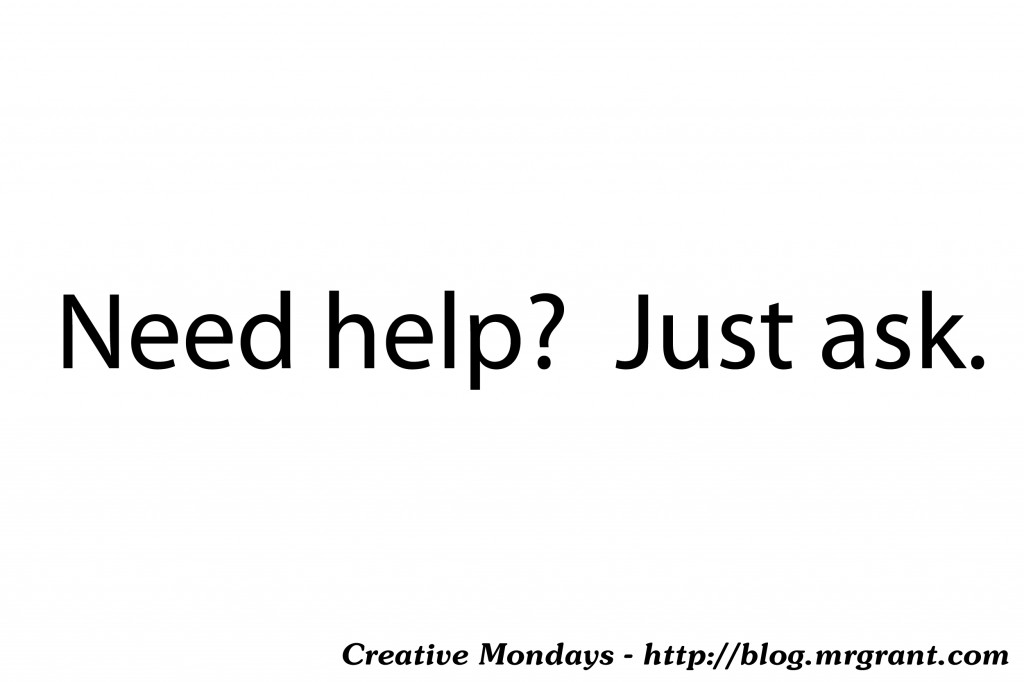 I was thinking today about creative work and how incredibly hard it can be at times. And, sometimes, you just need a little help getting things done. When it comes to accomplishing your creative dreams, sometimes it feels like you are alone with your struggle to create. Here's the thing, you aren't alone. There are people who will help you. All you have to do is ask. And sometimes it may lead to some amazing things.
Okay, strap in for another 'real life' story. Back when we were doing Dr. Floyd we always enjoyed the idea of bringing in other folks as the voices of the historical figures that the cast encountered as they travelled through time. At the start we asked friends of ours to fill those roles. We recorded with Ryan Smith (a next door neighbor who acted), Chris and Tim Waffle or Hot Waffles (who were friends of mine from the comedy music world) and Leslie Carrara-Rudolph (a friend I met through puppetry). We were super lucky to get these folks to join us.
As the show went on we started wondering if we could possibly get other stars to come in and do voices. And the only way we were going to be able to do that was to ask. The first person we asked was Frank Conniff of Mystery Science Theatre 3000 fame. To our surprise he said yes. He came in, recorded a voice for us and was amazing. We had so much fun working with Frank that we continued to ask him to return and do a voice and he was always so gracious and willing to come help. In fact, he even drove down to Comic-Con one year just to be part of our live show. We will always be grateful for Frank's time and generosity.
Following Frank, we just kept asking. Jeffrey Tambor (Arrested Development), Joel Hodgson (Mystery Science Theatre 3000), Don Novello (Father Guido Sarducci), just to name a few, came in and did voices for us just because we worked up the nerve to ask. One of my favorite stories is the night I asked June Foray to come do a voice. You know, the LEGENDARY June Foray. You know, June Foray from Rocky & Bullwinkle and Granny on Sylvester & Tweety and many, many other shows. I was at an event that June Foray just happened to be at as well. In my mind there was no way she would ever say yes but I worked up the courage and I asked. She said yes. AND she recorded for us twice! All because I asked.
I firmly believe that The Radio Adventures of Dr. Floyd would never had become as popular as it did if it weren't for our celebrity guest stars. And all we had to do was ask. We had plenty of folks say no to doing our show. Or saying yes, but then asking for more money that we could afford to pay. But, a lot of folks said yes. All because we were brave enough to ask.
And don't think I'm talking about 'celebrities' helping you out here. I'm not, that was just the example. If there's someone who could help you take your creative work to a new place or even finish it, just ask.
Now, I will say there's a chance the people will say no, but a lot of people will help you. Or at least help you find out where to go to get the assistance you're looking for.
Don't be shy. Just ask.
—
When was a time you had to ask for someone's help in order to get some creative work done? How'd it pan out? How did you go about asking? Let me know in the comments below! Have a great week!