Creative Mondays #028 – Distractions.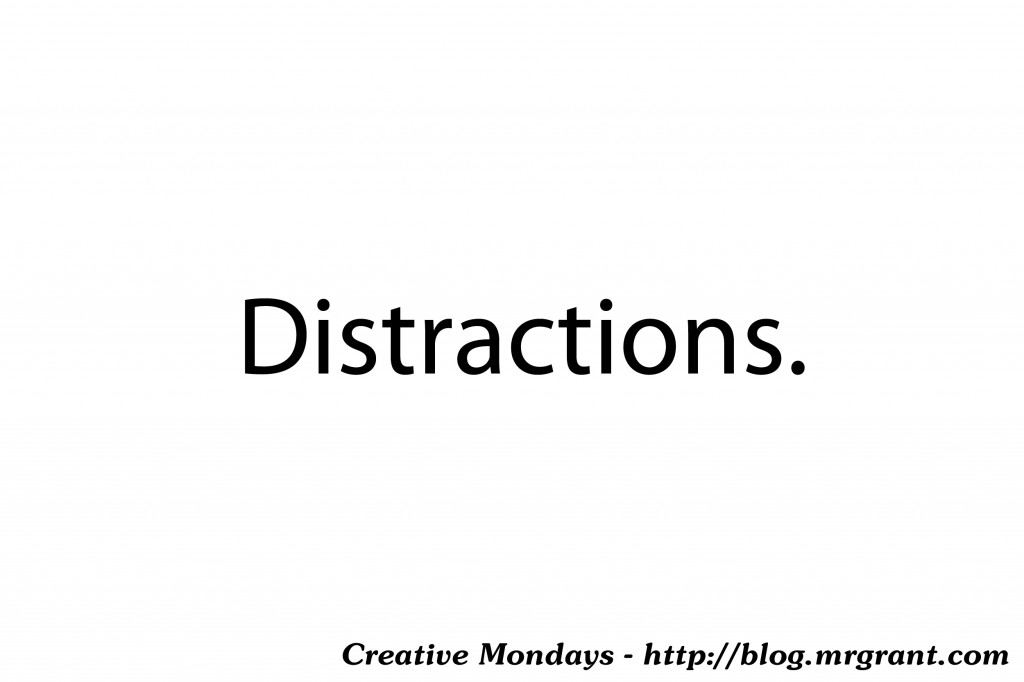 Distractions.  They are everywhere and they are a major threat to you an your creative goals.  If you want to have hope of creating your dreams, you need to learn how to tune them out, turn them off and just plain ignore them.
Distractions often sink my creative plans for the day.  Even just sitting down to write this post has been filled with distractions.  Just while coming up with that first paragraph alone I have prepared a CD to ship off to CDBaby as a restock and looked into Apple Computer's Compressor software to see if it would solve a problem I'm working on in trying to get my video podcasts down to a smaller file size.
Yes, I did all that in between writing sentences for that opening paragraph.  I have a problem in that I'll sit down to do one thing and then as I'm doing that one thing a million other ideas pop into my head and suddenly I feel that I have to get those things done right now.  This is a huge hurdle to us creative types.  Projects take way longer than they should because of the tiny little things that get in the way.
And I'm not just talking about email, texts or even the sudden excursions down the Wikipedia rabbit hole.  You know, where you look up one thing that pertains to your project and then thirty minutes later, you are on a page that has nothing to do with what you looked up in the first place.  There is another time of distraction I call the I Can't Until… distraction.
It goes like this, you sit down to write but your laptop isn't charged, so you get up and go get the charger and plug it in.  Once your laptop is open, you pop open your word processor of choice and see there is an update available to your software so you click to have it update.  Once it's updated you sit to start to write, but the scrap of paper you wrote your idea on is in the other room so you have to get up and go get it.  It's now been 15 minutes and you haven't written anything.  This is my story, for you it may be different, but this is what happens.
SO, what do we do?  Well, the only thing we can do…DON'T GET DISTRACTED.  It's hard, but it's the only way to get through it.
In the situation above where I spoke about trying to sit down and write, the easy solution would be to get out pen and paper and just start writing.  Let the computer update, but get the butt in the chair and start writing.  But then of course, you have to find the paper.  And this pen is out of ink…..
Turn off your phone.  Turn off wifi on your laptop.  Close the door to the room you are in.  Tell your family that you aren't to be disturbed.  Try your best to minimize the distractions.  And before you start, make sure that you have everything you need to begin.  Laptop charged, software updated.  Pen and paper.  Then get going.
Again, the only solution is to fight through it and get the work done.  If you had an office job, you'd be in trouble if you were constantly getting distracted and not doing your work.  Creative work is work and if you let your creative work falter because of distractions you'll get in trouble too.  Not by a boss, but by yourself because your creative goals won't be met.
So don't get distracted.
—
How do you deal with distractions?  Let us know in the comments below (especially if you have a really good trick).  Have a great week!