Tag:
100 word review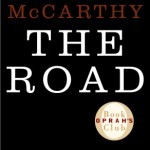 The Road by Cormac McCarthy
Buy on Amazon (Affiliate Link)
100 Word Book Review – I've read The Road once before and I loved it as much the second time through.  Though it's a post-apocalyptic tale of a father and son on the road, it reads to me like it could be set in the old west.  It's bleak, it's terrifying and that's what makes it so gosh darn good, in my opinion. You feel the desperation and terror the two characters feel as they travel down the road. As depressing as it is, I think I'm starting to consider The Road as one of my favorite books and will, no doubt, read it again.
Favorite Quotes:
He knew only that the child was his warrant.  He said: If he is not the word of God God never spoke.
Then they set out along the blacktop in the gun-metal light, shuffling through the ash, each the other's world entire.
Just remember that the things you put into your head are there forever.
This the day to shape the days upon.
When he went back to the fire he knelt and smoothed her hair as she slept and he said if he were God he would have made the world just so and no different.