Tag:
book review
Go Set A Watchman by Harper Lee
Buy on Amazon (Affiliate Link)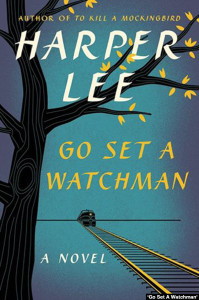 100 Word Book Review – Reading this book was like reading an alternate universe version of the To Kill A Mockingbird.  This makes sense since this book is essentially the first draft of that classic novel.  I'm not going to weigh in on whether or not this book should have been published because I don't think we'll ever know the full story behind that.  I will say that To Kill A Mockingbird is a much better book.  While this one has glimpses and flashes of Mockingbird, it's not nearly as good.  There are some touch and truthful passages and I am glad I've read it.
Favorite Quotes:
If you did not want much, there was plenty.
She was easy to look at and easy to be with most of the time, but she was in no sense of the word an easy person.
Love's the only thing in this world that is unequivocal.
The one thing she liked most about Henry Clinton was that he let her be silent when she wanted to be. She did not have to entertain him.
Time stopped, shifted, and went lazily in reverse.
They…found the rest of the morning lying emptily before them.
She looked up at the sky. "You can almost reach up an touch it, it's so close."
"Anybody with eyes that good was up to no good."
"Don't you study about other folks' business till you take care of your own."
She touched yesterday cautiously, then withdrew.
It was not because this was where your life began.  It was because this was where people were born and born and born until finally the result was you, drinking a coke in the Jitney Jungle.
Now she was aware of a sharp apartness, a separation…
Now we are both lonely, for entirely different reasons, but it feels the same, doesn't it?
"Remember this also: it's always easy to look back and see what we were, yesterday, ten years ago. It is hard to see what we are.  If you can master that trick, you'll get along."